Best TikTok songs 2021: All the viral songs from TikTok
22 September 2021, 12:22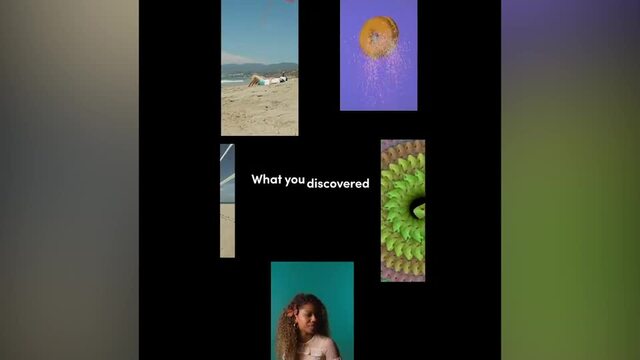 TikTok releases 'Year On TikTok' 2020 wrap up feature
Looking for a song you heard on TikTok? Here's all the popular songs that've gone viral on TikTok in 2021, including Erica Banks' Buss It and Yung Baby Tate's 'I Am'.
TikTok truly had its moment in 2020 and its showing no signs of stopping as we enter 2021.
Dance challenges, viral songs, memes and everything in between are back for another year of chaos, with the social media platform set to send a whole host of new and old tracks soaring up the charts.
2020 saw the likes of Doja Cat, Megan Thee Stallion and even legendary bands like Fleetwood Mac gain immense popularity amongst Gen Z'ers. Remixes of popular songs also took off on the platform, transforming hits like Coldplay's 'Viva La Vida' and Cardi B's 'WAP' into sounds that took on their own life. But which songs will get the TikTok treatment in 2021?
READ MORE: Here's all the best WAP remixes from TikTok and YouTube
Here's all the popular 2021 TikTok songs so far – and who created the dances:
Viral TikTok songs from 2021 trends or memes:
Central Cee - 'Obsessed With You'
Tones and I - 'Fly Away'
The Kid LAROI - 'STAY'
PinkPantheress - 'Just For Me'
A-Wall - 'Loverboy'
Hòang Read - 'The Magic Bomb'
Lukas Graham - 'Mama Said'
Glass Animals - 'Heat Waves'
Sam Smith - 'Like I Can'
Superfruit - 'GUY.exe'
Doja Cat - 'Need To Know'
THE ANXIETY & WILLOW & Tyler Cole - 'Meet Me At Our Spot'
Piri & Tommy Villiers - 'Soft Spot'
Katy Perry - 'Hot 'n' Cold' (I get called a white man's whore)
Mika - 'Grace Kelly'
Doja Cat - 'Ain't Shit'
Megan Thee Stallion - 'Thot Shit'
Jenna Marbles - 'Three Looks'
Sarah Kinsley - 'The King'
Drake - 'Know Yourself'
Måneskin - 'Beggin''
Måneskin - 'I Wanna Be Your Slave'
June Banoon x Felix Gabriel - 'Here Comes The Boy'
Originally sung by @june_banoon in reference to a cat walking down the street, Felix Gabriel added a little piano melody over the top. Now people are using it for their own pets, boyfriends, celebrity crushes... you name it!
Reba McEntire - 'I'm A Survivor'
TikToker's are using Reba's song to soundtrack their own lives or their friends' lives with captions like, "the friend who gets everyone's order and tells the waitress," and "when my family leaves me home alone for two days and I get to pretend I own my own house."
Bo Burnham - 'Bezos I'
Bo Burnham's Netflix special Inside has spawned a number of viral trends on TikTok. This particular song about Jeff Bezos has gone viral, with users using it on videos where they reveal the ways they either earned or scammed money from others.
Bo Burnham - 'White Woman's Instagram'
Another track from Inside. Some TikTok users are proving Bo's point, by setting the song to a slideshow of images from the Instagram grids of prominent white female influencers.
Malia J - 'Smells Like Teen Spirit'
After being used in the opening credits of Black Widow, the Nirvana cover has gone viral on TikTok with Marvel fans using it in their videos about the film.
Daphne Rubin-Vega, Stephanie Beatriz, Dascha Polanco, Leslie Grace & Melissa Barrera - 'No Me Diga' (From In The Heights)
Another song from the In The Heights soundtrack has gone viral. TikTokers are using the "Bueno, you didn't hear this from me, but some little birdy told me..." part of the song in a trend that sees them reveal a huge secret to their friends, and recording their reactions without revealing what the secret is.
Anthony Ramos and Melissa Barrero - 'Blackout' (From In The Heights)
The duet between Usnavi and Vanessa from In The Heights has become a meme on TikTok, with users either performing both parts of the song by themselves, or with a friend.
VANO 3000 x BADBADNOTGOOD - 'Time Moves Slow'
By now you've probably all seen the Adult Swim trend on TikTok. The song that's used in those videos is a self-produced beat by user @supvano that samples BADBADNOTGOOD's 'Time Moves Slow'.
Olivia Rodrigo - 'Happier'
Is your FYP overwhelmed with people cutting and slicing up cucumbers with a big knife while Olivia's melancholic bop plays in the background? The trend is directed at people's exes who moved on to a new relationship and well, you can kinda of guess get the rest...
The Backyardigans - 'Into The Thick Of It'
If you've stepped foot on TikTok in the past few weeks, you'll know all about this banger. Users have been remixing, dancing and singing along to the track.
The Backyardigans - 'International Super Spy'
For this Backyardigans number, TikTok users have been applying the lyrics to situations in their own lives and revealing secrets about themselves when the "super spyyyyy" lyrics kick in.
The Backyardigans - 'Castaways'
Thanks to TikTok, this bop hit number 1 on the US Spotify Viral Chart in mid-May. Their impact!
Lil Simz - Venom
This track goes hand in hand with those 'Women/Venom' tattoos you've been seeing a lot of recently. Others are also using it as a transition song.
Lady Gaga - 'Love Game (Remix)'
The second you hear this one on the FYP, you already know what the video is gonna be. TikTokers are using the remix alongside the 'Versailles Run' filter. The remix is by DrewStevens on YouTube.
Olivia Rodrigo - 'good 4 u'
From recreating the music video, to screaming the lyrics out loud, Olivia Rodrigo's break-up anthem is just as popular on TikTok as her debut hit 'Drivers Licence'
Tion Wayne x Russ Millions - Body 2 ft Arrdee, 3x3E1 & ZT, Bugzy Malone, Fivio Foreign, Darkoo, Buni
You already the lyrics to this one. The 'Adeola wanna roll with a geezer' track is everywhere on TikTok right now, especially in transition edits.
Mike Posner - 'Please Don't Go'
This summer-vibes track is being used by TikTokers who start out driving normally in their cars, and then switch to headscarves and sunglasses on the beat of the chorus.
Eminem - 'FACK'
Iamdoechii - 'Yucky Bucky Fruitcake'
The "Hi, my name is Doechii with two I's, I feel anxious when I'm high" sound sees TikTokers users introduce themselves, and it's already been used in almost 1 million videos.
Twista ft. Faith Evans - 'Hope'
Inspired by the end of movies that give the audience updates on what happened to the characters years later, TikTokers are using the song as a backdrop to celebrate or joke about their incredible lack of achievements.
Olivia Rodrigo - 'Deja Vu'
Remember the inverted filter on TikTok? Olivia's sophomore single serves as the soundtrack to the camera flip challenge, where TikTokers invert the camera to show how symmetrical or asymmetrical their faces are.
Kesha - 'Praying'
Kesha's high note has become a popular sound on TikTok as users reenact some of the most shocking or wild things they've seen, using the note as a scream reaction.
Chloe George - 'Ghost Town (Voice Memo)'
You've probably heard the "And nothing hurts anymore I feel kinda free" song on loads of wholesome or emotional videos.
Caterina Valente - 'Bongo (Cha cha cha)'
You might already know this song from Spider-Man: Far From Home but the catchy track is popular in 'reveal' videos.
Lardi B - 'WAP (Wings and Pizza')
The parody of Cardi B and Megan Thee Stallion's 'WAP' is actually by Lardi B, but it's been used for the 'Kidz Bop WAP challenge' where users are trying not to laugh at the Wings and Pizza lyrics using the 'Smile Rating'. If you go over 50, you lose!
Salt 'N' Pepa ft. En Vogue - 'Whatta Man'
Need a song to go perfectly with your thirst/simp post about a male celebrity? Well look no further because Salt 'N' Pepa's classic is now going viral on the app. Throwback photos of Mark Ruffalo? Whatta man! Chris Evans walking down a hallway? Whatta man!
Gia Giudice - 'Waking Up in the Morning'
TikTokers are using a clip from The Real Housewives of New Jersey to share their most cringeworthy or traumatic childhood moments.
Kid Cudi - 'Day 'n' Nite'
Kid Cudi's 2008 track made a comeback on TikTok thanks to a trend that sees people write out a statement in black and white text, and then turn off the lights to reveal what they really mean.
'Agatha All Along' from WandaVision
Pretty self explanatory... Agatha Harkness' bop to end all bops went viral on Marvel TikTok, with memes popping up all over the app.
Yung Gravy - 'oops!'
The "You talking about Tracy? Tracy with the ass?" song has become popular with reveal and 'wait for it' videos.
Juice WRLD & benny blanco - 'Real Shit'
The "real shit, real shit, never tell a lie" lyrics features over the '2 Truths & A Lie' trend that's been done by Addison Rae and Bella Poarch.
Yung Baby Tate - 'I Am' (ft. Flo Milli)
TikTok users are using Yung Baby Tate's "I am healthy, I am wealthy, I am rich..." lyrics to manifest positive vibes in 2021.
BeatKing - 'Then Leave'
Back in 2020, there was a dance routine to this one. But now there's a new Numbers Challenge where users have to repeat the sequence on the screen with their fingers to the beat of the song.
Timex Social Club - 'Rumours'
This '80s bop from Timex Social Club has been turned into a meme that basically exposes every day lies, thanks to its "stop spreading those rumours around" lyrics. Technically, this one started at the end of December 2020 but it's thriving in January 2021.
Taylor Swift - 'no body, no crime (ft. HAIM)'
TikTok users are using Taylor's evermore masterpiece to present their personal conspiracy theories about certain celebrities or fictional characters they think might have "done it".
TikTok songs with viral dances:
Doja Cat - 'Woman'
Another month, another viral TikTok dance set to a Doja Cat bop! Doja's Planet Her track 'Woman' has now gone viral on the app thanks to a dance routine created by @tracy.oj back in July. The original dance video has over 23.7 million likes and 151 million views.
Coi Leray - 'Twinnem'
Coi Leray's 2021 bop has found itself as the official #MeganKneesChallenge song on TikTok. Users have been testing the strength of their knees, with Megan Thee Stallion's strength being the ultimate goal, leaning further into a squat as the beat of the music continues. Although the trend started in 2020, Coi Leray's track has elevated the trend to new levels.
Destiny's Child - 'Bills, Bills, Bills'
Destiny's Child has officially made it to ThirstTok! People are using this bop over videos of their celebrity crushes, or with captions referring to certain groups of men and women that really do it for them. The routine for this one is one of the easiest on the app. The routine was started by @inmypjss, who was originally dancing to Sean Paul's 'Temperature'.
Stromae - 'Alors On Danse'
A slowed down version of the 2009 Stromae banger was used by TikToker user @usimmango in a video, where he and a group of friends rock to the beat of the track. The video itself has gone viral with almost 20 million likes and over 120 million views. Other TikTokers are putting themselves on top of it, and rocking in sync with the group alongside their own on-screen meme caption.
50 Cent - 'In Da Club x Beegees - 'Staying Alive'
This summer vibes routine was created by UK dancer @nathanramsayy who has garnered thousands of views across his videos of the dance on TikTok. Nathan even posted a slowed-down tutorial so fans can learn the routine.
'I Like To Move It'
This routine was created by @jikamanu and @junior_jmss back in May, and the trend has picked up over June and July with over 100k videos attached to the original sound used in the original video.
Nicki Minaj - 'I Get Crazy'
There's a couple of routines to Nicki's Beam Me Up Scotty mixtape track going viral on TikTok but the main routine seems to have been created by @konnorkelly. Charli D'Amelio shared the dance with her fans in June 2021 and it's only getting bigger.
@Cheerlebridee - 'Poof Be Gone'
The dance that's currently sweeping TikTok was created by @niaxnycole and the beat underneath the original cheer was created by @kyleyoumadethat.
Dababy - 'Vibes' x Vengaboys - 'We Like To Party'
Dancer @mstringy was the first to bring this one to the FYP. The original dance video has almost 700,000 likes and over 4.3 million views.
Loui ft. Saweetie - 'Talkin' Bout'
You may have seen this one on Charli D'Amelio's page as well as other big name creators, but the original creator is actually @4abeyy. Saweetie's "What's your sign? I'm a cancer/Body built, like a dancer" lyrics kick off the routine, before it hits the 'Now rock (Rock), rock (Rock), rock (Rock), rock (Rock)' chorus.
Doja Cat ft. SZA - 'Kiss Me More'
The TikTok dance of summer 2021 has arrived thanks to Doja Cat's new track and choreography from @zoifishh and @cassidycondiee. The original dance video has been viewed almost 9 million times and has over 1.4 million likes.
Steelix - 'Lay It Down'
This dance, created by @zoebaptistee, has been replicated thousands of times and is already proving popular on the FYP. The original dance video has been liked almost 700,000 times.
Starboi x Doja Cat - 'Dick' ("I'm Getting Ripped Tonight, RIP That Pussy")
There's a couple of different routines TikTokers are doing to this track on the app but the most popular one seems to be from @ali.scyn, who has seen the likes of Addison Rae and Charli D'Amelio perform the dance.
Soulja Boy's 'Pretty Boy Swag' x Two Door Cinema Club's 'What You Know'
There's a couple of variations to the start of this dance for this viral challenge floating about on YouTube but the first one appears to be from @sharlizetrue_, @pressleyhosbach and @shariahtrue. The remix was made by @samiamrosenberg.
Busta Rhymes - 'Touch It'
This trend was started by TikTok user @lilratpiss and quickly went viral, although the originator is not often tagged in posts where other TikTokers attempt to recreate the move. All you've gotta do to is dance around and then move in time to the beat of the song when the chorus hits. It's not as easy as it looks though!
Ciara - 'Got Me Good'
This one isn't a full on dance routine but the viral movies paired with those iconic "my back is aching, my bra's too tight, my hips are shaking from left to right" lyrics are all over the FYP. TikTokers are using the track's intro to dance in a lacklustre way before doing the absolute most when the beat kicks in.
Natasha Bedingfield - 'Unwritten'
Natasha Bedingfield's iconic track has been given the dance treatment thanks to @rony_boyy, who has seen their infectious choreography go viral on the app. The routine also features some dance moves inspired by Beyoncé's 'Single Ladies' choreography.
City Gurls - 'Twerkulator'
The dance was created by @layzchipz, who saw the routine blow up within two days of posting. Charli D'Amelio is now among those who have recreated the dance on their own accounts.
Cardi B - 'Up'
A new Cardi B song? Time for a new dance challenge! The 'Up' dance is credited to @theemyanicole and @cchrvs, with Mya Nicole's original video being viewed over 7.5 million times.
Ariana Grande - 'Motive' x Nelly Furtado - 'Promiscuous'
This Ariana and Nelly Furtado mashup is getting the viral dance treatment thanks to the iconic 'tornado arm' move from @samobam0.
Britney Spears - 'I'm a Slave 4 U'
Britney choreo on TikTok?! Sign us up! A new dance trend inspired by Brit's iconic Slave 4 U moves has gone viral on the platform, but there's several different routines that you can learn. One of the most popular seems to have been popularised by the Sharp Twins, with another similar routine posted by ssneha.r going viral too.
Carrie Underwood - 'Church Bells'
First posted by @astronomicalboy, all this dance trend requires is for you to hit the move on the first two beats of Carrie's track, and then bop to the rest. Simple as that. @astronomicalboy's original TikTok has over 750k likes.
Put Your Head On My Shoulder (Paul Anka) x Streets (Doja Cat)
The Silhouette challenge has taken over TikTok, and it sees people serving body against a backdrop of red light. The song in question? Well, actually, there's a few tracks that have been used but the main one is a remix of Paul Anka's 'Put Your Head on My Shoulder' and Doja Cat's 'Streets'.
Cdot Honcho - 'Mhm Mhm'
This dance was created by @arri.arii on December 31st but it's already dominating Dance TikTok in 2021. The original video and the follow up both now have over 1m views. Charli D'Amelio posted it to her followers in January 2021 and it's blowing up.
StopEmGottem - 'Beat Box'
The "Ready to get it started" song went viral in December 2020 but is continuing to pick up steam in 2021. This time around, there's a simple routine attached to the song.
Erica Banks - 'Buss It' (featuring a sample of Nelly's 'Hot In Herre')
The Buss It Challenge started taking off in January 2021 although it's not known who actually started the trend. To take part in the glam transition challenge, you need to start in casual clothing and no makeup. When the beat drops, you drop to the floor in a glam outfit and start dancing for the camera.
DJ Cummerbund - Britney Spears 'Toxic' x B-52's 'Love Shack'
The earliest version of the dance was posted by @livgrayland69 with multiple videos going massively viral shortly after using the same choreo.
Wale – 'Lotus Flower Bomb (ft. Miguel)'
Debuting at the end of December 2020, @goolir's routine to Wale's track is picking up steam in 2021 with Addison Rae and Haley Sharpe both bringing the dance to their followers.
Christina Aguilera - 'Show Me How You Burlesque'
Set to the iconic anthem from Burlesque, @brie_nicole98's choreo hit the app in 2020 but is now taking off again in 2021. The dance features some pretty impressive splits at the end so make sure you're flexible if you wanna be able to nail this one.
What were the biggest TikTok songs from 2020?
Here's the top 5 most used songs on TikTok from the past year:
Jawsh 685 - 'Laxed [Siren Beat]'
Karin - 'Bagaikan Langit Cover'
Young Thug feat. Future - 'Relationship'
K Camp - 'Lottery (Renegade)'
Megan Thee Stallion - 'Savage'
READ MORE: Here's the Top 10 TikTok songs of 2020