TikTok October 1st meaning: The viral trend explained
25 September 2023, 16:28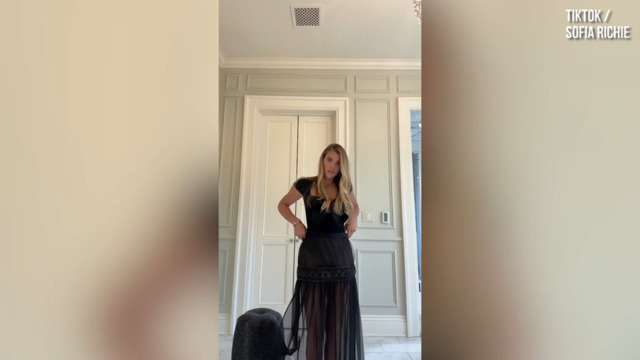 Sofia Richie brings back the side part in new TikTok video
What does October 1st mean on TikTok? Here's how a Girl In Red song inspired a 'relationship' video trend.
TikTok users are currently gearing up for October 1st on the app, but does the date actually mean? And what is the trend linked to it? Well, if you're single and feeling bitter about it, this one might not be one for you...
Over the past few years, TikTokers have been known to make specific dates go viral for random reasons. More often than not, the comment sections on those videos will then end up being full of people wondering what the hell is going on. Now, October 1st is the latest date to start trending.
The October 1st trend is not actually new, but it's popped up again in 2023 and it's causing confusion...again. Here's everything you need to know about the relationship trend, and how it all revolves around Girl In Red's song 'we fell in love in October'.
What does October 1st mean on TikTok? What happens on October 1st?
The song used in all of the videos about October 1st is Girl In Red's 'we fell in love in october'. The track is about falling in love and being in a relationship with another girl.
The lyrics that often pop up in the videos include, "You look so pretty and I love this view / We fell in love in October / That's why, I love fall," and "My girl, my girl, my girl / You will be my girl".
The trend has become popular within the WLW community, but men in relationships with women have also posted tributes to their girlfriends on October 1st using the sound too.
It's not only for people in relationships either... Most of the videos under the 'October 1st' are single people just wishing that they'll be in a relationship so they can be posted by someone in time for October 1st.
"Oh to get posted to this on October 1st," reads the caption on one viral video with over 1 million views.
So, there you have it. So now the question is: Will you be getting posted/posting your girlfriend on October 1st? Or will you sitting at home, alone, scrolling through all the October 1st TikToks in the dark?
Read more TikTok news here:
Ashnikko Breaks Down 'Weedkiller' Track By Track | Making The Album