Colleen Ballinger breaks silence with song addressing allegations
28 June 2023, 22:07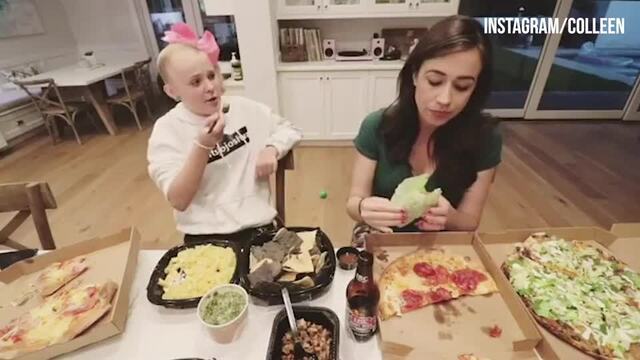 Colleen Ballinger and JoJo Siwa open up about receiving hate from trolls
Colleen Ballinger has posted a new video in which she addresses the ongoing accusations against her in a song.
Colleen Ballinger has broken her silence and addressed the allegations against her with a statement in a new YouTube video
In recent weeks, Colleen Ballinger, who is best known for performing as Miranda Sings, has come under scrutiny after past allegations have now resurfaced online. Members of her fandom, including former fan and YouTuber Adam McIntyre, have accused Colleen of inappropriate behaviour and posted new videos in which they make further allegations against her.
Three years ago, Adam McIntyre accused Colleen of various things, including sending him lingerie when he was 13 years old. Colleen addressed those accusations at the time. In a video, Colleen took accountability for what she had done and said that the lingerie (which was brand new and unworn) was sent as a joke.
Last week, Colleen appeared to subtly allude to the allegations on stage and now she has addressed them in a new song.
READ MORE: YouTuber Colleen Ballinger loses 30,000 subs after allegations of inappropriate behaviour
Taking to YouTube today (Jun 28), Colleen posted a new video titled 'hi.'. In it, she states: "I haven't been doing so great so I took a little break. A lot of people are saying some things about me that aren't quite true. It doesn't matter if it's true though, just as long as it's entertaining to you."
She then says: "Hi everyone, I've been wanting to come online and talk to you about a few things. Even though my team has strongly advised me to not say what I want to say. I recently realised that they never said that I couldn't sing what I want to say."
In her song statement, Colleen sings: "Many years ago I used to message my fans but not in a creepy way like a lot of you are trying to suggest. It was more of a loser kind of way but I was just trying to be besties with everybody."
She continues: "I've been sharing my life online for over 15 years. I've poured my heart out to you and because of that I feel like I'm talking to my friends but in the beginning of my career I didn't really understand that maybe there should be some boundaries. I changed my behaviour and took accountability but that's not very interesting."
The chorus of Colleen's song then goes: "The toxic gossip train. Steamrolled over someone's reputation. Toxic gossip train, hop on board but close your eyes otherwise you'll realise that the train is made of lies and that person you despise maybe didn't deserve to die."
Discussing her actions, Colleen adds: "I know you wanted me to say that I was 100 percent in the wrong...Well, I'm sorry I'm not gonna take that route of admitting to lies and rumours that you made up for clout. Have I made some joke in poor taste? Yes. Have I made lots of dumb mistakes? Yes. Am I sad that there are some fans who feel betrayed? Yes."
She also sings: "Let me tell you, it's not very fun to have millions of people all over the world call you the most vile, horrendous, disgusting, life ruining words that a person can be called."
Addressing the allegations directly, Colleen goes on: "It doesn't matter that the things aren't true. everyone just believes that you are the type of person who manipulates and abuses children....I'm not a groomer...I'm not a predator."
Colleen ends the video by singing: "To anyone out there who's ever supported me in any capacity, I really really appreciate you. Thank you...Sometimes people make mistakes simple because they made a mistake and that mistake doesn't make them a terrible human. It makes them a human."
Leigh-Anne Picks Her Own Interview Questions | PopBuzz Meets