Lana Del Rey claps back at woman accusing her of having "demonic energy"
10 October 2023, 12:55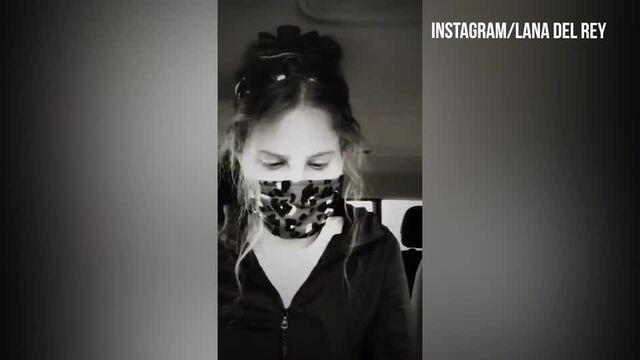 Lana Del Rey reads excerpt from new poetry book
A Christian influencer has told her followers to stop going to Lana Del Rey gigs.
Lana Del Rey has hilariously responded to a woman accusing her of having "demonic energy" in a recent Instagram video.
It's no secret that Lana Del Rey practices witchcraft. In 2017, Lana took to Twitter to encourage all of her fans to all take part in a hex against Donald Trump. Discussing the curse with NME, Lana confirmed that she did it, adding: "Why not? Look, I do a lot of shit [...] I really do believe that words are one of the last forms of magic and I'm a bit of a mystic at heart."
Now, Lana has clapped back at an internet preacher who is asking her followers to stop going to Lana Del Rey concerts.
READ MORE: Is the Lana Del Rey prophecy true? The viral 'question for the culture' meme explained
In September, Traci Coston took to Instagram to post a Reel titled: "Demonic Energy Knocks Over Lana Del Rey Crowd". In the video, Traci says: "Lana Del Rey has been open about practicing witchcraft and y'all look what happened at one of her concerts. This stuff is so real. This is not normal." Traci then shows footage of an audience falling over at a Lana gig.
Traci argues: "Whatever witchcraft Lana Del Rey is doing, the spell she's putting on her music to make it attractive, those demons are being invited into the crowd and into you when you attend. These demons will destroy your life. There's a reason the Bible tells us to stay away from witchcraft. It's because God loves you and he's trying to protect you."
Traci ends by saying: "Please give your life to Jesus. He is the one who frees you and protects you and for the love of everything, please stop going to this stuff."
For a while, the video went unnoticed but Lana herself decided to address it on Sunday (Oct 8). In the comments, she wrote: "B!tch I know the Bible verse for verse better than you do. PS you're giving off super gremlin energy. Not in a good way."
Since Lana commented on Traci's video, Traci has removed comments from the post and failed to address Lana or her accusations any further.
Crowds falling at concerts is nothing new and it's likely that someone just tripped over and knocked the crowd around them.
Let Lana practice her witchcraft in peace!
Kylie Minogue vs. 'The Most Impossible Kylie Quiz' | PopBuzz Meets