Is the Lana Del Rey prophecy true? The viral 'question for the culture' meme explained
31 July 2023, 17:58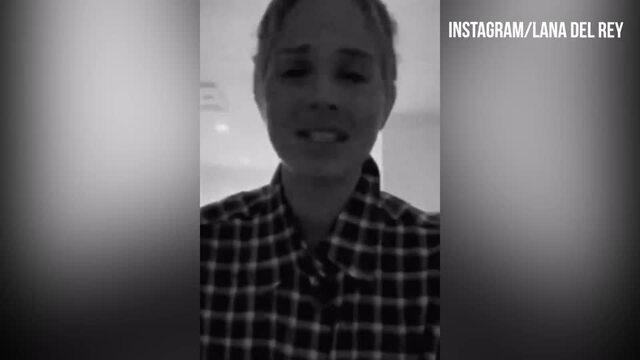 Lana Del Rey posts video to further clarify her controversial Instagram post
Doja Cat? Ariana Grande? Camila Cabello? Cardi B? Kehlani? Nicki Minaj? Beyoncé? What is the Lana Del Rey prophecy?
We all know that Lana Del Rey dabbles in witchcraft...but what is the Lana Del Rey prophecy, and is it actually coming true?
There's no celebrity quite like Lana Del Rey. As well as releasing critically acclaimed albums on the regular, Lana has earned praise for being a star completely on her own terms. From buying her dress for the Grammys at the mall, to unexpectedly working as a Waffle House waitress during her time off, Lana never fails to surprise and delight fans with her antics.
On top of that, Lana is known for occasionally practicing witchcraft. In 2017, Lana encouraged her fans to all take part in a curse against Donald Trump. Now, fans think Lana has made a prophecy and it all started with THAT Instagram post.
READ MORE: Lana Del Rey shocks fans by working at Waffle House in Alabama
Back in 2020, Lana faced backlash after she shared a "Question for the culture" on Instagram in which she called her critics "pathetic". While this wasn't out of the ordinary, Lana suggested that she she had it harder than most women in the music industry. She also compared her experience to a list of mainly Black female artists.
Lana wrote: "Now that Doja Cat, Ariana, Camila, Cardi B, Kehlani and Nicki Minaj and Beyoncé have had number ones with songs about being sexy, wearing no clothes, fucking, cheating etc - can I please go back to singing about being embodied, feeling beautiful by being in love even if the relationship is not perfect, or dancing for money - or whatever I want - without being crucified or saying that I'm glamorising abuse?"
Fast forward to 2023 and this week each celebrity Lana name-checks in that post appears to have gone through a scandal in the order Lana lists the names in.
Firstly, Doja Cat came under fire for telling her fans that she didn't love them and to delete their accounts. Secondly, Ariana Grande broke the internet after TMZ reported that she was getting divorced and had allegedly started a relationship with her Wicked co-star, Ethan Slater, who was also married. Third of all, reports came out that Camila Cabello was allegedly dating Rauw Alejandro just days after he announced his split from Rosalía.
Fans were quick to notice that the incidents lined up with Lana's list and it wasn't long before it was dubbed the "Lana Del Rey prophecy" and started going viral on Twitter and TikTok.
To top it all off, Cardi B then went viral for throwing a microphone at a fan over the weekend.
However, Lana fans then took the prophecy into their own hands, adding some false information into the mix.
One fan tweeted a fake Instagram story of Kehlani with the caption: "Broke my leg today at the Beyoncé concert lol".
Nevertheless, the image went viral with the fan tweeting: "Kehlani breaks her leg at the Beyonce concert, continuing the Lana prophecy!"
Mere moments later, it was revealed that Nicki Minaj had been the victim of a swatting incident. According to TMZ, someone called 911 and claimed a person had been shot at Nicki's house. L.A. County Sheriff Deputies then appeared at her home.
Between the made-up Kehlani lie and the very real swatting incident that Nicki's just experienced, even more TikTok videos and tweets have gone viral saying that Lana's prophecy is coming true.
Erykah Badu has also since accused Beyoncé of copying her tour looks. She posted a photo comparing one of Beyoncé's outfits to hers with the caption: "I guess I'm everybody stylist".
Nevertheless, as it stands, Kehlani is scandal free and the order is now out of whack.
In other words, Lana may be a practicing witch but the "Lana Del Rey" prophecy is nothing but an internet myth.
The Witcher Cast Interview Each Other | PopBuzz Meets