Paramore's Hayley Williams drags "internet bros" criticising her for postponing shows due to illness
31 July 2023, 14:34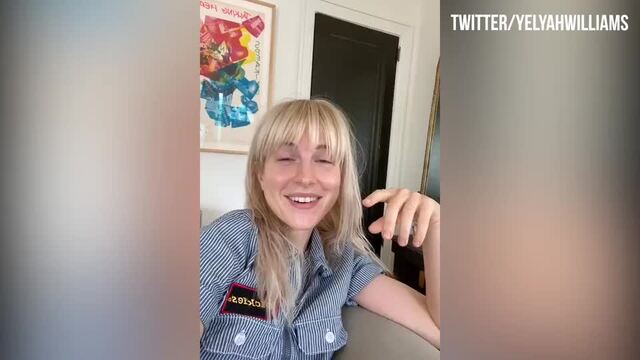 Hayley Williams hilariously reacts to people saying Paramore "sold out"
"Don't think for a second your fave bands - metal or punk or otherwise - endorse your weird incel ass lifestyle."
Hayley Williams has clapped back at people who have criticised her for postponing Paramore tour dates for health reasons.
Last week (Jul 28), Hayley Williams took to Instagram stories to update fans on her health after Paramore postponed several shows. Explaining what had happened, Hayley wrote: "As you know, we postponed a handful of dates due to illness. We kick back up Saturday in Tulsa (!!!) after a week of misery, sadness, and bellyfuls of antibiotics and steroids."
She added: "In all seriousness, this past week has been really tough. Nobody would know this but I started getting sick in Houston (non contagious) and muscled my way all the way through LA. Adrenaline is a wonder! But by the time the excitement and the nerves from all the LA shenanigans wore off, my body just gave out."
For the most part, Hayley's statement was met with love and support. However, some trolls began negatively comparing Hayley to the lead singers of male rock bands. Now, Hayley has reacted by eviscerating them in the most iconic way.
READ MORE: Hayley Williams apologises after kicking two Paramore fans out of a concert for pushing
Taking to Instagram stories again, Hayley shared some of the tweets she'd received from trolls with her own commentary. In one tweet, someone wrote: "Metallica manage - Iron Maiden manage all of which are much older than you love." Um. Okay.
Hayley responded: "Neither James nor Bruce are gonna suck your dick for this LOVE". Pretty legendary if you ask me.
Another tweet called Hayley a "whiney hypocrite c***" and said that Dave Grohl has broken his leg and returned to a stage before. Alongside the tweet, Hayley wrote: "I have a lung infection you soft shit! Not a broken limb...one you can sing with for 2 hours, another you cant."
She then added: "But worry not! The shows weren't cancelled, merely postponed a week. Maybe you should come out to one of them...like Dave Did." Touché.
On a more serious note, Hayley wrote: "Internet bros have been pressed by my proximity to rock music and all its subgenres since 2005. The only thing that's changed is the platform from which they spew their ignorance. Don't think for a second your fave bands - metal or punk or otherwise - endorse your weird incel ass lifestyle."
Hayley ended by writing: So many of these bands have stood side stage at our shows and treat us with love and respect. why? Bc they aren't threatened by a strong woman front a great band in a completely diff genre of music."
Hayley also shared a video of her laughing with the caption: "crying from laughing at myself i love when i have so so so much time."
Hayley Williams forever!
Read more Paramore news:'
The Witcher Cast Interview Each Other | PopBuzz Meets