Paramore's sixth album This Is Why: Everything we know so far
17 October 2022, 15:23 | Updated: 17 October 2022, 15:27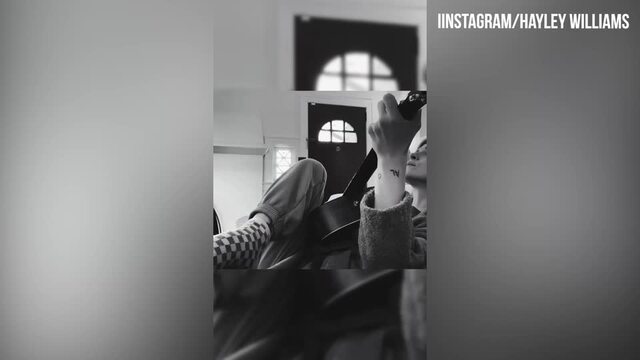 Hayley Williams covers Pain by The War on Drugs
Paramore have announced that 'This Is Why' will be the first single from their long-awaited sixth studio album. Here's everything we know about Paramore's forthcoming new album This Is Why.
Calling all Paramore fans - new music has finally arrived!
It's been over five years since Paramore released their last album After Laughter, but that is all set to change, thanks to the announcement of Paramore's new album, This Is Why.
Last November, Hayley Williams confirmed that Paramore would be returning with new music in 2022 after their hiatus. Fast forward to September 2022, and the band wiped all their old posts on Instagram and uploaded a new profile picture. There was also an update to their official website, where a cryptic schedule with mysterious words next to certain dates appeared.
In September (Sept 28), the band officially announced that their new album will be called This Is Why, and released the title track as the first single. Here's everything we know about Paramore's sixth album so far…
READ MORE: Hayley Williams said she "struggled" after Paramore featured on the Twilight soundtrack
When will the next Paramore album be released?
Paramore have confirmed that This Is Why will be released on February 10th 2023.
Given that the album release date is a few months away, it is likely the band will release two or more singles prior to the album drop.
What will the new Paramore album be called?
Paramore have confirmed that their new album is called This Is Why. You can pre-save the album here. It is their sixth studio album and follows 2017's After Laughter.
Have any song names been confirmed yet? Is there a tracklist?
On Sept 16, Paramore announced that the first single from the new album will be the title track, 'This is Why'. You can now stream the song on all platforms and watch the video below.
Paramore: This Is Why [OFFICIAL VIDEO]
On Oct 16, the band confirmed the full tracklist for the album:
1. This Is Why
2. The News
3. Running Out Of Time
4. C'est Comme Ca
5. Big Man, Little Dignity
6. You First
7. Figure 8
8. Liar
9. Crave
10. Thick Skull
What will the new Paramore album sound like?
Hayley has previously confirmed it'll be more rock-centric than their last album.
Speaking to Rolling Stone, she said: "Our output has always been all over the place and with this project, it's not that different. We're still in the thick of it but some things have remained consistent from the start. 1) More emphasis back on the guitar, and 2) Zac should go as Animal as he wants with drum takes."
Then, in an interview in July, Hayley revealed the new Paramore album has been influenced by Bloc Party.
"From day one, Bloc Party was the number one reference because there was such an urgency to their sound that was different to the fast punk or the pop punk or the like, loud wall of sound emo bands that were happening in the early 2000s," she said.
"They had their own thing and it was so unique and so dynamic, and it really stuck with us. And I'm really really thankful for this band, I'm so thankful that they're back, they're playing shows they're putting out great songs, and it just makes me feel even more excited to get back out into the world, and maybe cross paths with the band that has been a huge part of our story from day one," she added.
In a letter to fans on the Paramore Discord (Sept 28), Hayley Williams spoke about band's return. Here's the letter in full:
Hello again, dear friends. It feels like it's been a thousand lifetimes… Not only since we've put music out into the world but even longer since I've sat down with my computer to type out a note meant just for you to read.
The last few years at home were so crucial. We're all in our 30's now. Almost every single time the guys and I are together - and that's a lot - we find ourselves reminiscing on the last 2 decades of friendship as if we're ancient. It may sound silly but none of us can actually believe that we're still here and that somehow, people still seem to care. It's a massive deal… something we don't take lightly.
From late 2018 until today, and for the first time in my adult life, I've been able to spend consecutive days, months, years, etc., at home. I kept weekly appointments (shouts to my many doctors), I cooked many meals (still wish it'd been more) in my own kitchen, and saw family (in person) any chance I could. The realization of just how luxurious all of these things are for anyone, anywhere, also became more apparent than ever. The lessons have been endless and they've been so different than any of the lessons I learned from living on the road, doing Paramore 24/7/365. This was a real break from whatever living I'd done before. Looking at our calendar for the next couple of years, I know that I would not be ready to give myself back to the band and the music and the life that I love so much had we not voluntarily given it up for a season.
For all of that, on behalf of us all, I want to say thank you for being so loving and supportive of us as humans first. The music industry is not a human-first industry. It's not even a music-first industry. Look, we don't even live in a human-first society!!!!!!!!!!!! So choosing to walk away for a spell simply for our own sanity was not an ill-considered concept.
I must admit, coming out of our respective holes in the ground and back into the "real world" is kind of terrifying. Watching and reading the news is like having the wind knocked out of you on a daily basis. The idea of getting out there and doing what we do at a time like this feels heavy and futile and necessary all at once. It also feels like the perfect time to take advantage of every opportunity we are given to leverage our platform and all of that for good causes. Whether those are literal causes or whether it's just about showing ourselves and each other that music is still a good place to be. A show can still be a gathering and not simply a crowd. That's what I'm looking forward to the most.
And I guess I'll end this here. Tomorrow, we start again!—
And yet, really, we're just picking up where we left off. For so many reasons I don't even have words for, I think we are about to experience our happiest, most fulfilling moments as Paramore. And when I say, "WE", I do hope by now you know what I mean.
You'll hear from me again before long. Sending you love and all my gratitude and hopes and solidarity and all that exists in between. Miss Williams
Are Paramore going to tour the new album?
Most likely! They currently have an upcoming tour of the US in October and November, but it's not known yet whether any new music will feature in the shows. The current tour dates are:
October 2, 2022 - Bakersfield, CA - Mechanics Bank Theater
October 4, 2022 - Magna, UT - The Great SaltAir
October 6, 2022 - Omaha, NE - Orpheum Theater Omaha
October 8, 2022 - Oklahoma City, OK - The Criterion
October 9, 2022 - Austin, TX - Austin City Limits
October 11, 2022 - Chesterfield, MO - The Factory
October 14, 2022 - Bonner Springs, KS - Azura Amphitheater
October 16, 2022 - Austin, TX - Austin City Limits
October 20, 2022 - Los Angeles, CA - The Wiltern
October 22, 2022 - Las Vegas, NV - When We Were Young Festival
October 23, 2022 - Las Vegas, NV - When We Were Young Festival
October 27, 2022 - Los Angeles, CA - The Belasco
October 29, 2022 - Las Vegas, NV - When We Were Young Festival
November 7, 2022 - Toronto, ON - HISTORY
November 9, 2022 - Chicago, IL - The Chicago Theatre
November 11, 2022 - Cincinnati, OH - The Andrew J Brady Music Center
November 15, 2022 - Atlanta, GA - Tabernacle
November 16, 2022 - St. Augustine, FL - The St. Augustine Amphitheatre
November 19, 2022 - Mexico City, MX - Corona Capital Festival
Read more Paramore news...
Rina Sawayama Reacts To "Industry Plant" Rumour and Paints A Self-Portrait | PopBuzz Meets