Who is Lili Melgar? The savage meaning behind Shakira's El Jefe lyrics explained
22 September 2023, 17:00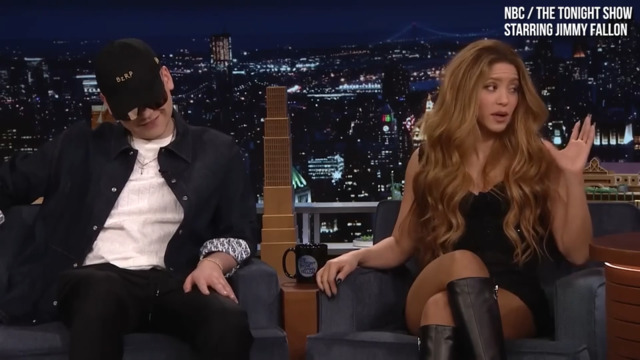 Shakira reveals her son Milan made her collab with Bizarrap
Shakira dedicated her new single 'El Jefe' to Lilly Melgar but who is she? This is the meaning behind the song explained.
Shakira is putting her ex-husband Gerard Piqué firmly in his place with her single 'El Jefe'. What do the lyrics mean though?
Hell hath no fury like a woman scorned and, over the past year, Shakira has used her heartbreak over Gerard Piqué cheating on her as inspiration for some of the best music of her career. In 'Shakira: Bzrp Music Sessions, Vol. 53', Shakira called out Gerard for leaving her for a 22-year-old and in 'Acrostico' Shakira sang about how her sons are the true loves of her life.
READ MORE: Are Shakira's Copa Vacía lyrics about Gerard Piqué? Here's the English translation
Now, Shakira is approaching her Gerard split from a different angle. She dedicates her new single 'El Jefe' to Lili Melgar.
Who is Lili Melgar?
'El Jefe' is inspired by regional Mexican music and it's a collaboration with Fuerza Regida. In the song, Shakira and Fuerza Regida sing about the working man and the hardships of daily life. Shakira opens by singing: 'Stick it to the man / 7:30 the alarm goes off / I want to be in bed / But I can't / I take the kids at 9.'
Shakira then directly references Gerard's family in the second verse. She sings: 'What irony, what madness, this is torture / You kill yourself from dawn to dusk and you don't even have a will / They say that there is no evil that lasts more than a hundred years / But there is still my ex-father-in-law who has not set foot in the grave.' Ouch.
At the end of the song, Shakira makes a direct dig at Gerard Piqué by singing: 'Lili Melgar, this song is for you, they didn't compensate you'. Fans of Shakira will already know that Lili worked as a nanny for Gerard and Shakira for many years. However, Gerard reportedly fired Lili after she learned of his affair.
Based on the song, it appears that Shakira and Lili have remained on good terms and, if that weren't iconic enough, Lili actually stars in the 'El Jefe' music video with Shakira!
Shakira, Fuerza Regida - El Jefe (Official Video)
We have no choice but to stan!
Shakira & Fuerza Regida - 'El Jefe' lyrics
VERSE 1: Shakira & Fuerza Regida
Stick it to the man
7:30 the alarm goes off
I want to be in bed
But I can'tI take the kids at 9
The same coffee, the same kitchen
The same as always, the same routine
Another shit day
Another day in the office
PRE-CHORUS: Fuerza Regida
I have a shit boss that doesn't pay me well
I come to work walking and he arrives in a Mercedes Benz
He has me as a recruit
The son of a bitch
CHORUS: Shakira
You're dreaming of leaving the neighborhood
You have everything to be a millionaire
Expensive tastes, the mentality
You only need the salary
VERSE 2: Fuerza Regida & Shakira
Bills pile up, being poor is rubbish
Mum always told me that studying assures a good future
I studied and nothing happened, damn this hard life
I work harder than a bastard, but I fuck less than a priest
What irony, what madness, this is torture
You kill yourself from dawn to dusk and you don't even have a will
They say that there is no evil that lasts more than a hundred years
But there is still my ex-father-in-law who has not set foot in the grave
PRE-CHORUS: Fuerza Regida
I have a shit boss that doesn't pay me well
I come to work walking and he arrives in a Mercedes Benz
He has me as a recruit
The son of a bitch
CHORUS: Shakira
You're dreaming of leaving the neighborhood
You have everything to be a millionaire
Expensive tastes, the mentality
You only need the salary
PRE-CHORUS: Shakira
You have a shit boss that doesn't pay you well
You come to work walking and he arrives in a Mercedes Benz
He has you as a recruit
That son of a bitch
CHORUS: Fuerza Regida
I dream of leaving the neighbourhood
I have everything I need to be a millionaire
Expensive tastes, the mentality
I only need the salary
BRIDGE:
Lilly Melgar
This song is for you, they didn't compensate you
CHORUS: Shakira and Fuerza Regida
You're dreaming of leaving the neighborhood
You have everything to be a millionaire
Expensive tastes, the mentality
I only need the salary
Ashnikko Breaks Down 'Weedkiller' Track By Track | Making The Album