Elite season 8: Release date, cast, spoilers, trailers and news about the Netflix series
31 October 2023, 17:03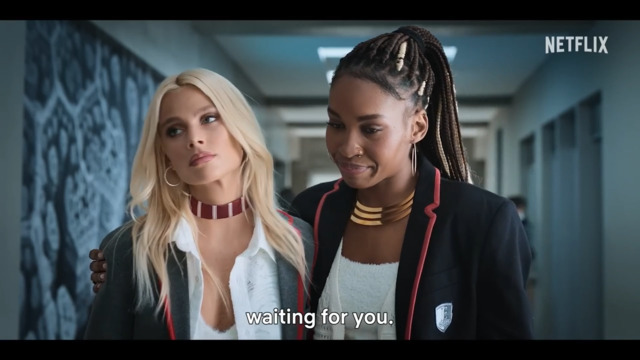 Watch the Elite season 7 trailer
Will there be an Elite season 8 on Netflix? Here's everything you need to know about the final season of the Spanish series.
It's true. Netflix have officially confirmed that Elite season 8 will be the final season of the drama but when does it come out?
Ahead of the release of Elite season 7, Netflix confirmed that Elite will end with season 8. In a press conference for the show, creator Carlos Montero said: "We're shooting the eighth season, which will be the last season of Élite. We ended on a high note. [We] thought it was time to end it. I say this with great regret because it's been several incredible years."
It's currently unclear how many of Elite's original cast members will return or makes cameos in the final season. However, Netflix have confirmed that Mina El Hammani will reprise the fan favourite role of Nadia Shanaa in Elite season 8.
READ MORE: Who dies in Elite season 7? The ending explained
Naturally, fans are desperate to find out how the show will end. With that in mind, here's everything we know about Elite season 8, including the release date, cast, trailer, spoilers and news about what's to come in the finale season.
When does Elite season 8 come out on Netflix?
When is the Elite season 8 release date?
Filming for Elite season 8 started in August 2023 and is currently set to finish in December 2023. Given that filming for Elite season 7 ended in March 2023 and the season came out in October 2023, it's possible that the show's final season will come out as soon as April 2023. It all depends on how long post-production takes.
Just like all seven previous seasons of Elite, we imagine that season 8 will have eight episodes.
Who will be in the Elite season 8 cast?
While some Elite cast members are leaving, Elite looks set to end with many fan-favourites still in the show. As well as Omar Ayuso, Mina El Hammani will return to play Nadia. It's possible that other original cast members will cameo too. On top of that, Ane Rot and Nuno Gallego are joining the cast as brand new characters Emilia and Héctor.
Valentina Zenere - Isadora
André Lamoglia - Iván
Carmen Arrufat - Sara
Ander Puig - Nico
Nadia Al Saidi - Sonia
Omar Ayuso - Omar
Mina El Hammani - Nadia
Fernando Líndez - Joel
Mirela Balić - Chloe
Gleb Abrosimov - Eric
Alejandro Albarracín - Luís
Iván Mendes - Dalmar
Maribel Verdú - Carmen
Ane Rot - Emilia
Nuno Gallego - Héctor
Who is leaving Elite after season 7?
As for the characters who won't be in Elite season 8, Anitta only signed on to do one season as Jessica. Meanwhile, Ana Bokeska is leaving as Rocío, Álvaro de Juana is leaving as Dídac and Álex Pastrana is leaving as Raúl.
WARNING: ELITE SEASON 7 SPOILERS BELOW
What will happen in Elite season 8?
The cast and creators are yet to tease what will happen in Elite season 8 but show creator Carlos Montero has promised that the show is going to go out with a bang. In the Elite season 7 press conference, Carlos teased: "We ended on a high note."
Given that season 7 ends with Carmen killing Raúl and pretending that it was a suicide, we imagine that the final season will explore whether or not she gets caught. There's also the ongoing saga of whether or not Joel and Iván will end up together or if they're destined to be apart. Oh and we're sure Nadia will play a key role in whatever happens.
With every season introducing fans to a new mystery, our bet is that season 8 will stay true to the show and feature, murder, mayhem and a lot of wild sex scenes. Bookmark this page and we'll let you know as soon as more is revealed.
Is there an Elite season 8 trailer yet?
There isn't an official Elite season 8 trailer right now but we shall update you as soon as there is one.
Read more about Elite here:
Troye Sivan Paints A Self-Portrait While Answering Deep And Chaotic Questions