Who dies in Elite season 7? The ending explained
20 October 2023, 16:45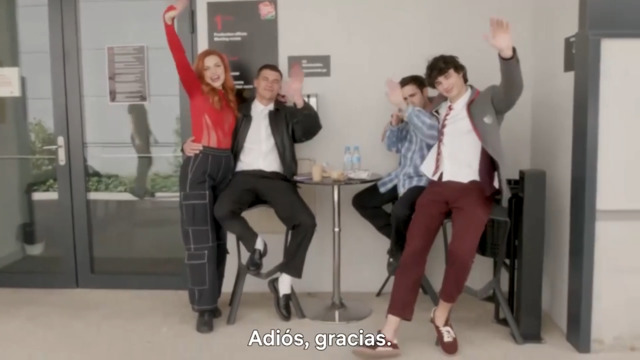 Behind the scenes of Elite season 7
Here's what happens in the Elite season 7 and how it sets up the show's final season.
The wait is over. Elite season 7 is finally out on Netflix but does anyone die in it and how does the penultimate season end?
Elite season 7 picks up in the wake of Iván's hit and run accident. Iván recovers but he's unaware that Sara was responsible. All the while, parents want Didác expelled from Las Encinas because he comes from a mafia family and they blame him for the school shooting. Oh and there are plenty of new characters to spice things up including Iván's biological mother.
READ MORE: Elite season 8: Release date, cast, spoilers, trailers and news about the Netflix series
What happens in the Elite season 7 finale though? Who does Joel end up with and how does it set up Elite's final season?
WARNING: ELITE SEASON 7 SPOILERS BELOW
Unlike past seasons of Elite, Elite season 7 does not have a key mystery and flashbacks that explain what happened during the season. That being said, there is a mini-mystery in the Elite season 7 finale. At the start of the episode, we find out that someone has committed suicide and the episode then gradually shows what led up to the death and who actually died.
First things first, Nico and his parents kick Eric out for still taking drugs and Eric runs away. He tries to jump from a building but he contacts the student help app and Sonia answers his messages. Sonia tells Nico that she believes Eric is in danger. Nico and his parents then manage to stop Eric from killing himself and make clear they love him and are there for him.
Meanwhile, Isadora finds out that Didác has been collaborating with the police. The police inform Isadora that they believe that both of their families have been committing crimes with Rocío's mother Catalina. Isadora's dad tries to have Catalina killed. However, Isadora gets him to confess to his crimes on a wire and the police intervene before anyone dies.
So who dies? Well, Sara warns Carmen about Raúl's abusive behaviour. At the same time, Raúl hits Chloe after she sees that he had sex with Sara and confronts him. Carmen goes to Raúl's apartment to help her daughter. Raúl tries to choke Carmen on his rooftop balcony. Carmen escapes and pushes him off the roof.
Carmen and Chloe then frame Raùl's death as a suicide and use each other as alibis. However, when the episode ends, we're shown that Joel and Omar's flatmate Dalmar caught Carmen pushing Raúl on camera. Will he tell the police?
Outside of Raúl's death, Iván goes ahead with his exchange programme in South Africa and he invites Joel to go to with him as his boyfriend. After much consideration, Joel declines to try and stand on his own two feet. He also decides to finally end things romantically with Omar too and Omar returns to therapy to process what happened to Samuel.
With Iván returning for season 8, we doubt that his love story with Joel is over just yet. On top of that, it seems likely that the season will focus on whether or not Carmen is caught for killing Raúl. Omar's sister Nadia is also set to return and Iván still doesn't know who ran him over so it seems like plenty of drama awaits us.
Discussing the final season, Elite's creator Carlos Montero teased in a press conference that it ends "on a high note".
Read more about Elite here:
Troye Sivan Paints A Self-Portrait While Answering Deep And Chaotic Questions