Heartstopper season 3: Release date, cast, trailers, plot and book spoilers
2 October 2023, 12:09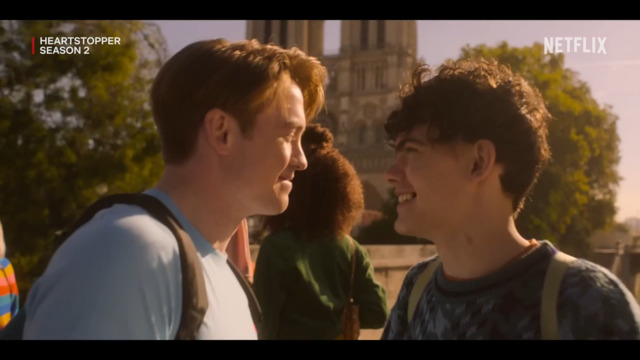 Watch the Heartstopper season 2 trailer
Will there be a Heartstopper season 3? Here's everything we know about the future of the Netflix teen drama and how Alice Oseman says season 3 will deviate from the books.
Heartstopper is officially back and Narlie season is in full swing, but people are already desperate for Heartstopper season 3.
Heartstopper season 2 adds to the drama and romance of season 1. Nick and Charlie are officially a couple, Tao and Elle are exploring their feelings for each other and Darcy and Tara's relationship is put to the test. There are also key storylines for Isaac, Imogen and Ben. Not to mention, there are a couple of brand new characters for fans to fall in love with.
Just like season 1, the season 2 finale has left fans wanting more. Will there be a Heartstopper season 3 though? Here's all the information we know so far about Heartstopper season 3 including the release date, cast, trailers, plot details and spoilers from the graphic novels.
Make sure to bookmark this page and we will update it as and when Netflix reveal even more Heartstopper season 3 news.
READ MORE: Heartstopper season 2 soundtrack: Every song in the show revealed
Has Heartstopper been renewed for season 3?
The first season of Heartstopper was so popular that Netflix renewed the teen drama for two more seasons one month after season 1 debuted. In other words, Heartstopper season 3 was confirmed all the way back in May 2022.
At the time, the official Heartstopper Instagram account, shared an illustration of Nick and Charlie with the caption: "We're back again (and again!) for 2 more seasons of Heartstopper!"
As of October 2023, production on Heartstopper season 3 has officially begun.
Discussing season 3 with Entertainment Weekly, creator Alice Oseman said: "I've started writing it right now. It's very much underway. We did not expect to get a season 3 renewal at the same time as season 2 because that's quite rare, to be honest."
She then explained: "What that did do is it gave us more time to think about what's gonna happen in season 3. I could set things up safely in season 2 knowing that we would be able to get to it in season 3, which is not a luxury that I had in season 1."
The first episode Heartstopper season 3 will be titled 'Love'.
When does Heartstopper season 3 come out?
As it stands, Netflix are yet to reveal when they intend to release Heartstopper season 3. However, given that the show has already been renewed for another season, it's possible that fans won't have to wait too long. There was a 16-month gap between seasons 1 and 2 so there's a chance that season 3 will air by around December 2024.
However, the release might be affected by the SAG-AFTRA strike, but it's unclear if Heartstopper, which is a British production, will be joining in. (As of July 2023, actors are on strike following a breakdown in negotiations with studios and production companies to try to secure fairer pay, better working conditions and safeguards against unauthorised use of their likeness through artificial intelligence.)
So, while we may have to wait longer than usual for season 3, there's a good reason why.
WARNING: HEARTSTOPPER SEASON 2 SPOILERS BELOW
Who will be in the Heartstopper season 3 cast?
As it stands, only Joe Locke and Kit Connor have been officially confirmed to return, but it's pretty much confirmed that the others will be back too. With Elle at art school now, it's also likely that some more new characters will be introduced.
Here's who we expect to see in Heartstopper season 3:
Kit Connor as Nick
Joe Locke as Charlie
William Gao as Tao
Yasmin Finney as Elle
Corinna Brown as Tara
Kizzy Edgell as Darcy
Tobie Donovan as Isaac
Jenny Walser as Tori
Fisayo Akinade as Mr Ajayi
Chetna Pandya as Coach Singh
Olivia Colman as Sarah
Rhea Norwood as Imogen
We also imagine that Nima Taleghani will be back as Mr Farouk now that his romance with Mr Ajayi is heating up. Elsewhere, we wouldn't be surprised if Bradley Riches returns as James and we see more of Jack Barton as Nick's older brother David.
Has Sebastian Croft left Heartstopper?
Whether or not Sebastian Croft comes back as Ben Hope is yet to be seen. At the end of season 1, Ben reveals that he isn't going back to Truham for sixth form so it appears this his story is over.
We'll let you know when Sebastian confirms if he's left Heartstopper or not.
Heartstopper season 3: What happens in the graphic novel?
Given that Heartstopper season 2 was based on Heartstopper: Volume 3, we reckon that season 3 will take inspiration from Heartstopper: Volume 4. Just like the other seasons, it's likely that Netflix will expand on the story in the book and give us more new Heartstopper storylines.
The graphic novel picks up right where season 3 leaves off. Charlie wants to tell Nick "I love you" and Nick feels the same way but Charlie's struggling with his eating disorder and Nick is struggling with his relationship with his dad. We expect season 3 will bring this to life.
Elsewhere, it's possible that season 3 will develop the stories of Nick and Charlie's friends even further. Can Tao and Elle can make a long distance relationship work? Will Isaac come out as asexual? Will Tara come out to her mother?
When asked if season 3 will deviate from the books, creator Alice Oseman told Entertainment Weekly: "I think so. I'm always very committed to preserving what is in the comics and making sure all the big, exciting moments are in the show, but honestly, there is just so much extra space around that to do whatever we want."
She continued: "Now that we've got seasons 1 and 2, we've had so much development for the supporting cast: Tao, Elle, Tara, Isaac, even new characters like Imogen. There's so much new stuff that gives us so much to play with in season 3. I feel very comfortable letting the show be its own thing."
Alice ended by saying: "In my mind, the show and the comic feel very separate, although it's quite a faithful adaptation. I feel excited to get to expand Heartstopper for the show."
We'll let you know as soon as the cast and crew reveal more about what's to come.
Read more about Heartstopper here:
The Heartstopper Cast Interview Each Other | The Group Chat | PopBuzz Meets