Bridgerton season 2: Here's what happens next
9 October 2021, 22:53 | Updated: 9 October 2021, 23:02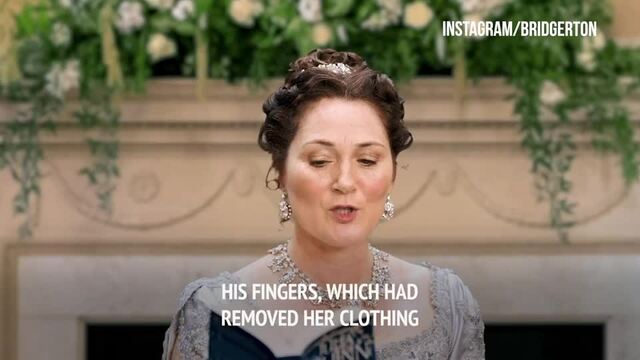 Watch the Bridgerton cast read the sex scenes from The Duke & I book
Everything you need to know about Bridgerton season 2 including the release date, cast, trailer, plot and more.
Bridgerton is still the moment. Ever since the hit drama came out, fans have been obsessed with it and desperate for season 2 arrive ASAP.
Bridgerton season one tells the story of Daphne Bridgerton (Phoebe Dynevor) and her romance with Simon, the Duke of Hastings (Regé-Jean Page). As the season progresses, their love is tested, all the while unknown columnist Lady Whistledown gossips about their romance. But season 2 will see a new couple step it the spotlight.
READ MORE: This is how they filmed Bridgerton's sex scenes
Bridgerton season 2 is set to focus on Daphne's older brother Anthony Bridgerton (Jonathan Bailey) and his romance with Kate Sharma (Simone Ashley). The show will introduce viewers to the Sharma family, following on with the narrative already laid out in the novel series.
Here's all the key Bridgerton season 2 information we know so far...
When is Bridgerton season 2 coming out?
Will there be a Bridgerton season 2 on Netflix?
On Jan 21, Netflix announced that Bridgerton has been renewed for a second season. They tweeted: "DEAREST READERS, BREAKING NEWS... Bridgerton *will* return for a second season!"
Bridgerton is currently Netflix's most watched series of all time with over 80 million households watching the series within the first 4 weeks of its release. (Although, that could soon be overtaken by Squid Game.)
Thanks to the enormous success of the first season, and the popularity of the books, Netflix have already renewed Bridgerton for seasons 3 and 4.
When is Bridgerton season 2 coming out?
After multiple delays due to the pandemic, filming on Bridgerton season 2 finally got underway in May 2021. But fans hoping for another December release will have to wait a little longer.
Bridgerton season 2 will be arriving on Netflix in 2022. The exact month and date has yet to be revealed.
READ MORE: Bridgerton creator wants 7 more seasons at Netflix
Bridgerton | TUDUM: First Look at Season 2 | Netflix
What will happen in Bridgerton season 2?
Fans of Bridgerton will likely already know that the series is based on the Bridgerton books by Julia Quinn. Season 1 takes direct inspiration from the first book 'The Duke & I' and the main characters are Daphne and Simon. However, each book in the series focuses on a different character and the second, 'The Viscount Who Loved Me', is all about Anthony Bridgerton.
Bridgerton season 2 will be all about Anthony and a new character called Kate Sharma (known as Kate Sheffield in the novels). And if you've read the book series, you'll already know exactly what's coming... Enemies to lovers? SAY NO MORE.
In the book, Anthony is set to marry Kate's younger sister Edwina, but Kate doesn't think Anthony is worthy of her sister's hand in marriage. Despite loathing each other from the get go, they eventually fall for each other. And well... it's Bridgerton, you know what happens next.
Netflix have already released a short clip of Anthony and Kate meeting for the first time, alongside a series of new photos.
Who will be in the Bridgerton season 2 cast?
Despite the change of focus in season 2, fans need not worry about any of their favourite characters disappearing... well, except one, but more on that in a minute.
Expect to see Penelope Featherington (Nicola Coughlan), Anthony Bridgerton (Jonathan Bailey), Colin Bridgerton (Luke Newton), Eloise Bridgerton (Claudia Jessie) and Benedict Bridgerton (Luke Thompson) all return.
We also imagine that all of the iconic parents and aunts will come back, which means that Dowager Violet (Ruth Gemell), Lady Portia (Polly Walker), Lady Danbury (Adjoa Andoh) and Queen Charlotte (Golda Rosheuvel) will all get more screen time.
Daphne (Phoebe Dynevor) will also return but don't expect her character to be as prominent as she was in season 1.
Why did Regé-Jean Page leave Bridgerton?
As you probably already know, Regé-Jean Page will not be returning as Simon Basset, the Duke of Hastings.
A statement posted by the Bridgerton social media accounts said: "Dear Readers, while all eyes turn to Lord Anthony Bridgerton's quest to find a Viscountess, we bid adieu to Regé-Jean Page, who so triumphantly played the Duke of Hastings."
"We'll miss Simon's presence onscreen, but he will always be a part of the Bridgerton family. Daphne will remain a devoted wife and sister, helping her brother navigate the upcoming social season and what it has to offer – more intrigue and romance than my readers may be able to bear."
In an interview with Variety Page said: "It's a one-season arc. It's going to have a beginning, middle, end—give us a year. [I thought] 'That's interesting,' because then it felt like a limited series. I get to come in, I get to contribute my bit and then the Bridgerton family rolls on."
Shonda Rhimes also confirmed that Page had only been signed to a one-season deal, although he was invited to return for season 2 cameos.
Bridgerton season 2 new characters: Who is joining the cast?
As expected, there'll be a whole bunch of new characters to fall in love with in season 2. The first of which will be the iconic Kate Sharma (named Kate Sheffield in the original book series) who will be played by Sex Education's Simone Ashley.
Charithra Chandran, Shelley Conn, Calam Lynch, and Rupert Young will also be joining the cast.
Charithra Chandran will play Kate's little sister Edwina Sharma, with Shelley Conn playing their mother Lady Mary Sharma.
Calam Lynch will play Theo Sharpe, a hardworking, intellectual printer's assistant. Rupert Young will play Jack, the newest member of the ton with a connection to one of its most notable families.
Is there a Bridgerton season 2 trailer?
There isn't a Bridgerton season 2 trailer just yet but we shall update you as soon as there is one.