Hilary Duff is "optimistic" the Lizzie McGuire reboot could still happen
31 January 2023, 12:52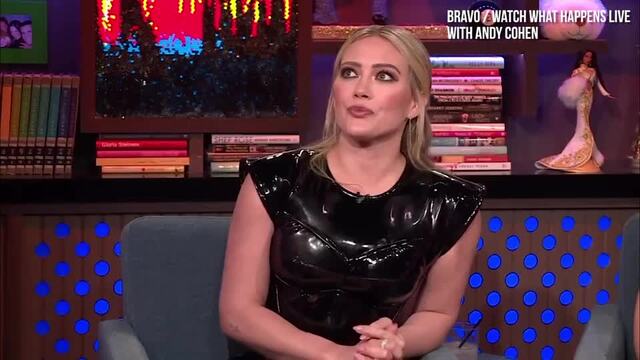 Hilary Duff says the Lizzie McGuire reboot could still happen
GOOD NEWS: Hilary Duff is still down to bring Lizzie McGuire back to life!
There may still be hope for the Lizzie McGuire reboot yet... according to Hilary Duff herself.
In case you completely forgot about it, Hilary Duff was set to reprise her role as Lizzie McGuire in a grown-up reboot of the iconic Disney Channel series. Original cast members had also returned (including Adam Lamberg as Gordo), promotional photos had been shared and two whole episodes had been filmed.
However, the reboot was then basically cancelled. In a statement from Disney, following the departure of showrunner Terri Minsky, they said: "After filming two episodes, we concluded that we need to move in a different creative direction and are putting a new lens on the series."
It's been over two years since then and there's been no major updates on the state of the series or whether it will go ahead. Hilary, however, is still optimistic that it will eventually happen – and she's still up for returning as the iconic, beloved character.
Posing a fan question to Hilary during an episode of Watch What Happens Live, host Andy Cohen asked: "If the Lizzie McGuire reboot lived up to your vision, would you move forward with the revival?"
Thankfully, Hilary is still down to bring Lizzie back to life. Responding to the question, she said: "Of course!"
Explaining the reasoning behind why it didn't quite work out a few years ago, Hilary said: "Disney+ was very new and I think they were figuring out their... and we were figuring out our.."
Presumably referring to the wide array of content that now lives on Disney+, Hilary ended by saying that she is "optimistic" that the reboot will move forward again soon.
Hilary previously appeared to suggest that the Lizzie McGuire reboot was scrapped because the content was 'too mature' for the streaming service.
Back in 2020, Hilary took to Instagram Stories to share a headline about Love, Victor being moved from Disney+ to Hulu, where there's more "young adult programming". The headline claimed that the LGBTQ+ series was deemed not 'family friendly' enough to air on Disney+. Sharing the screenshot, Hilary wrote: "Sounds familiar..."
Hilary also shared an Instagram post urging Disney to move Lizzie McGuire to Hulu, and said she would be "doing a disservice to everyone by limiting the realities of a 30-year-old's journey to live under the ceiling of a PG rating".
While no specific details about the show's apparent mature themes have been shared, Hilary did reveal the plot of the series back in a 2022 interview with Cosmopolitan.
"My character was moving back home with her parents because she caught her soon-to-be fiancé cheating on her," she shared. "And she was falling flat on her face at the moment and being like, 'I need to pivot because everything that I thought was wasn't, and I'm turning 30. What the f***?'"
READ MORE: Miranda Cosgrove hopes iCarly will push Disney+ to do the adult Lizzie McGuire reboot
Teen Wolf Movie Cast vs. 'The Most Impossible Teen Wolf Quiz' | PopBuzz Meets