Lucy Gray's Hunger Games dress features Katniss and Primrose easter egg
15 November 2023, 14:48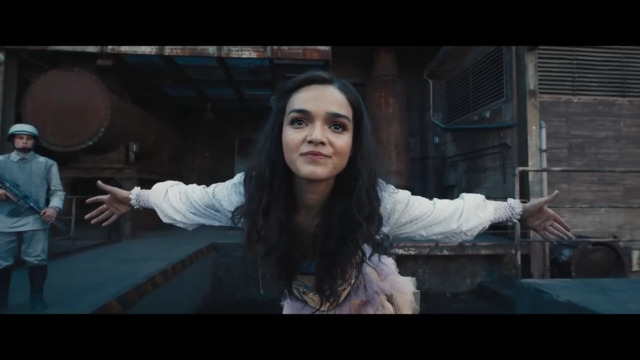 Watch the trailer for The Hunger Games: The Ballad of Songbirds and Snakes
The handpainted details on Lucy Gray's dress corset are tributes to Katniss and Primrose Everdeen.
Tributes, it's almost time! The Hunger Games: The Ballad of Songs and Snakes is finally here and based on the reviews so far, fans of Suzanne Collins' original books and the film series are going to be massively impressed by how it's all brought to life on screen.
Throughout the film, there's plenty of easter eggs for fans to find amongst the new characters and landscapes, and there's countless nods to the other characters from the universe too.
One of the biggest and most layered easter eggs can be found in Lucy Gray's iconic rainbow ruffle dress. Costume designer Trish Summerville, who also worked on Catching Fire, has now revealed that Rachel Zegler's costume features subtle tributes to both Katniss and Primrose Everdeen.
READ MORE: Hunger Games' Rachel Zegler explains how Lucy Gray is different to Katniss
Explaining how she took inspiration from the book when crafting Lucy Gray's "ruffled rainbow dress", and how she kept the fans in mind when thinking about how to bring it to life on screen, Trish disclosed the tiny little nods to Katniss and Primrose that made it into the final design.
"You wanna give something to the fans and you wanna keep them really interested. So, in her corset, I had it all hand-painted with katniss and primrose flowers, and snakes," Trish told Variety. "So it kind of gives a nod to Katniss and Primrose in the other books and the other films."
Ten different versions of the dress were eventually made, due to all the stunts that had to be filmed.
Discussing the silhouette further with E! News, Trish said: "I wanted to have a tie in to Katniss Everdeen in the Catching Fire movie that I did of her blue Mockingjay dress—with the corset shape."
"It worked for Lucy as well because she is this vaudeville performer and it's a classic period piece."
She added that her vision was to imply that Lucy's distinctive outfits would have been part of the history that Katniss and Prim learned about as children: "We tied it back to where we could have these names for Katniss and Primrose, possibly because there was this girl who survived the Hunger Games and represented flowers on her corset."
Read more news about The Hunger Games here:
Madison Beer Explains Every Song On 'Silence Between Songs' | Making The Album