Hunger Games' Jena Malone reveals Jennifer Lawrence was not actually there for elevator scene
14 November 2023, 16:10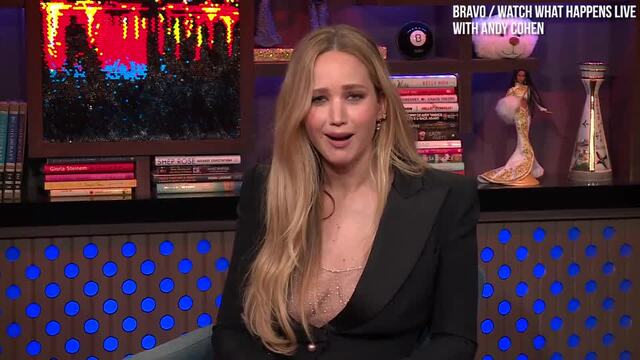 Jennifer Lawrence reacts to rumour she will appear in The Hunger Games prequel
"Jen was sick that day, and so I ended up doing it without Jen."
The Hunger Games star Jena Malone has just dropped a behind-the-scenes filming fact about Catching Fire that has left fans flabbergasted.
Jena's Johanna Mason was introduced in Catching Fire as one of the tributes who took part in the Quarter Quell, and her introductory scene is hailed as one of the best moments from the book and the film.
Johanna is introduced to Katniss and Peeta by Haymitch after an encounter in an elevator where Joanna strips out of her outfit and walks away completely naked. From Jena's perfect take on Johanna to Jennifer Lawrence's incredible facial expressions as Katniss avoids watching her undress, it's long been a fan-favourite.
But Jena has now revealed that there was more movie magic to that scene that fans initially thought... Jennifer Lawrence apparently wasn't even on set when Jena filmed it.
Speaking on the red carpet at the premiere of The Ballad of Songbirds and Snakes, Jena told Variety about what it was like filming her iconic intro scene, and revealed the fact that has now blown the minds of Hunger Games fans.
"Jen was sick that day, and so I ended up doing it without Jen," she revealed. "There wasn't a lot of people in the elevator so I think we were just winging it and trying to get as much as we could get because it was in a real hotel."
"That's the magic of film making, you only need a few seconds to really create something that lasts," Jena added.
So, Jennifer Lawrence wasn't even in that scene with Jena? Was it all post-production magic? What do you mean? What do you mean?!
Back in 2016, Jena also appeared to confirm that she filmed the scene in front of Woody Harrelson, Josh Hutcherson and a handful of other male crew members while chatting to James Corden on the The Late Late Show.
For those not in know, Johanna's elevator scene was actually filmed in a real elevator, in a real hotel, with real hotel guests walking around.
"At one point, I thought it was my queue to exit and sort of waiting, naked back, just like waiting, camera here... Boom, it opens, and there's one of the guys that works at the hotel with like, a coffee tray," she told James Corden. "I think they have it on a blooper real somewhere."
Read more about The Hunger Games here:
Madison Beer Explains Every Song On 'Silence Between Songs' | Making The Album