Issa Rae calls out Hollywood for protecting Ezra Miller to save The Flash
14 October 2022, 13:00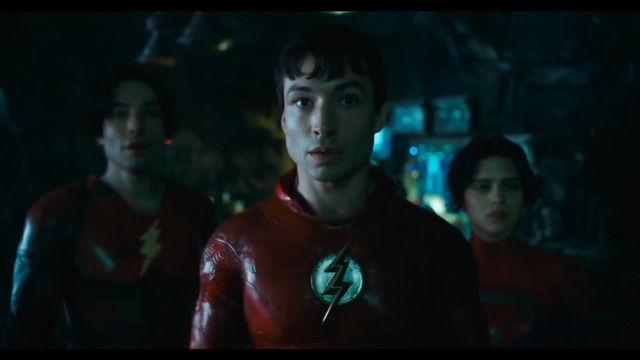 Watch the official trailer of The Flash starring Ezra Miller
Warner Bros. Pictures are going ahead with the release of The Flash despite multiple allegations against Ezra Miller.
Issa Rae has spoken out against Hollywood's attempts to save Ezra Miller's career and the upcoming release of The Flash.
This year, Ezra Miller has been the subject of many serious legal cases. In March, they were arrested for allegedly assaulting a woman with a chair. In June, two families were granted protection orders against Ezra after alleging that the 29-year-old had groomed their children. The actor has also reportedly been housing young children on a farm with access to guns.
Following Ezra's multiple crimes, many assumed that his new DC movie The Flash would be shelved or recast with a new actor. However, a source later told Deadline: "The hope is that the scandal will remain at a low level before the movie is released, and hope for the best to turn out." As it stands, the film is scheduled to be released on June 23, 2023.
Now, Issa Rae has addressed Ezra's ongoing scandals and questioned why Hollywood continues to defend the actor.
READ MORE: Ezra Miller releases statement following multiple grooming allegations
Speaking with Elle about the #MeToo movement and what still needs to be done, Issa stated: "It feels like we're regressing, depressingly so. There are just too many enablers for there to be real change. People have to be held accountable. There have to be legitimate consequences. Hollywood is very bad about consequences... All people aren't good people."
Issa then pointed out Ezra Miller as a current example: "I'm gonna be real, the stuff that's happening with Ezra Miller is, to me, a microcosm of Hollywood... There's this person who's a repeat offender, who's been behaving atrociously, and as opposed to shutting them down and shutting the production down, there's an effort to save the movie and them."
She ended by saying: "That is a clear example of the lengths that Hollywood will go to to save itself and to protect offenders. So, don't do that, and women may be able to thrive. They won't have to live in fear of keeping silent because it'll ruin their careers. It's just a constant pattern of abuse that'll only persist if Hollywood continues to insist on being this way."
READ MORE: Ezra Miller hit with more allegations after woman they allegedly choked breaks silence
In August, a representative gave a statement to Variety in which Ezra addresses his actions and the allegations against him. Ezra says: "Having recently gone through a time of intense crisis, I now understand that I am suffering complex mental health issues and have begun ongoing treatment. I want to apologize to everyone that I have alarmed and upset with my past behaviour."
Ezra continues: "I am committed to doing the necessary work to get back to a healthy, safe and productive stage in my life."
If you, or someone you know, has been affected by child abuse, the following organisations may be able to help:
Drag Race UK's Copper Topp Reveals Why Cheddar's Outfit Was Better Than Hers | Drag Race Yearbook