Matthew Lillard thought his franchise career was "dead" before Five Nights At Freddy's success
13 November 2023, 15:22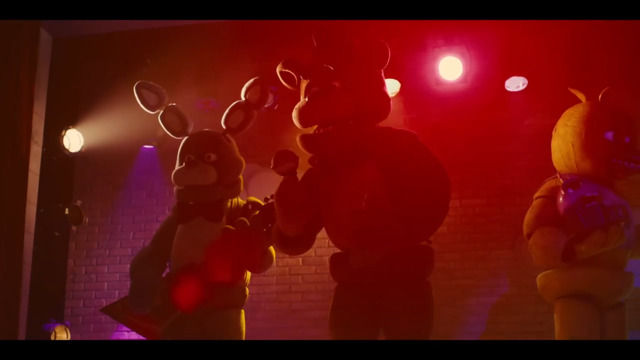 Watch the Five Nights at Freddy's trailer
Matthew has gained a whole new legion of young fans thanks to his role in Five Nights at Freddy's but he was apprehensive about the role at first.
When Matthew Lillard was cast in the highly anticipated Five Nights at Freddy's movie, fans couldn't contain their excitement. But the beloved actor himself has confessed that, at first, he was worried about whether or not it would be good.
Despite less than favourable reviews from critics, Five Nights at Freddy's has proven to be a huge hit. The audience score on Rotten Tomatoes currently sits at 88% and the box office numbers aren't lying either. So far, Five Nights at Freddy's has grossed over $250 million worldwide, becoming the highest-grossing horror film of 2023.
Matthew, who plays the main antagonist William Afton, has now spoken about his involvement in the film and the unexpected, positive reactions he's had from fans of the game – including his kids.
READ MORE: Everyone is thirsting over Josh Hutcherson speaking Spanish in this Five Nights at Freddy's promo
Speaking to The Hollywood Reporter who asked if he had expected this kind of reaction to the film, Matthew confessed that he initially had reservations about taking on the role of William Afton because of the way it was offered to him.
"When I got the offer to do the movie, it was an incoming call. Basically, the proposition was 'Go sit with [director] Emma Tammi, and if you guys get along, and you want to do the movie, you'll get the offer,'" he explained.
"Every time that happens in my life, it usually means the movie's pretty bad. At this point in my career, it's not like I'm out there just getting Academy Award opportunities. I have to fight for those great roles."
But thankfully, all those worries went away after he realised how much of a big deal the film was, and saw how excited his kids were when he told them about it and who he'd be playing.
"I came home, and I was talking to my wife about it, and my middle child was sitting there, and they heard me say Five Nights at Freddy's and were like, 'Wait, who are you playing?' I said, 'William Afton and some rabbit.' And they were like, 'Dad. That is going to be huge!' Then, my son came in, and he affirmed the exact same thing. The fact that the two of them agreed on something was crazy."
Matthew went on to reveal that after his casting was announced, his meet and greet lines at conventions tripled in size thanks to young fans wanting to share how excited they were to see him in the film.
But the most heartwarming reaction of all was from his kids. He continued: "My middle kid called me crying because they were so happy for me when the movie came out. They went to the movie with all their friends, and I think they were very proud of me being a part of it."
He then added: "For me, personally, it has been a very humbling moment in my career. I'm 53, and I've had a couple franchises in my career that have been successful. I [had thought] maybe that part of my career is dead and over, and that's fine."
"To get this opportunity out of the blue to have another franchise that could make a real impact on my career is humbling and exciting, and my kids are thrilled."
Five Nights At Freddy's is now streaming on Peacock, and is still in cinemas.
Read more about Matthew Lillard here:
Madison Beer Explains Every Song On 'Silence Between Songs' | Making The Album