11 major differences between the Red, White & Royal Blue movie and the book
11 August 2023, 16:02 | Updated: 14 August 2023, 11:52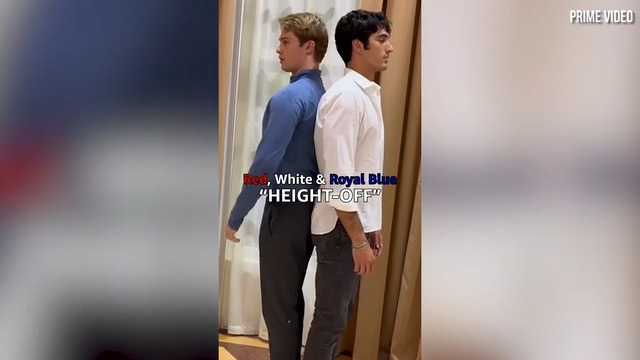 Red, White & Royal Blue stars work out who is taller in real life
A summary of all the changes Prime Video's Red, White & Royal Blue movie makes to the book that it's based on.
Red, White & Royal Blue season is officially here! The movie is now out, but how different is it to the book that it's based on?
If you've been anywhere near BookTok you will already know that Casey McQuiston's Red, White & Royal Blue is a big deal. Ever since the LGBTQ+ romance novel came out in 2019, readers have fallen in love with the story of Alex Claremont-Diaz, the first son of the president, and his enemies-to-lovers romance with Prince Henry, the spare in line to the British throne.
Now, Prime Video's film adaptation of the book is available to stream and it's debuted to rave reviews. Taylor Zakhar Perez and Nicholas Galitzine are perfect as Alex and Prince Henry and their chemistry is off the charts.
Nevertheless, the movie makes several major changes to the book. With that in mind, we've made a summary of all of the key differences between the film and the novel that inspired it.
READ MORE: Will there be a Red, White & Royal Blue 2? Book author teases sequel
How is Red, White & Royal Blue different to the book?
1) Alex has a sister called June in the book
Arguably the biggest difference between the book and the film is the fact that Alex has a sister in the book. June Claremont-Diaz is Alex's older sister. She's a journalism graduate and she lives with Alex and their mother in the White House. She's also got a great sense of humour. Together, Alex, June and Nora are known as the White House trio.
In the film, Nora's character is a combination of June and Nora from the books. So there's still a semblance of June in the movies but many fans of the book are upset that she doesn't make an appearance.
READ MORE: Here's why Alex's sister June was cut from Red, White & Royal Blue movie
2) Alex's parents are divorced and he has a stepdad in the book
In the film, Alex is part of a nuclear family but things are a little more complex in the book. It's revealed that President Ellen and Oscar Diaz are divorced. For the most part, Ellen and Oscar are on good terms and they even still have family meals with Alex and June. However, things occasionally get a little heated between them.
Ellen has also remarried and Alex has a stepdad called Leo who he gets on with.
3) Alex and Henry have more sex scenes in the book
The film is pretty good at adapting most of the major sex scenes from the book onto the screen. Nevertheless, the book has more sexual escapades. For example, Alex and Henry have a steamy encounter at Wimbledon. They also have sex sooner and the sex scenes and sexual emails are even raunchier.
4) Alex and Henry have different sexual pasts in the book
In the movie, Alex says he had an experience with a guy in high school and a journalist named Miguel. By contrast, Alex has only had an experience with one guy at high school in the book. It's revealed that he made out with a friend named Liam a lot and one time took things further.
However, Alex wasn't in love with Liam and he didn't think much of it at the time. It's only through Henry that Alex questions his sexuality and realises that he's bisexual. He also apologises to Liam for not being more considerate at school.
Meanwhile, Henry says the he had experiences with boys at university NOT boarding school, as he says in the movie.
5) Nora does not date Pez in the book
As for Pez and Nora, there's no chemistry between them in the book. Instead, Pez and June are obsessed with each other and end up getting together.
As for Nora, it's revealed in the book that she's bisexual. Like the film, Nora plays a key role in helping Alex realising that he's bisexual.
6) Ellen reacts a little differently to Alex coming out in the book
Similar to the movie, President Ellen is very open and supportive of Alex when he comes out as bisexual. However, she also puts together an entire a PowerPoint presentation about the ethics of him dating an actual Prince and she then makes him sign a lot of serious paperwork. On top of that, he's removed from the presidential campaign.
In the film, Ellen just jokes about doing a PowerPoint presentation and it's a lot less formal.
7) Phillip is even worse in the book
Prince Henry's older brother Prince Phillip, who is set to be the future King of England, is even more snobby and rude in the book. On top of that, it's suggested that he's homophobic and racist. He encourages Henry to stay in the closet and he makes derogatory remarks about Henry's best friend Pez.
9) Alex and Henry go skinny dipping in the book
The scene at the lake, where Alex tells Henry about his hopes for their future together, does happen in the book. Henry also gets scared and leaves. However, there's one key difference. Before it happens, the couple go skinny dipping in the lake.
It's widely regarded by fans as one of the hottest scenes in the book.
8) There is a queen in the book instead of a king
Perhaps to avoid comparisons to the actual late Queen Elizabeth II, the UK has a King instead of a Queen in the movie. In the book Queen Mary makes clear that she wants Henry to stay in the closet and it's clear that Henry clashes with her.
10) Miguel is not in the book
Instead of Alex's former flame Miguel, the book has a character named Rafael Luna. Rafael is a queer independent senator who Alex idolises until he backstabs Ellen and announces his support for her political opponent, Jeffrey Richards.
As a result, it's not Miguel who leaks Alex and Prince Henry's photos and emails to the press. Jeffrey Richard's campaign team are the ones responsible to sabotage Ellen in the next election.
11) Alex and Henry cover up their relationship with fake girlfriends in the book
When photos first leak of Alex and Henry in an elevator together, their teams encourage them to fake relationships with girls in order to hide their romance from the press. As a result, June agrees to pretend to be dating Prince Henry and Nora acts as Alex's fake girlfriend.
It's only when more explicit photos and emails leak that Alex and Henry ultimately decide to go public as a couple and find out that people are a lot more supportive than they expected.
What did you think of the changes? Did you spot any other differences?
NCT DREAM vs. 'The Most Impossible NCT DREAM Quiz' | PopBuzz Meets