Selling The OC's Alex Hall says Tyler Stanaland blocked her ahead of season 3 release
16 November 2023, 15:31 | Updated: 16 November 2023, 15:41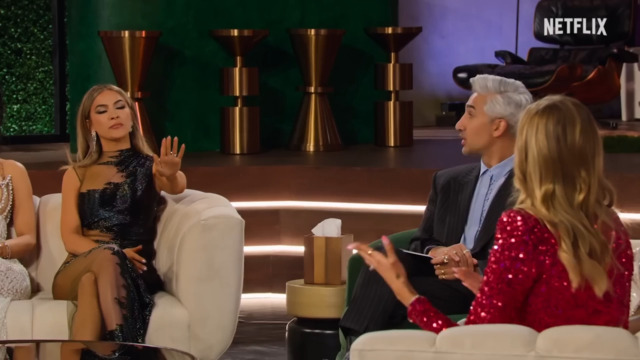 Watch the Selling Sunset season 7 reunion trailer
Are Alex Hall and Tyler Stanaland together? Selling The OC season 3 trailer teases the break down of Alex and Tyler's friendship. Now she's revealed they no longer speak.
If you were wondering whether or not Selling The OC's Alex Hall and Tyler Stanaland were in a relationship following their spicy hot tub rendezvous at the end of season 2, we now have our answer... No, they're not. In fact, they're not even speaking anymore.
Alex Hall made an appearance on the Selling Sunset season 7 reunion alongside her OC co-workers Polly, Gio and Brandi. Host Tan France pressed Alex on the state of her friendship/relationship with Tyler and, well, it's bad news.
At the end of Selling The OC season 2, Alex and Tyler ended up exploring their feelings for each other and shared a kiss. After the season aired, the duo explained that they were "navigating [their] friendship" and did not comment any further on the relationship rumours.
In an Instagram live posted to Alex Hall's account in September, the two seemed to still be great friends and dodged any questions about the status of their relationship.
Now, Alex has revealed that Tyler has blocked her on Instagram and "excommunicated" her from his life.
Are Alex Hall and Tyler Stanaland together?
During the reunion, the trailer for Selling The OC season 3 was premiered and it looks like there's a rocky road ahead for Alex and Tyler.
At one point, Alex calls Tyler out for his behaviour after their kiss. "You swooned me, and then you fucking disappeared," she tells Tyler, before asking what he wants from their relationship. Later in the episode, Tyler tells her that they're not "on the same page."
When asked by Tan if she knew he was leaving the brokerage, Alex said: "I did not know he was leaving until he pretty much left." She then revealed that Tyler had actually blocked her and "excommunicated" her.
"I would like to know what happened," Alex said, confirming to Tan that she does not feel the block was "valid."
Has Tyler Stanaland left Selling The OC?
In October 2023, Tyler left the Oppenheim Group to work alongside his dad John Stanaland at real estate company Douglas Elliman. Jason Oppenheim confirmed that Tyler has left the brokerage, and his profile is no longer on the website.
In a statement to PEOPLE, Tyler said: "Leaving the Oppenheim Group wasn't an easy decision, but is the right decision for me and my clients. Not only am I joining my dad and brother at Douglas Elliman, I'm aligning with a brand that has unparalleled reach and presence in the market with a renowned network of agents and industry leaders."
Tyler will feature in the upcoming Selling The OC season 3, but it sounds like he will not appear in any future seasons: "Selling the OC revolves around agents at the Oppenheim Group. As of today, I will be working at Douglas Elliman."
Read more about Selling Sunset here:
Madison Beer Explains Every Song On 'Silence Between Songs' | Making The Album