Zac Efron's "dad bod" on Netflix's Down To Earth is making the internet hella thirsty
13 July 2020, 15:24 | Updated: 6 October 2020, 13:04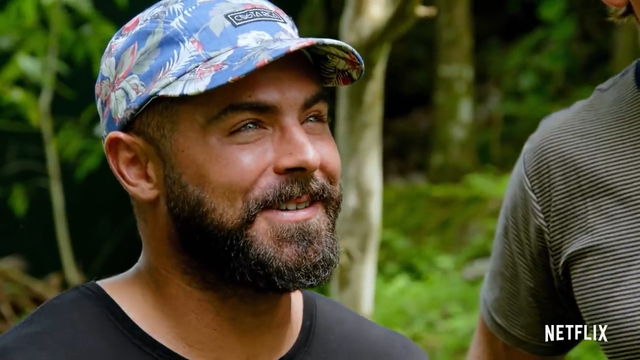 Watch the trailer Zac Efron's new Netflix show Down to Earth
Zac Efron is turning the heads of fans after unveiling his new "dad bod" in Netflix documentary series, Down To Earth.
Whether as Troy Bolton, Mike O'Donnell or himself, Zac Efron will always hold a special place in our hearts. And as it turns out, he doesn't even need to be in character to impress us anymore, because fans are going wild over his new look on Netflix docuseries, Down To Earth.
The 32-year-old has become quite the face of climate change, and his new show sees him traveling around the world to communities that are trying to change the planet for the better. But it isn't the educational content that's catching fans eyes, it's his new rugged dad appearance.
Sporting an untamed beard and untoned "dad bod", people across the globe are swooning over seeing a different side to him.
READ MORE: Here's everything coming to Netflix in July 2020
From Iceland, to France, to London, and elsewhere, the Greatest Showman actor and wellness expert Darin Olien have got everyone hooked since the show premiered on July 10.
Here are the best reactions...brace yourselves.
Just started the Zac Efron show on Netflix. I hate thirsting after straight men but here I am.

— JOHNNY SIBILLY (@JohnnySibilly) July 13, 2020
As I grow older, Zac Efron evolves into exactly my type every season of my life. Bless.

— Tash🌻 (@Tash_Squash) July 12, 2020
Dad bod Zac Efron... that's it that's the tweet 🤷🏽‍♀️

— Keisha 🌞 (@Keishakay48) July 13, 2020
I've said it once, and I'll say it again. NO ONE aged with his prime audience better than Zac Efron. From Disney heartthrob to a hot lifeguard to a serial killer to a DAD BOD?! He could hit me with his car, and I'd say thank you @ZacEfron

— Lauren (@lauren_mcgonz) July 12, 2020
So we can all unanimously agree that he looks better than ever, right?
Well it's good news, because it looks like the new look could be staying - and Zac has even admitted that he's leaving the perfectly preened abs he's known for, firmly behind.
Speaking on YouTube talk show, Hot Ones, the fitness fanatic said: "It was a really important time to do Baywatch because I realised that when I was done with that movie, I don't ever want to be in that good of shape again. Really. It was so hard".
He added during an interview with Ellen, "For guys, that's unrealistic. I'm telling you. I got very big and buff for that movie, but I don't want people to think that's the best way to be. Like, be your size."
Phew. If we weren't eco warriors before, we certainly are now. Season 2, please?
READ MORE: Bird Box 2 is officially in the works, confirms author