Bhad Bhabie says she's "living in fear" of her mother in Instagram story
15 August 2023, 16:26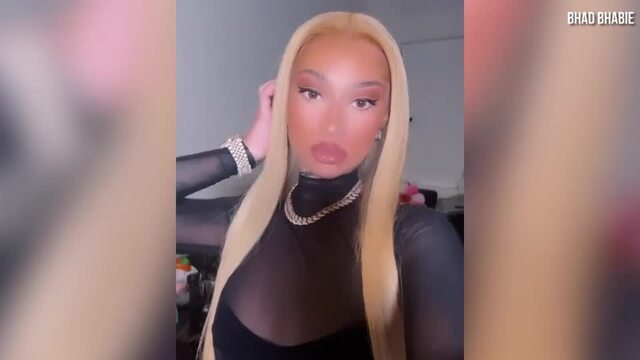 Bhad Bhabie shows off her new blonde look amid criticism
Danielle Bregoli has spoken about her relationship with her mother a number of times in the past.
Bhad Bhabie has taken to Instagram to share that she is "living in fear" of her mother, Barbara Bregoli, in an emotional statement.
The 20-year-old rapper, real name Danielle Bregoli, has spoken about her relationship mother multiple times before, including most recently on a podcast with Emily Ratajkowski.
Barbara appeared alongside her daughter on the now-infamous Dr. Phil segment. In 2021, Bhad Bhabie revealed that she was sent to a 'troubled teen' facility called 'Turn-About Ranch' after her appearance, and that her mother and grandmother knew about it without telling her.
In a now expired Instagram Story, Bhad Bhabie spoke out about her current relationship with mother, saying: "My mom show the same pattern [with] everyone come into my life. At this point it's her no one else. I live my life in fear of this lady everyday. She's mentally sick and I'm scared of what she's capable of."
"Don't think I have her around [because] I want to. Every time I ask her to move out and offer to pay in full for a house for her she threatens me and threatens my boyfriend and friends."
She continued: "I'm tired of her living a false narrative on social media. She makes it seem like she cares about me and loves me when it's all a front. Some [people] you can't win with no matter how hard you try even when they don't deserve the nice you anymore.
"I give I give and I give financially and emotionally. Nothing's ever enough. I want the threats to stop and I want my life back. I want my home back. I want her to stop running my friendships and trying to ruin my relationship."
Bhad Bhabie went on to explain her frustration at her mother's behaviour, and how no one seems to take her seriously when she speaks out. She also shared her concern over her safety.
In another Instagram Story, Bhad Bhabie claimed that her mother "fakes documents, text messages and convinces other people to [be] on her side." She added: "I truly feel my only way out of this is to die. Even if I put her in her own home and remove her from my life that won't stop the threats and abuse."
She ended by saying that she had contacted the police, but nothing could be done about the situation regarding her mother living in her home.
Earlier this year, while speaking to Emily Ratajkowski on the High Low with EmRata podcast, Bhad Bhabie revealed that she recently discovered that her mother had been emailing Dr. Phil about her since she was 2 years old.
She called her mother a "narcissist" and, in reference to her OnlyFans account, said that Barbara didn't care about where her money came from. When Emily asked if she financially supported her mother, she did not respond verbally but Emily's response of "damn" appears to imply that she said yes.
Read more about Bhad Bhabie here:
NCT DREAM vs. 'The Most Impossible NCT DREAM Quiz' | PopBuzz Meets