Kylie Jenner's shocking faux lion head dress praised by PETA
24 January 2023, 17:11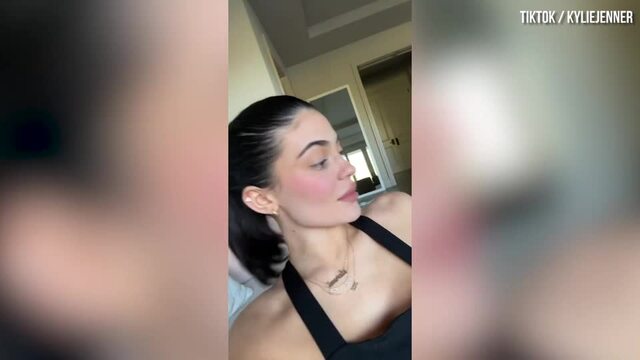 Kylie Jenner reveals her makeup routine
Kylie Jenner wore a faux lion head at the Schiaparelli show in Paris this week.
PETA have reacted to Kylie Jenner's viral faux lion head look from Paris Fashion Week and it turns out that they are fans of it.
Yesterday (Jan 23), Schiaparelli's fashion show took place at Couture Fashion Week in Paris and all the stars appeared at the event. Not only that but Schiaparelli personally styled Doja Cat and Kylie Jenner who both sat in the show's front row. Doja wore a striking red look with over 30,000 Swarovski crystals and Kylie wore a custom black dress with a faux lion head.
Variations of Kylie's look also appeared on the Schiaparelli runway and they sparked backlash online with people, such as Carrie Johnson, arguing that the outfits promote trophy hunting. Now, PETA have issued a statement about Kylie's look.
READ MORE: Kylie Jenner and Travis Scott criticised for taking separate private jets to the same location
As well as Kylie's controversial lion look, Shalom Harlow walked the Schiaparelli runway with a faux leopard head dress and Naomi Campbell appeared in a faux wolf head dress. In a statement to Page Six Style, PETA President Ingrid Newkirk said that the "three-dimensional animal heads", none of which incorporate real fur or leather, are "fabulously innovative".
Ingrid then argued that the looks are anything but a promotion of trophy hunting. She continued: "Kylie, Naomi and Irina [Shayk]'s looks celebrate the beauty of wild animals and may be a statement against trophy hunting, in which lions and wolves are torn apart to satisfy human egotism."
Ingrid ended by saying: "We encourage everyone to stick with 100% cruelty-free designs that showcase human ingenuity and prevent animal suffering." She also encouraged celebrities like Kylie to "extend this creativity to exclude sheep shorn bloody for wool and silkworms boiled alive in their cocoons."
Taking to Instagram to share photos of her faux lion-head look, Kylie wrote: "wow i loved wearing this faux art creation constructed by hand using manmade materials. beautiful beautiful."
Margot Robbie & Diego Calva Pick Their Own Interview Questions | Babylon | PopBuzz Meets