Vanessa Hudgens appears to respond after "awkward" Austin Butler Oscars encounter goes viral
14 March 2023, 16:29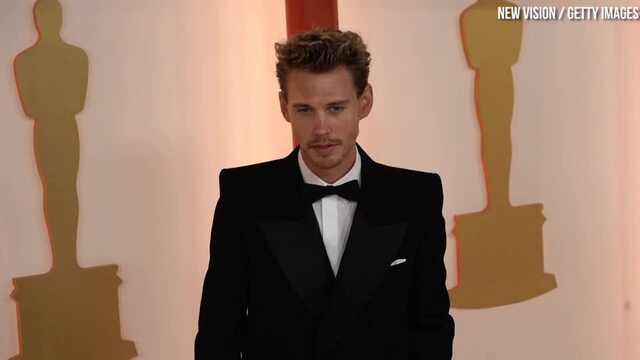 Austin Butler looks dapper as he attends the 2023 Oscars
"Let's all be on the 'I only talk about peace' train. Ok?"
Former couple Austin Butler and Vanessa Hudgens were both at the Oscars and the Vanity Fair after party this past weekend (Mar 12), and their awkward almost-encounter has now gone viral on social media.
In case you weren't aware, Austin and Vanessa were in a relationship for almost ten years and broke up shortly before Austin started filming Elvis. (Vanessa famously spoke that role into existence for him, telling him he should play the legendary performer on screen.)
Anyway, they broke up and are both now in new relationships; Austin with model Kaia Gerber, and Vanessa now engaged to MLB star Cole Tucker.
Fans were hoping that the pair would share a friendly moment of acknowledgement on the carpet seeing as Vanessa was interviewing and Austin was nominated. The pair did not interact, but a clip of them almost bumping into each other outside the after party is now doing the rounds on social media.
One particular photo of Austin and Vanessa has now gone viral, showing Vanessa walking past Austin as he waved to photographers and fans outside of the Vanity Fair Oscar Party.
Their encounter was also captured by cameras outside of the event, with footage showing Vanessa glancing up briefly before walking with her head down looking at her phone as she breezed past, not acknowledging him.
Austin then looks to his right after she passes by but as fans have pointed out, he was looking at the man who greeted him, not Vanessa. That detail isn't clear in the vertically cropped versions of the video.
Of course, social media couldn't get enough of the moment and people have felt the need to share their thoughts.
"This is sad. Somebody that you used to know! We all know that feeling," one user wrote. Another echoed that sentiment, adding: "To date someone for a decade to then act like this is so crazy and depressing omg".
Some also just said they'd do the exact same thing if they were in that situation with their ex, calling Vanessa's reaction "Queen behaviour". Others called out the comments, saying "you shouldn't make assumptions about any of them from a 7 seconds video".
Memes also followed the hot takes from fans too, with many joking about what they imagined Austin and Vanessa's imaginary red carpet exchange would look like.
This is sad. Somebody that you used to know! We all know that feeling.

— jeunesse🧚🏽‍♀️ DRIVE SHOW QUEEN (@jeunesse) March 14, 2023
Like pretending to be strangers with someone you were friends with in high school is fine but omg like you two spent your entire 20s with eachother that's crazy

— Javier Bardem with a lil bob (@Smartguyy) March 14, 2023
Now, it appears as though Vanessa Hudgens herself has responded to the comments about her and Austin. (As well as tweets about the video, other tweets have been shared with people 'taking sides' and tweeting negatively about Austin.)
Yesterday (Mar 13), Vanessa reposted a clip of Oscars host Jimmy Kimmel asking Malala Yousafzai what she thought about the rumours that Harry Styles spat on Chris Pine. In the clip, Malala responds to the question by saying: "I only talk about peace."
Vanessa shared that clip alongside a caption of her own, reading: "Let's all be on the 'I only talk about peace' train. Ok?"
Earlier this year, Austin faced criticism after referring to Vanessa as a "friend" and not naming her outright when talking about how she basically urged him to pursue the role of Elvis.
Vanessa also went viral for commenting on an Instagram post roasting Austin over his "Elvis voice".
READ MORE: Vanessa Hudgens says she used to only play roles that would win her an Oscar
READ MORE: Austin Butler says no one asked him about doing a cameo in Zoey 101 reboot
Scream 6 Cast Take On The Ultimate Ghostface Trivia Quiz | PopBuzz Meets