TikTok Girlfriend Effect meaning: What is the Girlfriend Air theory?
11 October 2023, 11:20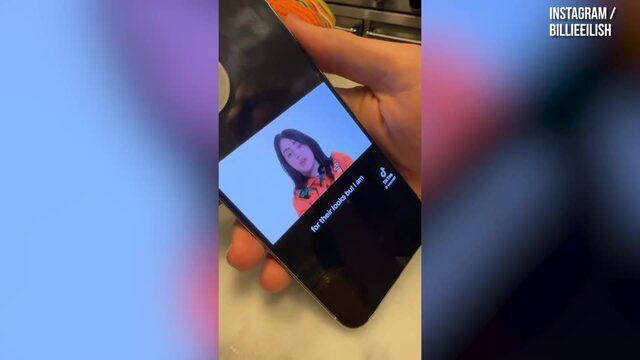 Billie Eilish laughs at TikTok mocking her looks
The Girlfriend Effect or the Girlfriend Air theory is going viral on TikTok again. Here's what it means.
Step aside, Barbie boyfriend test... Another viral relationship trend is taking over TikTok and the spotlight is on the boyfriends once again.
The Girlfriend Effect – also known as the 'Girlfriend Air theory' – is currently doing the rounds on the platform again after going viral earlier this year.
READ MORE: How to do the AI Yearbook trend on TikTok
The hashtags #GirlfriendEffect and #GirlfriendAir have around 175 million views combined, and it isn't showing signs of slowing down. But what does it mean? And what actually happens?
TikTok's Girlfriend Effect explained: What does it mean?
So, what happens when the 'Girlfriend Effect' happens? What are the effects of the 'Girlfriend Air'?
Well, the trend consists of women showing the "before" and "after" photos of their partner, highlighting the changes in appearance, style and confidence that occurred during their relationship.
Of course, it's all just a bit of fun, and the girlies are high-key taking credit for their boyfriend's improvements.
'Girlfriend Air' originated after 'boyfriend air' went viral, and is basically the opposite of the term. Girlfriend Air equals a glow-up for men, and apparently, according to TikTok, Boyfriend Air equals a glow-down for women.
All the videos in the trend usually start with a girl showing her boyfriend's photos at the beginning of their relationship, where the boyfriend in question is usually wearing a casual outfit with no real sense of style.
Then, the video switches to the photos of the boyfriend now, and girl… the glow up is REAL. From an entirely new, upgraded wardrobe, to new grooming habits – maybe even a skincare routine thrown in there for good measure, too!
We're talking fresh haircuts, styled to the god, confidence levels UP!
Thanks to the trend, there's a lot of "girlfriend effect" glow ups in progress too. One viral video shows one girl taking her boyfriend shopping for new clothes, alongside the caption: "Girlfriend Effect in progress".
The comments from other TikTokers are also really sweet about the whole thing too. Under one video, one user wrote: "When your man is comfortable and feels safe he will glow."
Another person joked: "You saved him!"
Other people, on the other hand, are just stating the obvious... in most cases, the boyfriend has just got a bit older. Commenting on one video that appeared to show a couple in a long-term relationship, one user wrote: "Some of these are hilarious. He literally just grew up."
Either way, we LOVE to see it.
Read more TikTok news here:
Kylie Minogue vs. 'The Most Impossible Kylie Quiz' | PopBuzz Meets