Barbie fans are using the movie as the ultimate relationship test on their boyfriends
1 August 2023, 16:41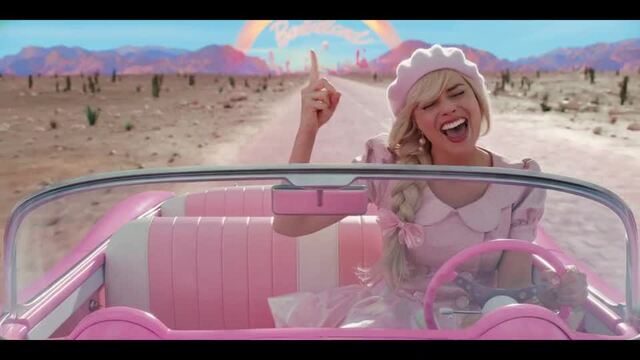 Watch the official Barbie trailer
You can tell a lot about who you're dating by how they react to the Barbie movie.
Fans have begun using the Barbie movie as a relationship test on TikTok and it is providing everyone with different answers.
Barbie is a bad bitch! She's the bar! Alien superstar! Ever since Barbie came out last month, the film has been an undeniable success. From receiving rave reviews from critics to breaking box office records, its on its way to becoming the biggest film of the year so far. As it stands, Barbie is already the third highest grossing movie of 2023 and it's only been out 10 days.
In particular, Barbie has resonated with female viewers who've praised its feminist themes. Now, people are using Barbie as a way to find out whether or not the men they are dating are actually boyfriend material or if they would be better off apart.
READ MORE: Barbie deleted scenes reveal wild Helen Mirren and Midge end credit scene
Last month (Jul 23), TikTok user @swagaliciousvr0 posted a video about how you can use Barbie to work out whether or not your boyfriend is a good boyfriend or not. The TikTok has since gone viral and has now been viewed over 4.2 million times.
In the video, soundtracked by Billie Eilish's 'What Was I Made For?', the TikToker wrote: "I genuinely think taking your bf to Barbie should be your relationship test to decide if he's a good potential long term partner."
They added: "How does he react when you tell him you want to go with him? What are his thoughts on why certain things are happening in the movie? How does he feel about Allan? What are his thoughts on the montage at the end? What are his feelings on the way Ken was portrayed? Is he interested in having an intellectual conversation about the message afterwards?"
They ended by writing: "I think these are all very important things that will give you a crystal clear image of what his character is. If you're testing your relationship, take him to Barbie. If you're going on a first date, take him to Barbie. All men should see Barbie."
Now, people have shared how their boyfriends have responded to being asked to go to Barbie in the comments.
One person revealed: "He gave it a 10/10, said that he's glad it talked about girl n boy probs. n he hugged me n said "tell me when ur sad, its what im made for. [sic]" Another commented: "He was so excited when the trailer came out, bought tickets for the day it came out a month in advance, we both cried watching it. I want to marry him."
Someone even wrote that they tried the test on their dad. They said: "My whole family went to see it and my dad went in with no expectations and came out so happy he saw it and we talked abt it a lot the day after."
However, others had less enthusiastic reactions. One person said: "He was not interested in it even tho I went to see Oppenheimer with him, it hurt so much to know he's not interested in how I experience the world."
Another wrote: "Mine told me 'absolutely not' when I wanted to go." "Mine just fancies Margot," another user said.
It's currently unclear whether or not the Barbie movie has led anyone to breakup with their boyfriends but it's clearly giving viewers a lot of food for thought.
What do you think? Is Barbie a good relationship test?
Read more about Barbie here:
The Witcher Cast Interview Each Other | PopBuzz Meets