Barbie deleted scenes reveal wild Helen Mirren and Midge end credit scene
31 July 2023, 17:55 | Updated: 31 July 2023, 18:04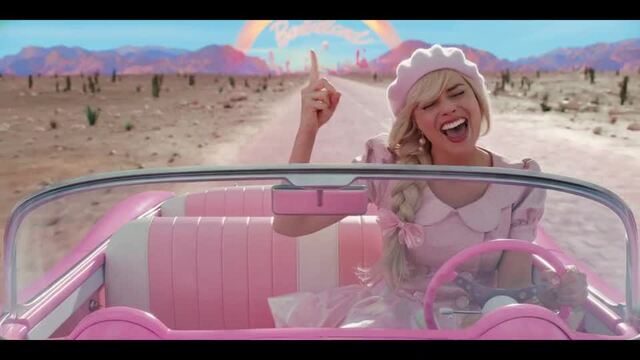 Watch the official Barbie trailer
It looks like Barbie originally had a post credits scene featuring Helen Mirren's Narrator and Midge.
The Barbie deleted scenes are going viral on social media and it looks like they cut what could have been an absolutely incredible end credits scene.
We already know that a doppelgänger joke about Margot Robbie and Emma Mackey was cut from Barbie because they realised the two actresses didn't actually look the same. Director Greta Gerwig also recently revealed that an entire "Fart Opera" was removed.
Now, a glimpse of a whole bunch of deleted scenes has hit the internet and fans are desperate to see all the moments that didn't make it into the final theatrical cut of the movie.
A photo shared by the Barbie editing team in an interview with BORISFX is currently doing the rounds showing at least 15 scenes that ended up getting cut – including one featuring Helen Mirren, as the narrator, in Barbie Land.
READ MORE: Barbie's unexpected final line leaves viewers in hysterics
In the original photo from the interview, there's a cluster of photo cards in the bottom right corner that didn't make it into the editing sequence of the film on the board. At the top of the pile, just under the 'END CREDITS' sign, is a photo card titled 'Midge in Labor', featuring actual Helen Mirren a.k.a. the Narrator.
The scene appears to show her completely breaking the fourth wall by making an on-screen appearance and addressing the audience.
In another photo, shared by actor Tom Clarke on Instagram, Helen's Narrator can be seen alongside Midge in another couple of different shots from the deleted scene. "It never made the cut but yes that's @helenmirren the narrator walking in on Midge barbie #emeraldfennell in labour!" he wrote.
On top of that, it looks like a scene showing the creation of Barbie Land, featuring the Margot and Ryan Gosling-versions of the original Barbie and Ken dolls, was cut from the start of the film, too.
The photo board, which has now been blurred out in the original interview, also includes cards titled 'Aaron Thru Security' (featuring a seemingly nude Connor Swindells), as well as 'Ken Toys Returned', 'Barbies Can Save Us', 'Exec in Rollerblades', 'Barbie Monument' and something that appears to hint at 'Ken Auditions'. There's also another scene featuring Barbie and Gloria in there, and one that reads 'What Barbie Means To Me'.
Needless to say, fans of the movie are absolutely desperate to see the scenes and are hoping they'll end up on the DVD extras at some point. An un-blurred version of the storyboard photo is also still circulating on Twitter.
that stack is kinda massive when you think about it it's at least 30 minutes of film 😭 they better put it in like extra scenes in the dvd

— ۟ (@nicholasneIson) July 28, 2023
i'm reading all the scenes that were not shown in the movie just to imagine a whole different movie in my head and see if i would have loved it as much as i loved this one pic.twitter.com/3wGdXUM6hF

— kat  (@spideykatz) July 29, 2023
Release the 3-hour director's cut! Fart Opera included! Justice for Helen Mirren's Narrator!
And justice for whatever the hell is going on in this scene with Ken and Weird Barbie!
Read more about Barbie here:
The Witcher Cast Interview Each Other | PopBuzz Meets