Margot Robbie reveals Emma Mackey was cast in Barbie for a "joke" that got cut
11 July 2023, 15:44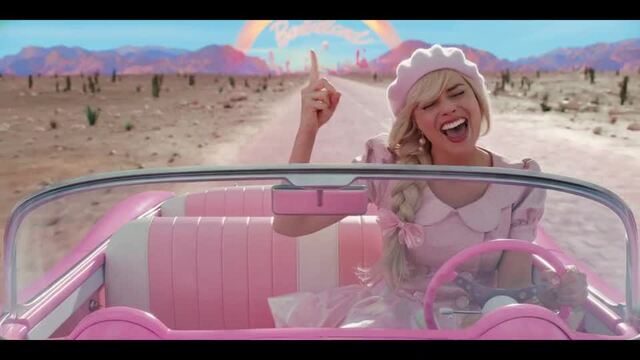 Watch the official Barbie trailer
"She plays one of the Barbies in the movie pretty much because Greta and I thought it would be funny."
Ever since Sex Education came out and catapulted Emma Mackey to overnight sensation status, fans have been obsessed with how much she resembles Margot Robbie. So much so that at one point, people thought they were sisters.
They're not, of course, but their striking similarity and the ongoing viral comments about them being 'related' turned out to be a huge win because it literally landed Emma a role in Barbie.
In the movie, Emma plays one of the Barbies opposite Margot's titular main Barbie, and it turns out that Emma was actually chosen by Margot and director Greta Gerwig for the role because of their "lookalike" status.
Initially, the film included a joke about their likeness but it sadly got cut from the film for one specific reason.
READ MORE: Every single Barbie referenced in Margot Robbie's Barbie press tour outfits (so far)
During BuzzFeed's puppy interview with Margot and Ryan Gosling, Margot revealed how and why Emma ended up landing a role in the movie.
"I've been getting told for years that I look like the girl from Sex Education, who is Emma Mackey," Margot began, answering a question about what it was like to finally work with Emma after all the comments about them being doppelgängers.
"She plays one of the Barbies in the movie pretty much because Greta and I thought it would be funny."
Margot continued: "We were gonna do this whole joke about us looking similar. And then once we got all dressed up as our Barbies, we were kind of like, 'We don't actually look that similar'. Like, when she's got her brown hair and I've got my blonde hair, we don't look THAT similar, so we didn't put that joke in the movie."
Ryan also had absolutely no idea that was why Emma had been cast in the film.
QUIZ: Are you more Barbie or Oppenheimer?
Emma is also not the only Sex Education star in the movie either. Ncuti Gatwa, who plays Eric in the Netflix series, plays one of the Ken dolls. And Connor Swindells, who plays Adam Groff, is a corporate intern for Mattel, according to his poster.
Barbie is set to be released in cinemas on July 21st.
Read more about Barbie here:
The Witcher Cast Interview Each Other | PopBuzz Meets