Margot Robbie explains why she refused to use a foot double for Barbie
28 June 2023, 11:08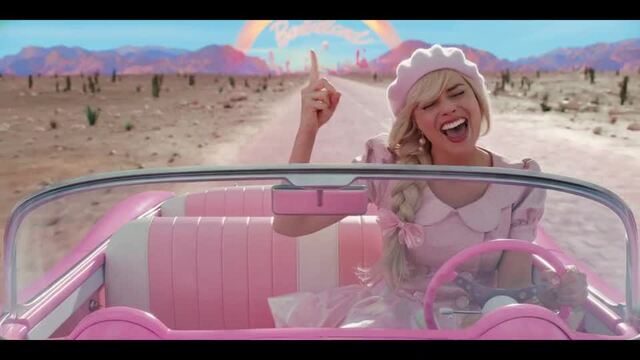 Watch the official Barbie trailer
Margot Robbie used her real feet in all her scenes in the Barbie movie.
Margot Robbie has revealed that she was adamant that she used her own feet for her iconic shoe scene in the Barbie trailer.
Ever since the Barbie movie trailer came out, fans have been obsessed with the opening foot scene. Anyone who's ever had a Barbie will know that their feet are permanently arched so that they can fit into heels. In the first few moments of the trailer, Barbie (Margot Robbie) removes her high-heeled slippers and her feet remain arched just like an actual Barbie's would.
Now, Margot has opened up about how they filmed the viral Barbie scene and said that she refused to use a foot double.
READ MORE: Ryan Gosling's response to people saying he's "too old" to play Ken in Barbie is hilarious
Discussing the scene with Fandango, Margot said: "It was probably about eight takes. Wasn't that many. They are my feet. I walked up, we had little sticky bits on the floor, double-sided tape for the shoes, so they wouldn't come off, so I could get my feet out of them. And I was holding onto, like, a bar. But that's it."
Margot added: "I wasn't in a harness or anything like that. I just walked up, kind of held onto the bar above [the] camera."
Explaining why she refused to use a foot double, Margot said: "I always try and do my own inserts. I don't like when I watch a movie and I know it's not my hands. I hate that so much. I always say to the director, 'Please let me do all my own things'. I don't like knowing that I didn't do it."
As for how she perfected Barbie's arches, Margot revealed: "I did ballet when I was a kid."
And the Academy Award for Best Foot Acting goes to...Margot Robbie!
Read more about Barbie here:
Leigh-Anne Picks Her Own Interview Questions | PopBuzz Meets