Ryan Gosling's response to people saying he's "too old" to play Ken in Barbie is hilarious
1 June 2023, 11:26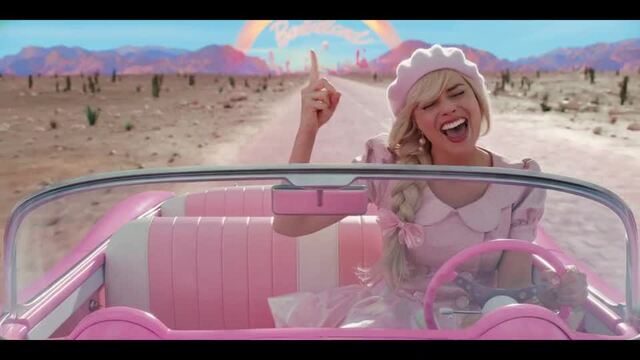 Watch the official Barbie trailer
"Suddenly, it's like, 'No, we've cared about Ken this whole time.' No, you didn't. You never did. You never cared."
Ryan Gosling has seen all your #NotMyKen comments... and he's calling every single one of you out.
The world is now just weeks away from the release of Greta Gerwig's highly anticipated Barbie movie, starring Margot Robbie as the titular character and Ryan Gosling as our bare minimum king Ken.
To those of us in the know, Ryan being cast as Ken is easily one of the most inspired casting choices in recent memory. But shortly after that first trailer dropped back in December 2022, people started to debate whether the 42-year-old actor "looked too old" to play a Ken doll.
Ryan has now responded to those claims in a new profile with GQ, and his response is truly incredible.
READ MORE: "She's everything, he's just Ken" memes are going viral thanks to Barbie's tagline
"I would say, you know, if people don't want to play with my Ken, there are many other Kens to play with," he told the publication.
Unprompted, Ryan then brought the conversation back up again later in the interview, adding: "It is funny, this kind of clutching-your-pearls idea of, like, #notmyKen. Like you ever thought about Ken before this?"
"And everyone was fine with that, for him to have a job that is nothing," referring to an early moment in the interview where he explained that Ken's job is literally just 'beach'. "But suddenly, it's like, 'No, we've cared about Ken this whole time.' No, you didn't. You never did. You never cared."
"Barbie never fucked with Ken. That's the point," he continued. "If you ever really cared about Ken, you would know that nobody cared about Ken. So your hypocrisy is exposed. This is why his story must be told."
"I care about this dude now. I'm like his representative. 'Ken couldn't show up to receive this award, so I'm here to accept it for him.' "
Back in April, Ryan explained to the audience at CinemaCon that he initially had doubts about playing Ken, until Greta and Margot managed to bring out his true "Kenergy".
"I only knew Ken from afar. I didn't know Ken from within, and if I'm being really honest I doubted my Ken-ergy," Ryan told the audience. "I didn't see it, but Margot and Greta, they conjured this out of me somehow."
"It was like I was living my life and then one day I was bleaching my hair, shaving my legs and wearing bespoke neon outfits and rollerblading down Venice Beach," he continued.
And now he's the President of the Ken Defence Team. You know what that is? Growth.
Read more about Barbie here:
The Little Mermaid Cast Try To Name Every Disney Princess In 30 Seconds | PopBuzz Meets