Every single Barbie referenced in Margot Robbie's Barbie press tour outfits
10 July 2023, 19:42 | Updated: 25 July 2023, 17:10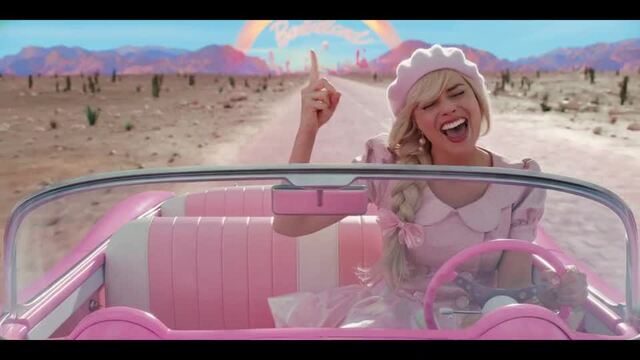 Watch the official Barbie trailer
This Barbie is a fashion ICON.
Margot Robbie on the Barbie press tour? It's already a cultural reset. A fashion Moment. A intergalactic slay of magnificent proportions, in fact.
Ever since it was announced that Margot Robbie would be playing Barbie in Greta Gerwig's soon-to-be summer hit, fans all over the world have been hoping that she would do the entire press tour paying homage to different Barbies. And based on what we've seen so far, they've got their wish.
Over the past two weeks, Margot has been out promoting the movie and the outfits that she's worn so far have been incredible. From vintage pulls from the runway archives, to updated versions of some of Barbie's most iconic pink looks, Margot and her stylist Andrew Mukamal have been pulling out ALL the stops for her Barbie tour-drobe.
Here's all the outfits that Margot has worn on the Barbie pink carpets across the world, alongside the original Barbie dolls that she's paying homage to.
READ MORE: Margot Robbie explains why she refused to use a foot double for Barbie
Los Angeles, United States – 2015's Pink & Fabulous Barbie
To kick off the global Barbie press tour, Margot rocked up to the first press call wearing a pink polka-dot Valentino dress that her stylist Andrew revealed was inspired by the 2015 Pink & Fabulous Barbie doll.
Margot donned a slightly more modern version of the iconic polka-dot dress, but matched it with the same white pumps and yellow bag. Even her beaded chunky bracelet was worn on the left wrist, just like the Barbie doll!
Sydney, Australia – 1959's Original Barbie
Next up? The all important, all iconic original Barbie from 1959.
If you cast your minds back to the first Barbie teaser that was released back in 2022, you'll remember that Margot has already pulled off this exact look as she portrays the very same version of the doll in the film.
But during a Barbie press event in her home country of Australia, she put a twist on the monochromatic striped swimsuit with a Hervé Léger bandage dress in the same pattern, complete with the white cat-eye sunglasses, gold hoops and black open-toed heels. And with her hair styled into that sleek pony? ICONIC!
Seoul, South Korea – 1985's Day to Night Barbie
Oh, y'all thought Margot would only be doing one look per event? This Barbie comes with a costume change! At the South Korean premiere for Barbie in Seoul, Margot and Andrew worked to pull off an absolutely genius reference to the 1985 Day to Night Barbie.
For the first look, Margot channeled businesswoman Barbie in a sleek Versace pink blazer and skirt, with every single accessory and outfit detail matching the original doll to a tee. That pink embellished '80s phone? Need it ASAP!
And for the second look, she switched it up in an almost identical pink dress and matching pink open-toe heels.
Seoul, South Korea – 1964's Sparkling Pink Barbie
Moschino? For a Barbie event? SAY LESS! While attending a press conference for the movie in Seoul, Margot wore an effortlessly chic, updated version of the same outfit worn by the 1964 Sparkling Pink Barbie doll.
Head to toe in that iconic Barbie-inspired Moschino pink, with a shorter hemline than the original and a similar cute pill-box hat, Margot delivered another flawless homage.
Mexico – 1992's Earring Magic Barbie
Every '90s baby who grew up with obsessed with Barbie surely must have this iconic doll somewhere in storage in their childhood home. The custom Balmain look worn by Margot is pretty much an exact replica of the pink mini dress that that specific Barbie wore.
Complete with the crimped hair, chunky silver belt and earrings, Margot is truly serving '90s nostalgia with this one.
Mexico - 1992's Totally Hair Barbie
Stepping out at another event in Mexico, Margot wore a printed Pucci minidress reminiscent of the iconic '90s version of the doll. And of course, pink pumps and the matching pink earrings. Slay.
Los Angeles, United States – 1960's Solo In the Spotlight Barbie
This Barbie is a glamorous icon! From the stunning black dress, open-toed shoes and gloves to the ponytail, red flower detail and pink handkerchief, Margot and Andrew nailed this stunning Schiaparelli look for the World Premiere of Barbie in LA.
London, UK – 1960's Enchanted Evening Barbie
Margot pulled out all the stops for the UK premiere of Barbie, dressed in Vivienne Westwood and dripping in glamour from head-to-toe.
That faux-fur moment? The pearls? The flower on the dress sitting in the exact same place as it does on the Barbie? Perfection!
Official Barbie premieres and press conferences aside, Margot has also been pulling references and delivering looks during junket interviews and appearances.
Even walking through the airports on her way to the next stop on the global press tour, she's been serving off-duty Barbie realness.
With plenty more pink carpets, premieres, interviews and appearances to come before the film is released on July 21st, there's loads more incredible looks from Margot and her stylist Andrew still to come.
Watch this space – we'll continue to update this article throughout the rest of the press tour.
Read more about Barbie here:
Margot Robbie & Diego Calva Pick Their Own Interview Questions | Babylon | PopBuzz Meets