Barbie's unexpected final line leaves viewers in hysterics
24 July 2023, 17:05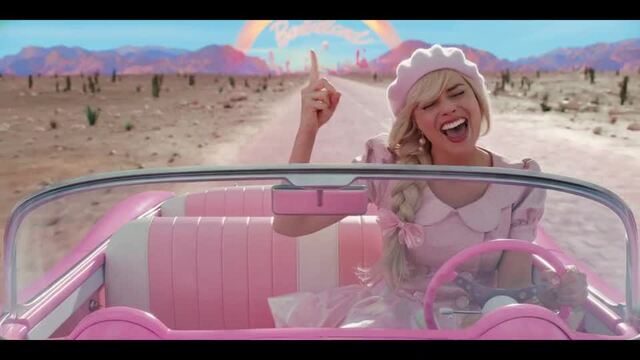 Watch the official Barbie trailer
"Barbie has the best final line in a film I've seen I think LMFAOOOO" [Spoilers ahead!]
Barbie is here, and she is everything. The box office smash, starring Margot Robbie and Ryan Gosling, was finally released in cinemas last week (July 21) and based on the reactions so far, it's safe to say that people are living for it.
Barbie follows...Barbie, obviously, as she grapples with an existential crisis after experiencing a string of unusual and unsettling happenings in her perfect life in Barbie Land. Oh, Ken is there, too.
Amongst all the praise for the performances, the mesmerising practical effects, the soundtrack bops, the witty script and Michael Cera's Allan, it's the unexpected final line of the movie that has left audiences screaming as they leave the cinema.
Director Greta Gerwig has also now explained why she wanted that specific line to stay in the movie.
What is the final line of the Barbie movie?
WARNING: Major spoilers for the ending of Barbie ahead!
Throughout Barbie, there's several references about Barbie and Ken's genitals... or lack of genitals, should we say.
At one point, Weird Barbie (Kate McKinnon) mentions how much she's dying to see what kind of "nude blob" Ken is packing under his jeans.
And later, when Barbie and Ken enter the Real World, Barbie is catcalled by a group of male construction workers. She then proceeds to tell them that she doesn't have a vagina and Ken doesn't have a penis, either. (To which Ken responds, "I have all the genitals".)
The final line of Barbie is an unexpected callback to that running joke, but whatever you're thinking it might be, it's not that. And cinema-goers are leaving the theatre in hysterics.
I still can't believe Greta Gerwig got away with the final line of BARBIE

— Kyle Buchanan (@kylebuchanan) July 21, 2023
barbie has the best final line in a film i've seen i think LMFAOOOO

— bre 🐝 (@aantlerqueen) July 21, 2023
i thought of 34 different scenarios but i could have never predicted what was about to come out of her mouth. gretamargot match made in heaven

— m (@bigIttIeIies) July 20, 2023
There was a 0% probability of me predicting the final line of the Barbie movie

— Rosiee Thor (@RosieeThor) July 23, 2023
At the end of the movie, Barbie decides to leave Barbie Land and become human, embracing everything that comes with it.
After an absolutely emotionally devastating sequence featuring Billie Eilish's 'What Was I Made For?', the scene cuts back into the Real World, with Barbie in the back of Gloria's car, dressed up in her best smart casual outfit.
As she enters a big building, it looks like she's on her way for a job interview. But as she approaches the front desk, she ends up uttering one of the most unexpected and iconic final movie lines: "I'm here to see my gynecologist".
Of course, the memes have already started...
On top of the final line confirming that Barbie now has a vagina because she's become a human, Greta Gerwig also explained why it was important to have that one-liner in the movie.
"With this film, it was important for me that everything operated on at least two levels," Gerwig explained to USA Today. "I knew I wanted to end on a mic drop kind of joke, but I also find it very emotional. When I was a teenage girl, I remember growing up and being embarrassed about my body, and just feeling ashamed in a way that I couldn't even describe. It felt like everything had to be hidden."
She continued: "And then to see Margot as Barbie, with this big old smile on her face, saying what she says at the end with such happiness and joy ... I was like, if I can give girls that feeling of, 'Barbie does it, too' – that's both funny and emotional. There are so many things like that throughout the movie. It was always about looking for the levity and the heart."
Read more about Barbie here:
The Witcher Cast Interview Each Other | PopBuzz Meets