14 of the most iconic Ryan Gosling quotes about playing Ken in Barbie
20 July 2023, 17:02 | Updated: 20 July 2023, 17:04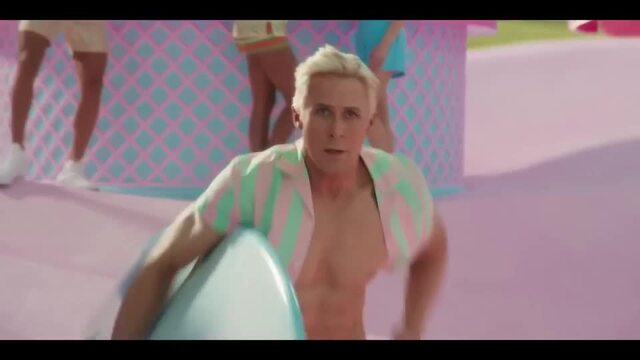 Ryan Gosling is 'just Ken' in new musical Barbie trailer
From dismissing the #NotMyKen haters, to calling for more scientific research into the Kenergy of it all...
No future press tour will ever reach the spectacular, dizzying heights of Ryan Gosling promoting Barbie.
For the past few months, Ryan Gosling has been blessing the internet with quotes so incredible, so inspired – and a little unhinged, at times – about playing Ken in Greta Gerwig's Barbie movie. And it's been one of the standout highlights from the whole press tour. (Alongside Margot Robbie's incredible Barbie-inspired outfits, obvz.)
This one tweet sums the whole thing up perfectly, tbh: "I feel like Ryan Gosling as Ken is as close as we've gotten to someone 'method acting' a nice, silly character instead of an asshole."
From dismissing the #NotMyKen haters, to calling for more scientific research into the Kenergy of it all, here's Ryan's best quotes about playing Ken.
READ MORE: Margot Robbie reveals Emma Mackey was cast in Barbie for a "joke" that got cut
It all started when Ryan was promoting The Gray Man back in July 2022. While discussing a scene in the film where Chris Evans' character called Ryan's character a "Ken doll", Ryan told ET Online that he didn't take it an insult at all.
"I'm proud of that. I have that Kenergy. Which he could feel, obviously, when he commented on it. I still feel like the Kenergy is alive," he said, coining the term and riding off into the pink Barbie sunset with it. "You know what I mean... no? You've got a Ken in your life. And you know that Ken has... Kenergy. Ken's got no money, he's got no job, he's got no car, he's got no house. He's going through some stuff."
April 2023. CinemaCon. The first look at Barbie is here. Everyone is excited. Ryan Gosling has one job to do: Reignite the Kenergy. And he nails it. 10's across the board.
Speaking about his initial hesitation when it came to accepting the role, Ryan told the audience: "I only knew Ken from afar. I didn't know Ken from within and if I'm being really honest, I doubted my Kenergy. I didn't see it, but Margot and Greta, they conjured this out of me somehow."
"It was like I was living my life and then one day I was bleaching my hair, shaving my legs, wearing bespoke neon outfits, and rollerblading down Venice beach. It came on like a light scarlet fever and then I woke up one day and was like, 'Why is there fake tanner in my sheets? What just happened?'"
Elaborating on the Kenergy of it all and doubting himself before Margot and Greta managed to hype him up, Ryan delivered one of his greatest Barbie press tour quotes in an interview with SiriusXM.
"But I just decided I was going to Ken as hard as I can. I Kenned in the morning; I Kenned at night. If I'm honest, I'm Kenning a little right now."
Perfect. No notes.
Sharing an anecdote with Jimmy Fallon on The Tonight Show, Ryan revealed one of the key turning points in him accepting the role of Ken.
"Best script I've ever read," he said, explaining how Greta emailed him, offering him the role. "I walk out in the backyard. And you know where I found Ken, Jimmy? Face down in the mud next to a squished lemon."
"I texted it [the photo] to Greta and I said: 'I shall be your Ken. For this story must be told.'
With all this talk of Kenergy, people are naturally curious about what it takes for them to also harness that special power and become Full Ken themselves. The secret? You are already Ken.
"Your Kenergy is there the whole time. You've got it so strong," he said during a press event in Canada Kenada. "I can feel it right now. Look no further. You are Kenough. It's like wifi. It's there, but, do you know how it's really there? I don't. I mean – could you explain wifi?"
YOU! ARE! KENOUGH!
In one of the last interviews Ryan blessed us with before the actors strike came into effect in mid-July, he sat down with GQ to share the "KEN Things Ryan Gosling Can't Live Without". The Kenssentials, if you will. The entire 6-minute video is full of absolutely iconic yet wildly ridiculous quotes – here's some of the best ones:
"I'm sure you're all aware of the Coco Chanel rule when you leave the house, you take one thing off. The Ken rule is you put three things on."
"This is to remind you of the box you came in, and the box that world will put you back in, if you don't Ken as hard as as you ken every day."
"Generally, the watch is a symbol that you're busy and you have important things to do and cool places to be. When you're a Ken, you have none of those things."
"Behind every great Barbie there's a Ken who is totally fine with that. Hopefully he's right behind her, in case she needs anything because she deserves it. Because she's Barbie, and he's just Ken."
Despite the overwhelming levels of Kenergy in the world right now, Ryan admits that "very little" is actually known about it.
When asked to define Kenergy once and for all by ExtraTV, he called for more scientific research to be done into the phenomenon: "You know, very little is known about Kenergy. And we don't have the funding for research. We know that it's real, you know? In my case it came on like a rash and then it turned into a tan. Then suddenly you're shaving your legs and you're bleaching your hair and you're wearing bespoke neon rollerblades."
"Hopefully, if this film and the conversation starts, we can start funding it and really find out what is Kenergy?"
Kenergy might be a fun summer vibe, but it is all-consuming. Powerful. Life-changing. Case in point: Ryan Gosling talking about performing 'Just Ken' in the movie.
Speaking to the LA Times about harnessing the power of young Ryan Gosling for "one last heist", he also added that his performance of Ken's big musical number actually had absolutely nothing to do with him: "Ken sang that song. I never sang like that in my life. I don't know why or how that happened."
When the first picture of Ryan as Ken dropped, the internet fell into disarray. One half were absolutely loving it, the other half were screaming #NotMyKen. And then Ryan responded...
"I would say, you know, if people don't want to play with my Ken, there are many other Kens to play with," he told GQ.
"Ken, his job is beach. For 60 years, his job has been the beach ... Everyone was fine with that, for him to have a job that is nothing. But suddenly, it's like, 'No, we've cared about Ken this whole time.' No, you didn't. You never did. You never cared. Barbie never fucked with Ken. That's the point."
"If you ever really cared about Ken, you would know that nobody cared about Ken. So your hypocrisy is exposed. This is why his story must be told."
With the film now out in the world, and the press tour coming to an end, Ryan has admitted that it's been low-key difficult to part with Ken.
In an interview with BuzzFeed, he said: "The Ken thing is tough. It's a bit like that Pillsbury – go with me on this – Cinnabon mix. You know, like, once you open that canister, like it all just – it's very hard to – once you open it, you're making Cinnabons, you know? And you're loving it. You are loving making Cinnabons."
Playing Ken is like making cinnabons - Ryan Gosling 2023 #barbie
And finally, in an interview with Vogue, Ryan delivered the press quote to end all press quotes: "Ken wasn't really on my bucket list. But in fairness, I don't have a bucket list. So I thought I'd give it a shot."
And thank GOD he did. Long live Ken! And long live the Great Ryan Gosling Barbie Press Tour of 2023! Academy Award!
Read more about Barbie here:
The Witcher Cast Interview Each Other | PopBuzz Meets