Miley Cyrus decided to divorce Liam Hemsworth just before her Glastonbury set
7 September 2023, 11:54 | Updated: 7 September 2023, 11:58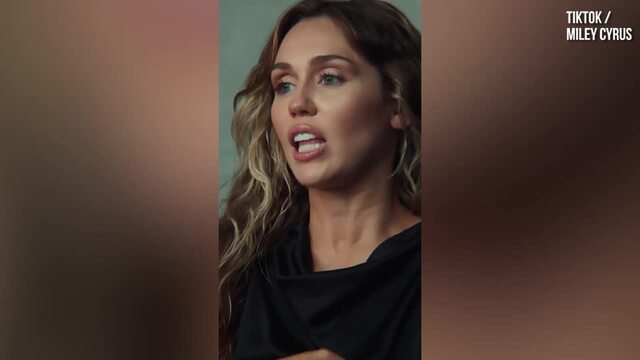 Miley Cyrus reveals she decided to divorce Liam Hemsworth at Glastonbury
Miley Cyrus broke down crying multiple times during the performance and announced her separation shortly afterwards.
Miley Cyrus has revealed that she chose to divorce Liam Hemsworth moments before she took to the stage at Glastonbury.
Before they split in 2019, Miley Cyrus and Liam Hemsworth had been an on-off couple for over 10 years. The stars first met filming their movie The Last Song together and got married at a private ceremony at their home in Nashville, Tennessee in 2018. However, in August 2019, Miley announced that they had separated and Liam filed for divorce 11 days later.
Now, Miley has opened up about when she decided to end things with Liam and how she had to perform right afterwards.
READ MORE: Every song Miley Cyrus has written about Liam Hemsworth
Discussing the breakdown of her relationship with Liam in a new TikTok video, Miley explained that their were issues in their marriage. She said: "Me and Liam's commitment to being married really came, of course from a place of love first 'cause we'd been together for 10 years, but also from a place of trauma and just trying to rebuild as quickly as we could."
Miley then confirmed: "The day of [Glastonbury] was the day that I had decided it was no longer going to work in my life to be in that relationship. That was another moment where the work, the performance, the character came first and I guess that's why it's now so important to me, for that to not be the case, for the human to come first."
Miley added: "Every bit of trauma in my life, when grandfather who I was really close with died when I was on set, I finished the scene and dealt with that later. During Black Mirror when the house was burning down, I finished my work and I dealt with it later. At Glastonbury, when that happened, I finished and dealt with it later."
Fans will recall that Miley was particularly emotional during that set and could be seen tearing up during her renditions of 'The Most', 'Nothing Breaks Like a Heart' and 'Malibu'. She announced her separation less than two months later.
Miley confirmed today, that she took the decision to end her marriage with Liam on the day she performed in Glastonbury 2019.

She was going through so much during that festivals. 💔 pic.twitter.com/moxxFChG7E

— Jesse (@spacedudes971) September 6, 2023
In a separate TikTok video, Miley opened up about how she and Liam fell in love filming The Last Song together. She said: "Once we had written the screenplay, it was time to audition all the guys who would play Will, my boyfriend in the movie, and we had gotten it down from thousands to the final three and Liam was a part of that final three.
Miley continued: "I think one of the elements that made that movie feel so special was it was watching two very young people fall in love with each other which was happening in real time in real life. So the chemistry was undeniable and that was the beginning of a long 10 year relationship."
Read more Miley Cyrus news:
Olivia Rodrigo vs. 'The Most Impossible Olivia Rodrigo Quiz' | PopBuzz Meets