Miley Cyrus says she quit touring because it 'erases her humanity'
29 August 2023, 16:26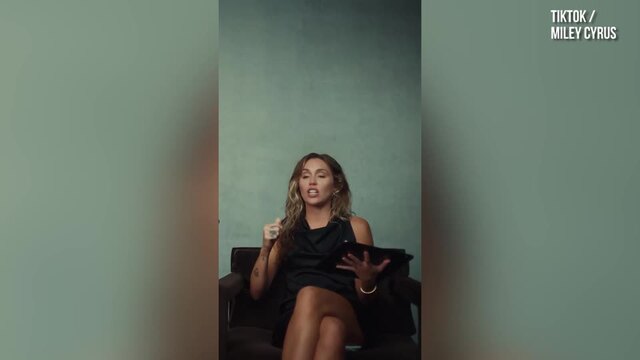 Miley Cyrus opens up about why she quit touring
Fans praise Miley Cyrus for open and honest reason behind not wanting to tour again.
Looking forward to seeing Miley Cyrus perform her Endless Summer Vacation bops on tour soon? Don't count on it...
Back in May, Miley told British Vogue that she's not sure if she'll ever tour again. Explaining why she doesn't like performing for large crowds, Miley said: "I love performing but pretty much for [my friends]. Like singing for hundreds of thousands of people isn't really the thing that I love. There's no connection. There's no safety."
"It's also not natural. It's so isolating because if you're in front of 100,000 people, then you are alone," she added.
While promoting her new single 'Used To Be Young', Miley touched on the subject of touring again and it seems like she won't be changing her mind about the subject.
Why isn't Miley Cyrus touring anymore?
In a TikTok video series, Miley dived into the personal reasons behind her not wanting to tour anymore.
"The show is only 90 minutes but that's your life," she said. "If you're performing at a certain level of intensity and excellence, there should be an equal amount of recovery and rest."
"There's a level of ego that has to play a part that I feel gets overused when I'm on tour, and once that switches on it's hard to turn it off," she continued. "And I think that when you're training your ego every single night to be active, that's the hardest switch for me to turn off."
Explaining the effect of performing to people has on her, she added: "Having every day the relationship between you and other humans being subject and observer isn't healthy for me, because it erases my humanity and my connection, and without my humanity, my connection, I can't be a songwriter, which is my priority."
READ MORE: Miley Cyrus explains the emotional meaning behind her Used to Be Young lyrics
As disappointing as it might be for some fans to not get the opportunity to see Miley dominate a world tour with her incredible stage presence, people have been supportive of her honesty and her reason behind not wanting to do it anymore.
"The self awareness is next level," one fan wrote in the comments. Another added: "You can tell that she has put in work with a therapist to learn how to care for herself and set boundaries.. that's awesome!"
A third person wrote: "True for every profession. We are not alive to perform. We are alive to love and exist."
Read more Miley Cyrus news:
Peach PRC Paints A Self-Portrait And Answers Questions About Her Life | Portrait Mode