Miley Cyrus explains the emotional meaning behind her Used to Be Young lyrics
25 August 2023, 07:40 | Updated: 25 August 2023, 07:45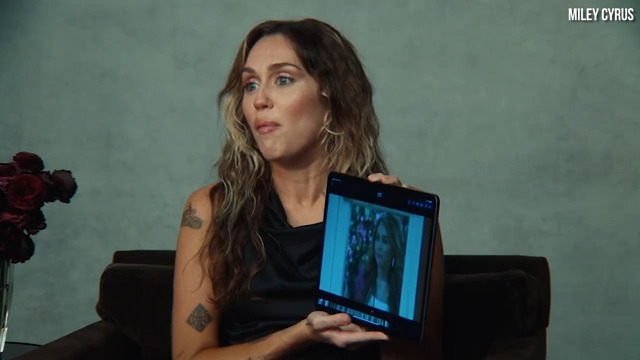 Miley Cyrus talks jokes about the final scene of Hannah Montana
In 'Used to Be Young', Miley Cyrus calls out people for judging her younger self.
Miley Cyrus is continuing her Endless Summer Vacation with her new song 'Used to Be Young' but what do the lyrics mean?
Speaking to British Vogue in May, Miley Cyrus teased that she had a new song called 'Used to Be Young'. In the profile, she revealed that a songwriter had approached her with a "standard fucked up in the club track" but she couldn't record it. She said that she's "two years sober" and now spends much more time at rose gardens and museums than out these days.
READ MORE: Miley Cyrus says she doesn't think she will ever tour again
Miley said that the incident inspired her to write 'Used to Be Young' and now she's opened up about the meaning behind it.
What are Miley Cyrus' Used to Be Young lyrics about?
In 'Used to Be Young', Miley sings about how she has evolved over the years. In the emotional chorus, Miley belts: "I know I used to be crazy / I know I used to be fun / You say I used to be wild / I say I used to be young / You tell me time has done changed me / That's fine, I've had a good run / I know I used to be crazy / That's 'causе I used to be young."
Describing the song on Twitter, Miley wrote: "These lyrics were written almost 2 years ago at the beginning of my [Endless Summer Vacation]. It was at a time I felt misunderstood. I have spent the last 18 months painting a sonic picture of my perspective to share with you. The time has arrived to release a song that I could perfect forever."
She added: "Although my work is done, this song will continue to write itself everyday. The fact it remains unfinished is a part of its beauty. That is my life at this moment… unfinished yet complete."
In the video, Miley references her infamous 'Wrecking Ball' video by using a single take of her crying to the camera.
Miley Cyrus - Used To Be Young (Official Video)
Miley also released the song on the 10 year anniversary of her releasing 'Wrecking Ball' and being criticised for twerking with Robin Thicke at the MTV VMAs. As well as valid criticism surrounding cultural appropriation, Miley became the subject of a torrent of online hate for her behaviour with parents accusing her of being a bad influence to their children.
Speaking to British Vogue, Miley said: "I'm actually not an attention-seeking person, sitting here as a 30-year-old grown woman. I was creating attention for myself because I was dividing myself from a character I had played. Anyone, when you're 20 or 21, you have more to prove. 'I'm not my parents.' 'I am who I am.'"
Discussing the backlash, Miley said: "I carried some guilt and shame around myself for years because of how much controversy and upset I really caused. Now that I'm an adult, I realise how harshly I was judged."
Calling out her critics, Miley ended by saying: "I was harshly judged as a child by adults and now, as an adult, I realise that I would never harshly judge a child."
Miley Cyrus - 'Used to Be Young' lyrics
VERSE 1
The truth is bulletproof, there's no foolin' you
I don't dress the same
Me and who you say I was yesterday
Have gone our separate ways
Left my livin' fast somewhere in the past
'Cause that's for chasin' cars
Turns out open bars lead to broken hearts
And goin' way too far
CHORUS
I know I used to be crazy
I know I used to be fun
You say I used to be wild
I say I used to be young
You tell me time has done changed me
That's fine, I've had a good run
I know I used to be crazy
That's 'causе I used to be young
VERSE 2
Take onе, pour it out, it's not worth cryin' 'bout
The things you can't erase
Like tattoos and regrets, words I never meant
And ones that got away
Left my livin' fast somewhere in the past
And took another road
Turns out crowded rooms empty out as soon
There's somewhere else to go, oh
CHORUS
I know I used to be crazy
I know I used to be fun
You say I used to be wild
I say I used to be young
You tell me time has done changed me
That's fine, I've had a good run
I know I used to be crazy
That's 'cause I used to be young
BRIDGE
Oh
Oh
Oh woah, oh woah
Oh woah, oh, yeah
Woah
Woah
Oh woah, oh woah
Oh woah, oh
CHORUS
I know I used to be crazy
Messed up, but, God, was it fun
I know I used to be wild
That's 'cause I used to be young
Those wasted nights are not wasted
I remember every one
I know I used to be crazy
That's 'cause I used to be young
You tell me time has done changed me
That's fine, I've had a good run
I know I used to be crazy
That's 'cause I used to be young
Read more Miley Cyrus news:
Peach PRC Paints A Self-Portrait And Answers Questions About Her Life | Portrait Mode