Selena Gomez says she loves her body after trolls criticise her bikini photo
6 January 2023, 13:02 | Updated: 6 January 2023, 13:04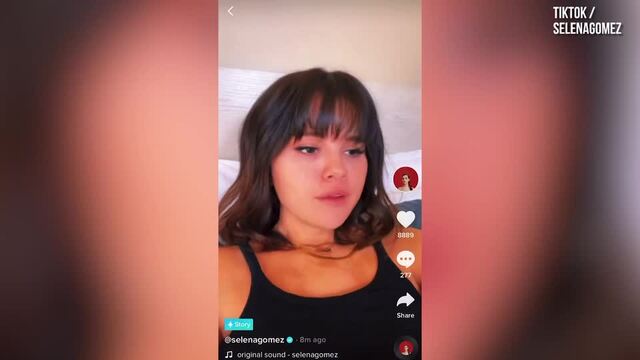 Selena Gomez calls out people commenting on her weight
Selena Gomez has no time for people body-shaming her for her weight.
Selena Gomez has shut down trolls who have been body-shaming her New Year's Eve bikini photos in the most iconic way.
Selena Gomez fans will already know that the singer regularly uses her platform to preach body positivity and call out people for making comments about her weight. Whether she's showing her real stomach on TikTok, or speaking frankly about her own weight fluctuation, Selena never fails to remind us that the size of someone else's body is not a discussion point.
Now, Selena is speaking up again and it's in response to a viral TikTok video in which trolls have been criticising her body.
READ MORE: Selena Gomez says Cole Sprouse was "the love of her life" during her Disney days
Earlier this week (Jan 3), TikToker Mara Angeliz posted a video in which she praises Selena's recent New Year's Eve looks. In the video, Mara singles out a bikini photo of Selena as her favourite. She says: "I love this picture of Selena Gomez because this picture is saying, 'I'm living my best life, like the millionaire that I am, I'm looking good, I'm giving body'."
The video went viral with many people praising Selena. However, trolls also began body-shaming the star and Mara posted another video calling them out. "I made a video about how amazing Selena Gomez looked on New Year's Eve and people are disgusting and want to get in the comments and body-shame her?"
They continued: "How miserable do you have to be to go in somebody's comments and talk about somebody's weight or how they look. Get a fucking life. Grow up."
Noticing Mara's video, Selena then added her own two cents, commenting: "I love you girl but I got it. I love my body".
Taking to TikTok last year, Selena called out people commenting on her weight more directly. She said: "Honestly I don't care about my weight because people bitch about it anyway. You're too small. You're too big. That doesn't fit. Bitch, I am perfect the way I am."
We have no choice but to stan.
Glass Onion Cast Take On A Chaotic Mystery Interview | PopBuzz Meets