Are Taylor Swift's Slut! lyrics about Harry Styles? The meaning explained
27 October 2023, 09:21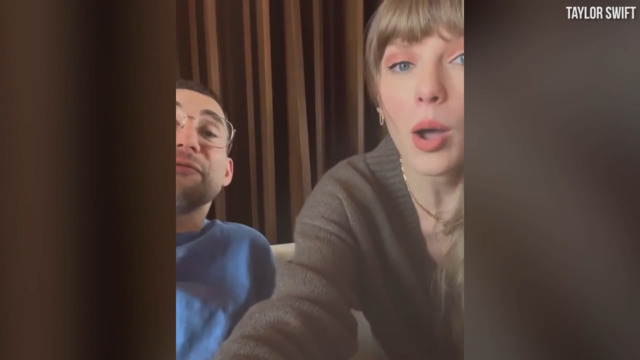 Taylor Swift reacts to Cruel Summer going Number 1
Taylor Swift has released 'Slut! (Taylor's Version) (From the Vault)' and the lyrics are as iconic as we all hoped they would be.
Swifties, the wait is over. Taylor Swift's '"Slut!"' is finally here but what are Taylor's '"Slut!"' lyrics actually about?
As soon as Taylor announced the names of the vault tracks for 1989 (Taylor's Version), fans were desperate to find out what 'Slut! (Taylor's Version) (From the Vault)' would sound like. Would it be a feminist anthem in which Taylor calls out the way that the media has continually slut-shamed her throughout her career or would it be something entirely different?
Now, Taylor has officially released '"Slut!"' for us all to enjoy and there are already theories going around that the song was inspired by her past relationship with Harry Styles. With that in mind, here's the meaning behind the song explained.
What are Taylor Swift's '"Slut!"' lyrics about?
In '"Slut!"', Taylor opens up about a budding romance and the double standards in her dating life. In the pre-chorus, she sings: "Lovelorn and nobody knows / Love thorns all over this rose / I'll pay the price, you won't." In the chorus, she adds: "But if I'm all dressed up / They might as well be looking at us / If they call me a slut / You know it might be worth it for once."
Taylor then gets more specific about the vitriol she faces in the second verse by singing: "Send the code, he's waiting there / The sticks and stones they throw froze / Mid air / Everyone wants him / That was my crime / The wrong place at the right time / And I break down, then he's pulling me in / In a world of boys / He's a gentleman."
In other words, Taylor is so in love with someone that she's willing to face any sexism that comes her way.
Taylor Swift - "Slut!" (Taylor's Version) (From The Vault) (Lyric Video)
Is '"Slut!"' about Harry Styles?
Some fans have speculated that the song could be about Harry Styles as other songs from 1989, including both 'Style' and 'Out of the Woods', are long believed to be about him. Fans think that the line "Everyone wants him / That was my crime" could be a reference to Harry's fame and how he didn't face any backlash for their relationship but she did.
As usual, Taylor is yet to specify who the song is about and, given its feminist themes, it's probably much more likely that the song is a more general commentary on her dating life and not something that should be tied to any man in particular.
In the prologue in the 1989 (Taylor's Version) album booklet, Taylor writes: "It became clear to me that there was no such thing as casual dating. Or even having a male friend who you platonically hang out with. If I was seen with him, it was assumed I was sleeping with him."
She then adds: "Dating, flirting or anything that could be weaponised against me by a culture that claimed to believe in liberating women but constantly treated me with the harsh moral codes of the Victorian era."
Based on the lyrics, it would seem that this is what '"Slut!"' is really about.
Taylor Swift - 'Slut!' lyrics
VERSE 1
Flamingo fine
Sunrise Boulevard
Clink, clink
Being this young is art
Aquamarine
Moonlit swimming pool
What if all I need is you
PRE-CHORUS
Got love struck, went straight to my head
Got love sick all over my bed
Love to think you'll never forget
Hand prints in wet cement
Adorned with smoke on my clothes
Lovelorn and nobody knows
Love thorns all over this rose
I'll pay the price, you won't
CHORUS
But if I'm all dressed up
They might as well be looking at us
If they call me a slut
You know it might be worth it for once
And if I'm gonna be drunk
Might as well be drunk in love
VERSE 2
Send the code, he's waiting there
The sticks and stones they throw froze
Mid air
Everyone wants him
That was my crime
The wrong place at the right time
And I break down, then he's pulling me in
In a world of boys
He's a gentleman
PRE-CHORUS
Got love struck, went right to my head
Got love sick all over my bed
Love to think you'll never forget
We'll pay the price I guess
CHORUS
But if I'm all dressed up
If they call me a slut
You know it might be worth it for once
And if I'm gonna be drunk
Might as well be drunk in love
BRIDGE
Half asleep
Taking your time
In the tangerine, neon light
This is luxury
You're not saying you're in love with me
But you're going to
Half awake
Taking your chances
It's a big mistake
Might blow up in your pretty face
I'm not saying "Do it anyway"
But you're going to
CHORUS
And if they call me a slut
You know it might be worth it for once
And if I'm gonna be drunk
Might as well be drunk in love
Madison Beer Explains Every Song On 'Silence Between Songs' | Making The Album