Kim Kardashian earns huge praise for her acting on American Horror Story
22 September 2023, 16:22 | Updated: 29 September 2023, 12:10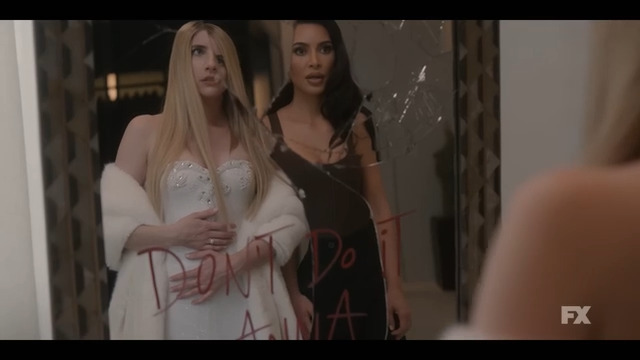 Kim Kardashian makes acting debut in AHS: Delicate trailer
"She had the odds stacked against her, but she was really giving actress. Props to you Kim Kardashian"
Kim Kardashian Emmy WHEN? Just kidding... but not really? American Horror Story: Delicate aired it's first episode this week (Sept 21) and gave everyone their first proper look at Kim Kardashian The Actor™ in her role as Siobhan.
When Kim was first announced as one of AHS: Delicate's main cast members, people were NOT convinced. Having never acted in a properly scripted drama series before, fans of the show had their reservations about how she would fit in opposite the likes of AHS regular Emma Roberts.
Well, Reader, I am here to tell you that Kim Kardashian is surprisingly good. Those acting lessons she said she was taking? Looks like they might have paid off! Now, some viewers can't wait to see more of her on the show.
In the first episode of the new season, Kim's character Siobhan is introduced as Emma Roberts' character Anna's publicist and confidante. She's very Kris Jenner, and she's perfect for the part. She's surprisingly great, too.
Taking to social media, fans have been praising Kim's acting. While it's decidedly not Emmy or Academy Award-worthy by any means, people are still living for it – particularly her first line: "Then tell the Daniels to suck my clit, she's not missing a press day for a fucking commercial shoot!"
"Hold on because why is kim kardashian eating this role," one user wrote. Another added: "Kim Kardashian did her thing. She had the odds stacked against her, but she was really giving actress. Props to you @KimKardashian"
American Horror Story: Delicate will be split into two parts. The final episode of Part 1 will air in October, with the rest of the episodes to follow at a later date.
Based on the trailer, it looks like Siobhan will be entering her villain era at some point in the series so stay tuned. Is Kim's range about to jump out? We'll have to wait and see...
Ashnikko Breaks Down 'Weedkiller' Track By Track | Making The Album