American Horror Story season 11 theme is AHS: NYC
30 September 2022, 16:32 | Updated: 30 September 2022, 16:37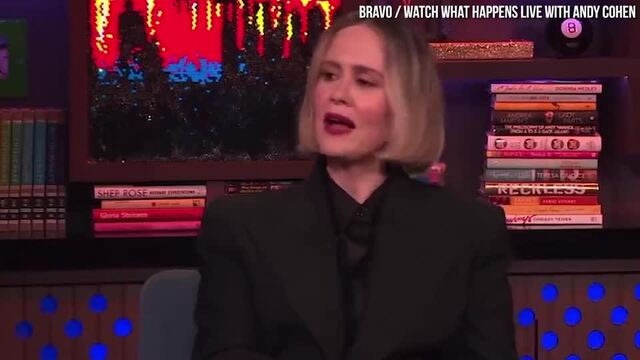 Sarah Paulson says this American Horror Story season might be her last
It's official – AHS: NYC is on the way!
At long last, we finally know the title and theme for American Horror Story season 11. For the first time in the series' history, we're about to get a whole season set in New York City. Yep, AHS: NYC has been confirmed – and it's dropping on October 19th, with two episodes being released each week.
Season 11's title was confirmed by Ryan Murphy and the rest of the cast yesterday (Sept 29), but details about what exactly AHS: NYC is going to be about have not been released just yet. No official synopsis has been shared.
READ MORE: Sarah Paulson says she's unsure if she'll return to American Horror Story
But, thanks to set photos that emerged while the cast and crew were filming on location in New York, some plot details might have been revealed.
What is American Horror Story: New York City about?
Filming for AHS season 11 has been taking place over the past few months in NYC, with cast and crew being spotted in the West Village and surrounding areas. Due to various costumes and building exteriors that have been clocked while shooting, the new season will be set in the 1970s and '80s.
According to various AHS fan accounts, NYC reportedly takes place in the late '70s, mostly. Other unconfirmed reports suggest the new season will centre around a group of LGBTQ+ individuals who are being targeted by a serial killer.
It's also rumoured that AHS: NYC will cover the blackout that affected New York City in 1977, the AIDs crisis, and it will feature other infamous NYC serial killers.
The reported episode titles also allude to several other parts of the season's apparent plot, too. Episode 4, titled 'Black Out', will obviously focus on the blackout. Episode 8, titled 'Fire Island', will likely see the setting move to the Long Island location. The final two episodes are reportedly titled 'Requiem 1981/1987 Part 1 & Part 2', hinting at a jump to the late '80s.
In an interview with The Wrap earlier this year, FX chairman John Landgraf told the outlet that season 11 "actually takes place in different timelines but it's one subject, one story, with a beginning, middle and an end, like many of the prior stories."
No trailer for AHS: NYC has been released yet, so we don't know for sure what we can expect from the latest twisted season of the show. No promotional photos featuring the actual cast have been released yet either, but they'll no doubt pop up within the next week or so.
Seeing as the release date is only a few weeks away, fans won't have to wait much longer before they're right back in the middle of another AHS nightmare.
Drag Race UK's Just May Claps Back At Danny Beard's Shady Remarks | Drag Race Yearbook