Who does Georgia kill in Ginny & Georgia? All her murders explained
9 January 2023, 16:48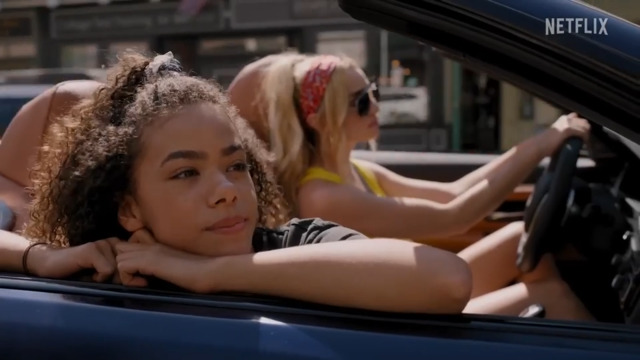 Watch Netflix's recap of Ginny & Georgia season 1
Ginny & Georgia season 2 adds to Georgia's rapidly growing death count.
Georgia in Ginny & Georgia is a single mum who works two jobs who loves her kids and never stops. Oh, and she's a murderer too.
Ever since Ginny & Georgia debuted on Netflix in 2021, fans have fallen in love with Georgia Miller. The mother of two makes multiple, questionable decisions throughout the series but, in spite of her messiness, it's always clear that her heart is in the right place. As a result, viewers can't help but root for Georgia even when she adds to her growing list of chaotic crimes.
READ MORE: Ginny & Georgia season 3: Release date, cast, possible plot and trailers
Ginny & Georgia season 2 finds Georgia at the centre of even more murder and mayhem, so much so that she technically qualifies as a serial killer now. How many people has Georgia killed now though and why did she kill each of them?
How many people has Georgia killed in Ginny & Georgia?
As it stands, Georgia has killed a total of three people in Ginny & Georgia. Who are they though and why did she kill them?
1) Anthony Green
Don't remember this one? Don't worry, it took us a minute to remember too. Back in season 1, we learn in flashbacks that social services took Ginny away from Georgia when she got busted for running an illegal poker ring. As a result, Georgia agrees to marry her creepy landlord Anthony Green in an attempt to appear responsible and get Ginny back.
Luckily Georgia's plan worked. However, it wasn't long before Anthony became controlling and abusive. He wouldn't let Georgia leave the house and even threatened to report her to social services if she did. As a result, Georgia decides to murder Anthony. She spikes one of his drinks with sleeping pills and he chokes in his sleep.
Georgia then calls on her biker gang to help dispose of the body and is never caught. To this day, Anthony is listed as a missing person by police. Georgia was just 17 when she married and killed Anthony.
2) Kenny Drexel
Georgia's second, and perhaps most infamous, murder is Kenny Drexel. In season 1, Georgia moves to Wellsbury after her second husband Kenny dies. We soon find out that Kenny died after having a heart attack while driving. Nevertheless, it's soon shown that Georgia poisoned Kenny by putting wolfsbane in his smoothie and that caused the heart attack.
Why did Georgia kill Kenny though? Kenny's family are convinced that Georgia murdered Kenny for his money and they even hire a private investigator to prove it. However, it's later revealed that Georgia saw Kenny grope Ginny. In a bid to protect Ginny from being assaulted further, Georgia killed Kenny and used her inheritance to start a new life.
3) Tom Fuller
The latest and perhaps most confusing addition to Georgia's hit list is Tom Fuller. In Ginny & Georgia season 2, it's revealed that the illness that Cynthia Fuller's husband Tom is suffering from a serious illness that has left him in a terminal coma. As a result, Cynthia is in need of a shoulder to cry on and Cynthia and Georgia become unlikely friends.
Cynthia and Georgia often open up to each other over alcohol and, during one key drinking session, Cynthia explains that she's in a constant state of grief and the longer Tom stays alive, the harder it is for her and her son to move on. She tells Georgia: "I just want it to be over."
In a bid to help Cynthia, Georgia has the bright idea to kill Tom and end his life early. When Cynthia goes to check on her son, an emotional Georgia enters Tom's room, says that she's going to be there for Cynthia and then takes a pillow and smothers him to death with it.
Georgia then shouts to Cynthia to tell her she thinks Tom's time has come. However, she doesn't realise that Austin was hiding in a cupboard in Tom's room and he saw her kill him. Austin doesn't tell Georgia that he saw her but the truth eventually comes out.
At the end of the season, during Georgia and Mayor Paul's wedding, Gabriel Cordova storms in with police and arrests Georgia for Tom's murder. We will have to wait until season 3 to learn how he found out what she did.
That's all of Georgia's murders that we know about for now. Whether or not she murdered more people in her past or will go on to murder more people is yet to be revealed. Here's hoping that she manages to escape going to prison in season 3!
Read more Ginny & Georgia news here:
Glass Onion Cast Take On A Chaotic Mystery Interview | PopBuzz Meets