How does Katniss know 'The Hanging Tree' song? Hunger Games' Lucy Gray legacy explained
20 November 2023, 17:54
Rachel Zegler & Tom Blyth Try To Name Every Hunger Games Tribute | The Ballad of Songbirds & Snakes
Is Katniss related to Lucy Gray Baird? Here's how Katniss learns about Lucy Gray's iconic 'Hanging Tree' song in The Hunger Games.
The Hunger Games: The Ballad of Songbirds and Snakes finally reveals the origins of the haunting 'Hanging Tree' song from Mockingjay and now fans are all asking the same question: How did Katniss come to know it?
In the book, readers find out that Lucy Gray (Rachel Zegler) was the original writer of 'The Hanging Tree', penning the song after witnessing the murder of a man named Arlo Chance, who is hanged at the tree where the executions take place. She's later asked not to perform it.
In the film, we see her singing it to herself, as a young Coriolanus Snow listens alongside her. Six decades later, long after the events and outcome of the 10th Hunger Games, the song somehow gets passed down to Katniss.
When Katniss sings the song in Mockingjay, and it's subsequently broadcast to the rest of Panem, she has no idea how deeply the song affects and antagonises President Snow.
But how does she know it? If it was a Lucy Gray original, how does Katniss know the melody and the lyrics so well? Are they related? Here's your answer... [SPOILERS AHEAD!]
How does Katniss know the Hanging Tree song in Hunger Games?
Is Katniss related to Lucy Gray?
While Lucy Gray's fate is left unknown, there's a pretty reasonable explanation as to why Katniss knows the song.
Lucy Gray's 'Hanging Tree' song was likely passed down through generations. The remaining members of the Covey –including Maude Ivory – knew the melody and the lyrics, and continued to sing it long after Lucy Gray's apparent disappearance.
Director Francis Lawrence recently revealed that author Suzanne Collins told him that Katniss is actually a descendant of Maude Ivory (Lucy Gray's cousin), not Lucy Gray herself as many fans have theorised.
In Mockingjay – Part 1, it's revealed that Katniss learned the song from her father, who would sing it to her and her sister Primrose. Katniss' mother later banned the song from being sung in their house after hearing it.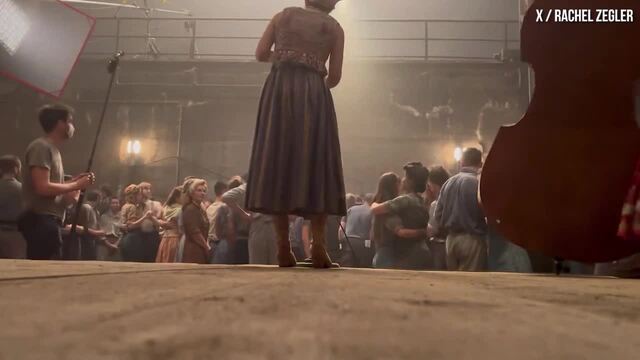 Rachel Zegler shares singing video from Hunger Games set
Parts of melody in the version that Katniss sings in Mockingjay sound a little different to Lucy Gray's original, likely because it was simply just passed down through memory. There's no original recording of Lucy Gray to learn it from.
Backing up that explanation, producer Nina Jacobson spoke to The Wrap about the legacy of the fictional song.
"I love how Suzanne [Collins] was interested in music as a way in which stories are passed down, music as this legacy from the past to the future. We've seen the events that made [Lucy Gray] write that song, and that that song would then be passed down, that her defiance onstage with her little curtsy might have even been part of the lore that was passed down."
And there you have it! Lucy Gray's impact.
Read more news about The Hunger Games here:
Madison Beer Explains Every Song On 'Silence Between Songs' | Making The Album