XO, Kitty creator Jenny Han shuts down criticism of Kitty's sexuality
24 May 2023, 11:38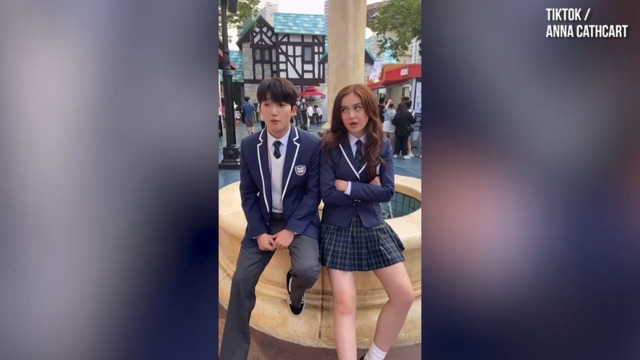 XO, Kitty cast do Telephone challenge
Jenny Han has confirmed that Kitty is canonically bi and she has feelings for both Dae and Yuri.
XO, Kitty creator Jenny Han appears to have responded to fans criticising Kitty's sexuality and confirmed that the beloved character is bisexual.
At the start of XO, Kitty, Kitty (Anna Cathcart) persuades her dad to let her transfer to a boarding school in Seoul so that she can study with her long distance boyfriend Dae (Minyeong Choi). However, Kitty soon realises that Dae may not be the love of her life. Not only that but Kitty discovers that she has feelings for Yuri (Gia Kim) and begins to question her sexuality.
Since the show came out, many viewers have praised XO, Kitty for its LGBTQ+ representation. However, a small minority of fans are upset that Kitty is queer. Now, Jenny Han looks to be shutting down any speculation that Kitty isn't really attracted to Yuri.
READ MORE: XO, Kitty season 2: Release date, cast, spoilers, trailers and news about the Netflix show
In the wake of XO, Kitty's releases many fan edits of Kitty and Yuri have gone viral on TikTok. For the most part, people love them but there are occasionally some negative comments. Under one, a fan wrote: "They just added it for representation they not even going to make it happen be realistic they could have given us a cute yuri and the other girl romance".
Quick to clear things up, Jenny Han, who created XO, Kitty and wrote the To All the Boys I've Loved Before books, replied: "Definitely was not added for representation. Kitty being bi was canon and was always where the story was going."
A fan has since proved that the comment is actually from Jenny Han's official TikTok account in a video on Twitter.
If that weren't iconic enough, Jenny has also posted numerous Kitty/Yuri fan edits to her Instagram stories.
jenny han respectfully clocked y'alls weird asses cause tiktok stans being acting so weird towards yuri and kitty especially towards kittys sexuality pic.twitter.com/N695MDU5yb

— َ (@speIivias) May 21, 2023
jenny han showing yall she was fully on board with this storyline so i better stop seeing that this was out of nowhere, useless, yuri was motherly toward kitty, or any of the variation of biphobia thanks https://t.co/NW6WxoHp82

— tiny | on a break from smau (@paradiseefalls) May 23, 2023
If you rewatch XO, Kitty, you'll notice there are multiple details that prove Kitty was immediately drawn to Yuri. They literally have a slow-mo K-drama meet cute at the start that's reminiscent of how Peter and Lara Jean first met in To All the Boys I've Loved Before.
In other words, Kitty is canonically bi and it looks like she and Yuri could possibly be endgame!
Read more XO, Kitty news here:
Jonas Brothers vs. 'The Tower Of Truth' | PopBuzz Meets