XO, Kitty: Release date, cast, plot and trailers for the To All the Boys spin-off
26 April 2023, 09:37 | Updated: 23 May 2023, 14:22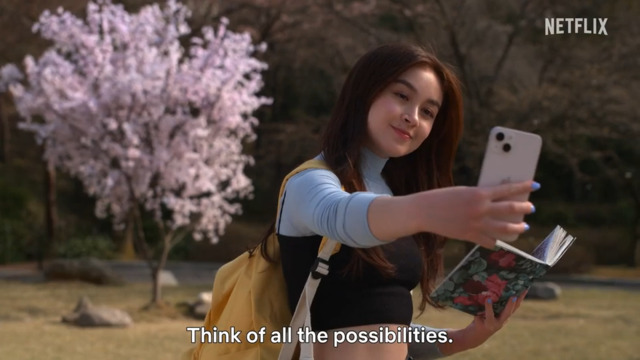 Watch the trailer for XO, Kitty
Kitty Song Covey is getting her own series! Here's everything we know about the new Netflix To All the Boys I've Loved Before spin-off.
Rom-com fans, rejoice! If you're a fan of the To All the Boys I've Loved Before films, you're not going to want to miss this one. Lara Jean's little sister Kitty is finally getting her much-anticipated spin-off.
At the end of To All the Boys I've Loved Before: Always and Forever, Kitty (Anna Cathcart) waves off her older sister Lara Jean as she heads to New York City for college. Lara Jean (Lana Condor) embarks on a long-distance relationship with her high school boyfriend Peter Kavinsky (Noah Centineo), and Kitty starts her venture into the world of dating, entering into her own long-distance relationship with Dae (Minyeong Choi).
So far, we already know a few details about what to expect from Kitty's titular show, including casting, release date, episodes and the plot.
The series was first announced back in October 2021 and now, Netflix has dropped the first official trailer, and I, for one, can't wait for it to hit screens.
Here's everything we know about XO, Kitty so far...
When is XO, Kitty released on Netflix?
Netflix confirmed that XO, Kitty will be release on May 18th. All 10 episodes will be released at once and, as usual, Netflix will drop them at 12AM PDT.
That means the time it will be available to stream in your country will be based on the time in Los Angeles. For those in the UK? It'll be ready and waiting on your Netflix accounts at 8AM BST.
XO, Kitty cast: Who plays Kitty Song Covey?
Anna Cathcart will be reprising her role as Kitty Song-Covey in XO, Kitty.
The 19-year-old actress is best known for playing Kitty in the To All the Boys I've Loved Before film series, and has also had starring roles in Odd Squad, and Descendants 3 alongside Dove Cameron.
XO, Kitty cast: Who else is in the Netflix show?
Alongside Anna Cathcart, the other cast members that have been confirmed for the series are:
Minyeong Choi as Dae, Kitty's boyfriend
John Corbett as Dan Covey, Kitty's dad
Sarayu Blue as Trina, Kitty's stepmum
Sang Heon Lee as Min Ho, a rich, popular guy
Gia Kim as Yuri, the KISS queen bee
Anthony Keyvan as Q, a kind and caring jock
Peter Thurnwald as Alex
Regan Aliya as Juliana
Yunjin Kim as Jina
Michael K. Lee as Professor Lee
Jocelyn Shelfo as Madison
XO, Kitty plot: What is XO, Kitty about?
XO, Kitty will follow Kitty's journey of love and loss as she navigates her relationship with her boyfriend Dae while also aiming to discover more about her late mother. Ready to make her own mark in the world, Kitty leaves her hometown of Portland, Oregon to embark on a new adventure in Seoul to attend the Korean Independent School of Seoul, also known as KISS (very fitting for a romance series). It's revealed that Kitty's boyfriend attends KISS, and it was also the school that her mum attended years earlier.
In an interview with Netflix's Tudum, To All the Boys I've Loved Before author Jenny Han said of the change in location: "XO, Kitty really is Kitty's story and that's part of the reason why I really wanted to set this story in a different place. If you see the Covey house that we all know and love and their high school in Portland, you'd probably just be thinking, 'Oh, what's Lara Jean up to?'"
Will Lana Condor and Noah Centineo be in XO, Kitty?
Lana Condor and Noah Centineo will not be appearing in the XO, Kitty series. Author Jenny explained the reasoning during an interview with Netflix.
"We all fell so deeply in love with Lara Jean and her story. So it felt like the greatest gift to give to Kitty was to let her as a character kind of set off on her own two feet and not put her in the shadow of either of her sisters," she said.
Jenny also noted that Lana and Noah are both "off doing big things" and the whole cast and crew of the To All the Boys I've Loved Before "couldn't be more proud of them".
Is there a trailer for XO, Kitty?
There is! The first official trailer for XO, Kitty was released by Netflix on March 22nd. Teasing Kitty's move to Korea, the trailer starts with the teen showing her dad and Trina a slideshow explaining why she should make the move to Korea.
We also see clips of Kitty delving into her mum's past, revealing her school days at KISS and her past dating life.
You can watch the first glimpse at the top of the page.
Read more about To All the Boys here:
Penn Badgley vs. 'The Most Impossible Penn Badgley Quiz' | PopBuzz Meets