Riverdale producer reveals why Archie and Jughead were never shown hooking up
25 August 2023, 11:58 | Updated: 29 August 2023, 17:20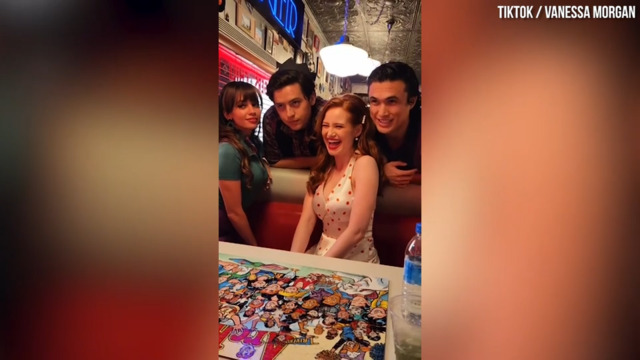 Riverdale cast say goodbye as filming officially ends
The final episode of Riverdale reveals that Betty, Veronica, Jughead and Archie were in a quad relationship for over a year.
A producer behind Riverdale has explained why Archie and Jughead never hooked up despite them being in a relationship.
It's hard to believe it but Riverdale has officially ended. From the Black Hood to the Gargoyle King, Riverdale never failed to shock and surprise us. Not to mention, the show became infamous for its many iconic ships. Bughead? Varchie? Choni? Falice? There was something for everyone on Riverdale and almost every character had a very steamy sex scene.
In the final episode of Riverdale, it's revealed that Betty, Veronica, Jughead and Archie had a quad relationship for a year. Nevertheless, Archie and Jughead's romance was never shown on screen and now a producer has opened up about it.
READ MORE: Riverdale ending explained: Here's what happens to each character in the season 7 finale
In 'Goodbye, Riverdale', an 86-year-old Betty is given the chance to relive one day in high school before she dies. She goes back to High School Yearbook day and, while she's there, Kevin explains to Betty that she, Veronica, Jughead and Archie were all dating each other as a foursome during that time. Yes. Betty, Veronia, Jughead and Archie dated all at once.
Fans will remember that Betty and Veronica have kissed before on the show but Jughead and Archie never did. Explaining why to Variety, producer Sarah Schechter said: "I mean, that's, like, too hot for TV. I don't think there was a reason for it. I think there's a fantastic, fantastic amount of LGBTQ representation on the show."
In the past, Riverdale has been accused of "queerbaiting". In season 3, for example, a trailer showed Archie and Joaquin kissing but in the episode Joaquin only kissed Archie as a distraction to stab him. Could Archie have had a queer relationship with Jughead on screen all along?
In the finale, it's also revealed that none of the core four end up together. Discussing it, Sarah said: "I think anyone who tells you there was always a plan, they're lying. From the beginning, we had so many conversations about not wanting this to be retro in the wrong ways, and not wanting to be reductive in the wrong way. So I think it was modern and fitting."
However, when Betty dies, we do see her reunite with Veronica, Jughead and Archie in the afterlife. So, in some ways, the quad relationship lasts forever. Sarah added: "They kind of all end up in the afterlife together. That allows people to root forever."
Peach PRC Paints A Self-Portrait And Answers Questions About Her Life | Portrait Mode