KJ Apa says he "didn't feel comfortable" going shirtless on Riverdale
16 August 2023, 15:55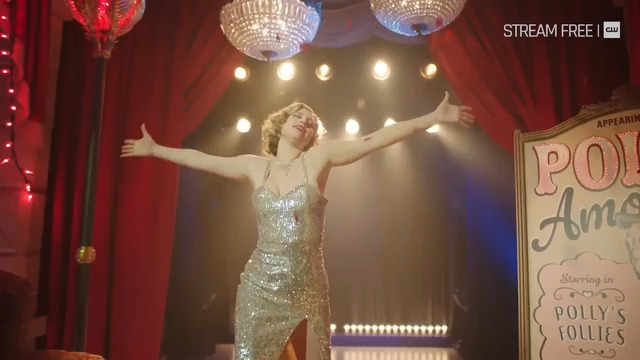 Watch the trailer for Riverdale's final episodes
Madelaine Petsch also shared that she "cried" about how she felt about her body after having to shoot a lingerie scene.
With the final ever episode of Riverdale just around the corner, the cast are now starting to open up about their experience working on the series.
Over the seasons, we've seen countless scenes of Archie and Reggie sweaty and shirtless, of Betty, Veronica and Cheryl donning lingerie... At some point or another, pretty much every teenage character had a revealing moment on screen.
The show has also been criticised for sexualising its characters, particularly in the earlier seasons when they were teens. On the flip side of that, the cast have also defended the show against accusations that it was portraying "unrealistic" bodies.
Now, KJ Apa, Madelaine Petsch and Lili Reinhart are speaking about what it was like growing up on the show, having their bodies scrutinised by millions of people every week and how it made them feel.
READ MORE: Riverdale season 7 officially wraps filming as production ends on final season
While chatting to Vulture about the sexualisation of both male and female characters on the show, the cast had quite a bit to say about how it had affected them.
"I've been through a lot of shit with that," KJ shared. "It can mess with your head a little bit. At first, as a young child, which is what I was, I thought it was cool — you almost want the opportunity to be shirtless. I was like, 'Yeah, let me take my shirt off. Boom!' And then you gotta consistently stay in incredible shape."
"It takes a toll. Even saying that I didn't feel comfortable I had a hard time with. I thought people would be like, 'Why not? Just fucking do it, bro,'" he continued.
Madelaine also shared that some of Cheryl's recent lingerie scenes affected her while shooting, adding: "The other day, I had to do a lingerie shoot and I felt so shitty about my body I cried."
"I tried on six different outfits and eventually found something that made me feel remotely okay."
READ MORE: Riverdale's Lili Reinhart says she felt "really insecure" filming Betty's underwear scenes
Lili called the experience of constantly seeing images of her body on the show, "trippy".
"My body does not look like that anymore. And suddenly this season we're 17 again," she said, reflecting on having to play a teenager again in the show's final season.
"I've looked at myself in the mirror and laughed at myself a couple of times. I don't look like I'm 17, and I'm okay with that! But it's this weird feeling, like you have to fit yourself back into this box that you presented to the world when we first stepped into these characters."
"Just being an actor in general, you feel like you're holding yourself to a consistent standard of I must not age, and I must continue to look like I did."
While some might be worried about the experience that the stars have gone through in regards to their underwear/shirtless scenes, Camila reassured fans that they weren't forced to do anything they didn't want to do.
"We need to say Roberto is always very understanding of us, and there's nobody forcing us to do anything. It's just the nature of being on a teen show," she added.
Riverdale's final ever episode is set to air on August 23rd.
NCT DREAM vs. 'The Most Impossible NCT DREAM Quiz' | PopBuzz Meets