Florence Pugh slams troll telling her to grow her hair so she looks "hot" again
1 September 2023, 17:40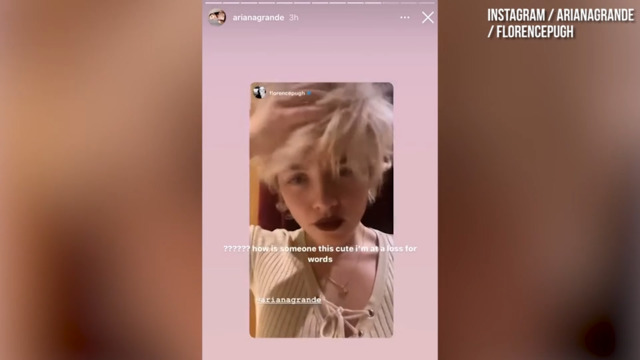 Florence Pugh reviews Ariana Grande's beauty brand
Florence Pugh asks people to stop measuring how hot women are by the length of their hair.
Florence Pugh has clapped back at a troll telling her to grow her hair long so she looks "hot" again in the most iconic way.
Florence fans will already know that she shaved hair earlier this year and debuted the new look on the Met Gala red carpet. Explaining why she cut her hair, Florence told Radio Times: "I purposefully chose to look like that. I wanted vanity out of the picture. Hollywood is very glamorous, especially for women - and it's hard for an audience to see past that."
For the most part, fans have celebrated Florence's decision to go short and keep her hair that way. However, Florence has also been subject to trolling over her short hairstyle and now she's put one of the trolls criticising her in their place.
READ MORE: Florence Pugh confirms her real accent after being accused of faking being British
This week (Aug 30), Florence took to Instagram to share several photos from her recent Elle cover story. In the stunning pics, Florence can be seen rocking her short blonde hair do as well as several high fashion looks.
Reacting celebrities like Selena Gomez, Bella Thorne and Simone Ashley commented, "MOM", "Iconic" and "Woah" respectively.
However, one troll commented, "Please just grow your hair again so you look hot" and Florence didn't let it go by unnoticed.
In response she wrote: "Please just stop using your page to bring women down by measuring their hotness with the length of their hair. This is tragic."
Florence's comment has since gone viral on Twitter with many fans praising her.
Florence Pugh is no stranger to putting people in their place when they say something out of line. In 2022, Florence wore a sheer Valentino dress to a red carpet and many men made rude remarks about her breasts on social media. Florence then took to Instagram to tell them to "grow up" and asked them: "Why are you so scared of breasts? What. Is. So. Terrifying?"
In her Elle profile, Florence also revealed that she won't hide her body or change her appearance to appease other people. She said: "I speak the way I do about my body because I'm not trying to hide the cellulite on my thigh or the squidge in between my arm and my boob: I would much rather lay it all out."
Read more Florence Pugh news here:
Peach PRC Paints A Self-Portrait And Answers Questions About Her Life | Portrait Mode