Colleen Ballinger's reps deny uploading Toxic Gossip Train song to Apple Music
12 July 2023, 16:21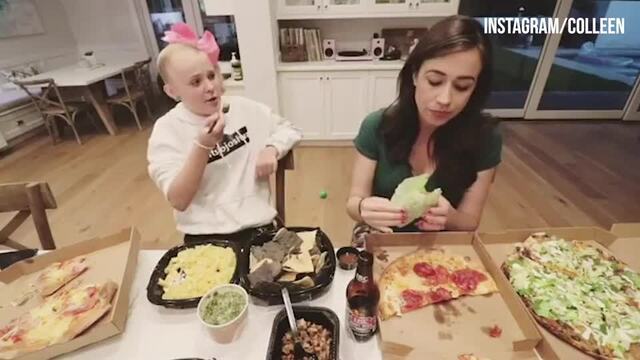 Colleen Ballinger and JoJo Siwa open up about receiving hate from trolls
Legal reps for Colleen have now denied claims that she issued a copyright claim against the H3 Podcast and uploaded her ukulele song to iTunes and Apple Music.
Colleen Ballinger's legal team have denied claims that her 'Toxic Gossip Train' song was uploaded to Apple Music or iTunes by her or her team, after reports began circulating on social media following a tweet from Ethan Klein.
Yesterday (July 11), the H3 podcast host tweeted that one of his videos that featured clips of Colleen's ukulele non-apology video had been copyright claimed, and shared screenshots that showed it had been issued "on behalf of Colleen Ballinger".
However, hours after the claim went viral on social media (with others claiming that the song was also available to purchase on iTunes and Apple Music), Pop Crave tweeted that Colleen's legal representatives had told them that it was false and had nothing to do with Colleen.
Now an official statement has been issued. Here's what happened.
In the latest H3 podcast episode, which was streamed live on YouTube, Ethan, Hila Klein and the rest of the team analysed Colleen's entire video and played various clips throughout the episode.
According to Ethan's screenshots, a short clip of Colleen singing the chorus of the 'Toxic Gossip Train' was struck by a copyright claim. As a result, Ethan's video is now sharing revenue with the "music rights holders".
The screenshots show that the claim was issued by CD Baby CO "on behalf of Colleen Ballinger".
When Colleen's ukulele video was first published, people began theorising that she may have sung the statement so she could issue strikes on commentary YouTubers and drama channels if they used it in their own videos.
Reps have now denied these claims.
Shortly after Ethan's tweets were posted, other Twitter users noticed that the 'Toxic Gossip Train' song had also been uploaded to Apple Music and iTunes for people to purchase.
Users were sharing screenshots and links to the song, but it now appears as though Colleen had nothing to do with it.
Colleen's reps issued a statement to BuzzFeed regarding the matter, writing: "Ms. Ballinger did not upload the song or video to Apple Music or to any other streaming platform for sale or for any other purpose. We don't know how it got published on those platforms."
"It was done without Ms. Ballinger's knowledge or authorization, and we have taken measures to have it removed. Likewise, Ms. Ballinger has not issued any copyright infringement claims on videos featuring the song, nor has she monetized the video."
At time of publication, the song no longer appears on Apple Music or iTunes. According to Ethan Klein, his video is also still under review after disputing the copyright claim on July 10th.
Read more about Colleen Ballinger here:
The Witcher Cast Interview Each Other | PopBuzz Meets