Colleen Ballinger called out over "inappropriate" videos with 13-year-old JoJo Siwa
5 July 2023, 16:23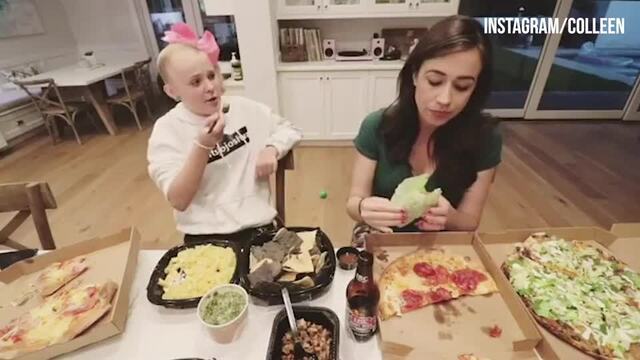 Colleen Ballinger and JoJo Siwa open up about receiving hate from trolls
The videos have resurfaced after multiple former fans have accused Colleen Ballinger of inappropriate behaviour.
Colleen Ballinger is coming under fire after "inappropriate" videos of her and 13-year-old JoJo Siwa have resurfaced online.
In recent weeks, Colleen Ballinger has faced multiple serious allegations of inappropriate behaviour. The YouTuber has been accused of messaging adult content to minors and making underage fans feel uncomfortable. Colleen has since released a viral song in response. However, the song has been widely criticised and more people have now spoken out against her.
Now, past videos of Colleen performing as Miranda Sings with JoJo Siwa are coming under scrutiny and being called out.
READ MORE: Trisha Paytas slams Colleen Ballinger for mocking and sharing her nudes in leaked texts
In the videos, Colleen makes multiple sexual jokes about JoJo, despite JoJo only being 13 at the time and Colleen being 30. In one Miranda Sings video from 2016, titled 'DANCING TUTORIAL', Colleen as Miranda chastises JoJo for wearing shorts. She shouts: "You're not supposed to dress porn when you are dancing, I can see her entire legs."
Commenting on JoJo's milk top, Miranda adds: "I'm just now realizing that your shirt says 'milk' all over it. You drink milk? You know that comes from a private part?" Miranda then denies being breastfed by her mum as a baby: "When my mom tried to make me drink I'd be like: 'Get away, pervert! I'm not drinking that out of your private!'"
Later on, JoJo does the splits and Miranda says: "Woah! Did you hurt your tookie?" JoJo asks Miranda what a "tookie" is. Miranda then points towards her own crotch. When JoJo does the splits again, Miranda faces the camera and says: "We need to stop before she hurts her tookie permanently."
At the end of the video, Colleen says: "You need to protect your tookie" and "I'm pretty positive that I won the dance-off because now you have no more tookie left."
Clips from the video have since gone viral on TikTok and Twitter. Colleen has now turned off comments on the video.
DANCING TUTORIAL // Jojo Siwa & Miranda Sings
In another video on JoJo's XOMG POP! channel, JoJo teaches Miranda how to twerk. When she begins, Miranda says: "You can not do that! You will entice all the people, you can't be twerking out the body like that, you're popping the booty." Later, Miranda asks JoJo: "Have you ever taken the pants off and seen what's inside?" and JoJo is visibly bewildered.
JoJo also asks Miranda if she can pour juice on her head as part of her weekly JoJo Juice segment. However, Miranda says: "I don't trust your juice, I don't trust any of your juices, JoJo. I don't trust your juices, I don't want your juices on me, JoJo, who taught you that you can pour your juices on other people, JoJo? It's not appropriate."
At the end of the video, Miranda says that JoJo is a "a naughty little girl who keeps twerking and hurting her tookie."
Comments on the video have also now been turned off.
TEACHING MIRANDA HOW TO TWERK! -JoJo's Juice
Last week (Jul 7), producer Tommy Italiano posted a viral TikTok video in which they say: "Colleen Ballinger owes JoJo Siwa an apology" and edit multiple Colleen and JoJo clips from the above videos together. The TikTok has now been viewed over 2.9 million times with many people calling Colleen out in the comments.
One person wrote: "Yikes! how was this not called out right away. Where's her mom??" Another said: "So many adults owe jojo an apology" and "What the f. It keeps getting worse. How was this allowed to happen for so many years?!?!?"
Someone also wrote: "The more of these old videos I watch, the weirder it gets. I remember watching this thinking nothing of it as a kid too & now im like oh my God."
As it stands, Colleen is yet to address or apologise for the videos. We shall update you if she does.
Read more about Colleen Ballinger here:
Leigh-Anne Picks Her Own Interview Questions | PopBuzz Meets