Trisha Paytas slams Colleen Ballinger for mocking and sharing her nudes in leaked texts
4 July 2023, 12:53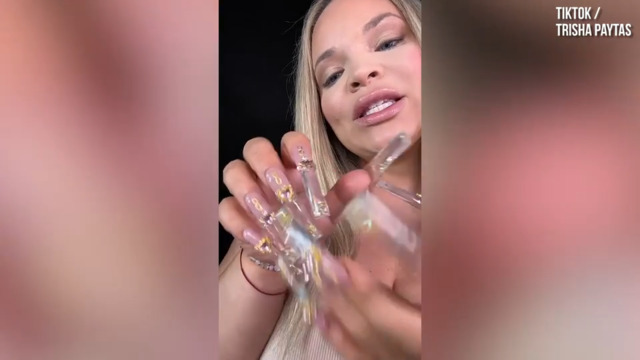 "It's a low, low level of a person to say that stuff. And again, this isn't years ago. It's someone well into their 30's. It's not a child, it's not a kid."
Trisha Paytas has posted a 21-minute video responding to the Colleen Ballinger allegations, and has slammed the YouTube personality after texts of Colleen allegedly sending Trisha's explicit photos to young fans were shared online.
Over the past month, Colleen Ballinger has been accused of inappropriate behaviour by several former fans; from engaging in inappropriate conversations with minors in group chats to making underage fans feel uncomfortable on stage.
Colleen addressed these allegations in her now-infamous ukulele video and denied the claims. The video has been widely mocked and called out as a non-apology.
Now, following the release of screenshots appearing to show Colleen making fun of Trisha's OnlyFans content, Trisha has responded and condemned Colleen's behaviour. She has also said that she does not stand by Colleen and is "embarrassed" to be associated with her.
READ MORE: Colleen Ballinger slammed for "fart joke" comment in ukulele 'apology' video by former fan
So, how did Trisha Paytas end up in the middle of the Colleen Ballinger allegations?
Well, Trisha and Colleen had recently launched a brand new podcast called Oversharing. The duo had only released three episodes of the pod before the Colleen allegations began to surface, but they had also previously collaborated in the past and were assumed to be close friends.
In mid-June, shortly after Colleen was accused of past inappropriate behaviour, Trisha shared a quote about forgiveness on her Instagram Story.
Many followers theorised that it could be about Colleen, due to their friendship and recent collaboration but now it's very clear that Trisha has officially distanced herself from the situation and Colleen, both professionally and personally.
What did Colleen Ballinger say about Trisha Paytas?
Former Colleen Ballinger fan Johnny Silvestri (@g3minij0hn on Twitter) has been sharing screenshots from his alleged past conversations with Colleen, which appear to show Colleen sending multiple nude photos from Trisha's OnlyFans (some of which Trisha says were behind a paywall on the site) to him as a 'joke', and making fun of her.
Based on the screenshots that have been shared by Johnny, those alleged conversations were sent between 2018 and 2020.
What did Trisha Paytas say in her response video?
Shortly after the screenshots were shared by Johnny, Trisha posted a 21-minute long response to the way Colleen has spoken about her behind her back, made fun of her and sent unsolicited nudes of her to young fans.
"I've had a sick to my stomach feeling for a while now, and today especially," Trisha stated. "Me and Colleen started a podcast this year. We were always friendly before. We weren't close friends. I considered us to be friends, you know, friends who have kids. We've been doing videos together on and off like maybe once a year since 2018."
Trisha continued, condemning any and all kind of interaction with fans who are underage, saying: "I wasn't aware of these most recent things that are coming out. Everyone knows that I have a very, very, very firm stance on talking to anyone underage, platonic or not. I've always been very, very firm with this that I think it's inappropriate."
Trisha then called out Colleen's ukulele non-apology video, commenting on how Colleen didn't actually acknowledge her own former fans' feelings and seemed to brush the accusations off. She said Colleen sent the video to her but she did not respond.
Trisha then went on to call out the nude photos of her that Colleen had shared in group chats – some of which were sent just a month after Trisha was in Colleen's house, meeting her baby and filming videos with her.
"I do not condone, at all, sending unsolicited nudes to anybody, sex worker or not," Trisha said. "I think using someone's nudes as a way to hurt them, make fun of them, make light of them being mean, is the lowest form of human, the lowest form of intelligence. I think that's so disgusting for anyone."
Trisha also revealed that Colleen lied to her about sending nude photos of her to chats that included young fans. Trisha said that she asked Colleen about the photos a "couple of weeks ago", before the screenshots had been posted as "proof".
Trisha said that Colleen assured her that she had "never" sent photos of her, and that "this one fan – who was underage at the time – would send photos to her". Trisha added that Colleen told her that she would only respond to him "once in a while".
trisha fan or not, she does not deserve what colleen did to her

exploiting her body to anyone, let alone MINORS and just flat out making fun of her? to then host a podcast and act like you never did anything and LIE to her FACE?

this is all so fucked pic.twitter.com/ch2boplBt5

— cali is speaking tf NOW 💜✨ (@caliiinoel) July 3, 2023
Later in the video, Trisha explained that she was willing to give Colleen the benefit of the doubt if she had just owned up to it and took accountability but instead, Colleen vehemently denied everything, and appeared to blame it on the fans.
"That's probably the worst I've seen from someone who I've considered a friend," Trisha said, in regards to the screenshots. "It's pretty barbaric, it's pretty misogynistic. And it is downright cruel. It's a low, low level of a person to say that stuff. And again, this isn't years ago. It's someone well into their 30's. It's not a child, it's not a kid."
Trisha also apologised to the fans who were allegedly sent unsolicited nude photos of her. "I'm so sorry. I know firsthand how traumatising that can be," she said. "I had nothing to do with this. I do not condone it. I think it's the most disgusting thing and above all else, illegal."
Ending the video, Trisha added: "I just had to make this video to say that I don't stand behind Colleen whatsoever. Her video was not an apology. And it took away from the severity of her actions - talking to minors, bringing minors on stage at her shows. These people are speaking up and they're uncomfortable for a reason. Acknowledge it, change it, do better."
"I don't stand by her. I'm embarrassed to be associated with her. I'm embarrassed for the fans she messaged those [pictures] to. That should never have happened."
Read more about Colleen Ballinger here:
Leigh-Anne Picks Her Own Interview Questions | PopBuzz Meets