Colleen Ballinger cancels her entire tour amid inappropriate behaviour allegations
11 July 2023, 17:40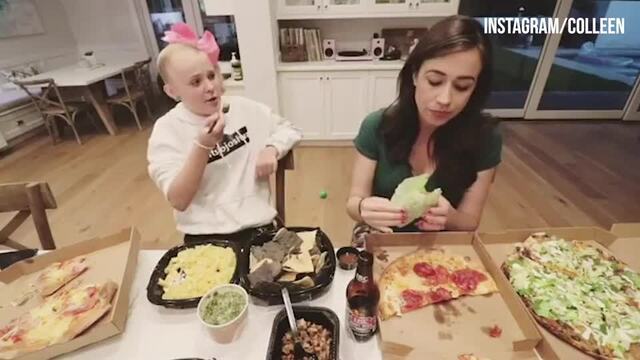 Colleen Ballinger and JoJo Siwa open up about receiving hate from trolls
The Miranda Sings tour has officially been cancelled.
Almost two weeks after Colleen Ballinger published her ukulele video in response to allegations of inappropriate behaviour, the YouTube personality has now cancelled all remaining dates of her Miranda Sings tour.
In June 2023, Colleen was accused of engaging in inappropriate conversations with fans (who were minors at the time) in group chats, as well as making young fans feel uncomfortable on stage.
Colleen was promptly criticised online after publishing the ukulele video, with many criticising her and calling her out over certain comments.
Since publishing the video, Colleen has not issued any further response. Now, it seems like she is completely removing herself from any and all public appearances. The Miranda Sings tour has now been completely cancelled.
READ MORE: Colleen Ballinger called out over "inappropriate" videos with 13-year-old JoJo Siwa
Before issuing an official ukulele response on June 28th, weeks after the accusations first surfaced, Colleen took to the stage in Indianapolis and Chicago where she appeared to allude to the allegations.
During one show, Colleen addressed the past few years of her life, saying: "You know there's– It's been a crazy few years in general. Life is crazy. There's so many things to say and I'm not going to say those things." She was promptly called out for it on social media.
Her next scheduled tour date was meant to take place in Boise, Idaho on July 13th but it has now been cancelled. The remaining dates that run from July 15th to September 8th have also now been cancelled.
After clicking the Tickets & Info button on each of her tour dates, users are now taken to a page that confirms the cancellation of that event. Refunds are being given to those who had tickets.
As well as the Miranda Sings tour, Trisha Paytas has now confirmed that her and Colleen's new podcast, 'Oversharing', has been completely scrapped. Only three episodes had been released prior to the allegations. Trisha has shared that she is now in the process of selling and scrapping the set and props they were using for the show.
Last week (July 4), Trisha also slammed Colleen after alleged screenshots were shared online by a former fan, appearing to show Colleen making fun of Trisha's OnlyFans content and sending explicit images of Trisha to them in private messages.
"That's probably the worst I've seen from someone who I've considered a friend," Trisha said, in regards to the screenshots. "It's pretty barbaric, it's pretty misogynistic. And it is downright cruel. It's a low, low level of a person to say that stuff. And again, this isn't years ago. It's someone well into their 30's. It's not a child, it's not a kid."
"I don't stand by [Colleen]. I'm embarrassed to be associated with her. I'm embarrassed for the fans she messaged those [pictures] to. That should never have happened," she added.
Colleen has not responded to Trisha's video.
The Witcher Cast Interview Each Other | PopBuzz Meets